Coated Peanuts (Groundnuts): How to Make Nigerian Burger
Coated Peanuts (Groundnuts): How to Make Nigerian Burger: Please watch for a better understanding of today's topic >>>
Coated peanuts also are known in Nigeria as Peanut Burger or simply Peanuts is a crunchy snack loved and enjoyed by many.
Coated peanuts are raw peanuts that have been dusted with flour and fried till golden brown. It's often eaten as a snack or with drinks.
It's prepared with dried raw groundnut coated with flour and mixed with other ingredients on the list below for home consumption or for commercial purposes.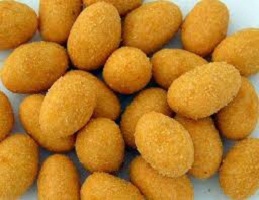 Smooth peanut burger is one of the most popular appetizers and widespread snacks in Nigeria and Ghana. Heard the Japanese also love this snack.
It's a Nigerian deep-fried tasty snack similar to the chin chin, puff puff, Nigerian buns, Nigerian doughnut, etc.
The question on how to make Peanut Burger Snack, Coated Peanut, the history of peanuts, or what are the ingredients in peanuts is answered in this post.
So, let's begin…
Coated Peanuts (Groundnuts): History of Peanuts
The peanut plant probably originated in Peru or Brazil in South America. Peanuts were grown as far north as Mexico when the Spanish began their exploration of the new world.
The explorers took peanuts back to Spain, and from there, traders and explorers spread them to Asia and Africa. Read HERE for more info
Peanut snack is common in mini shops and supermarkets; however, the homemade coated peanuts tastes so much better than the ones from the store.
This is because you can add your preferred spices like nutmeg, cinnamon, vanilla, or chilies.
Once you succeed at this recipe, there won't be any going back.
Coated Peanuts (Groundnuts): Notes about the ingredients
You can use parboil/roasted peanuts or raw peanuts to make this easy snack. Do not use broken ones.
Though cinnamon is tastier, nutmeg is a good substitute in case you cannot find cinnamon.
To save time, you can use a peanut coating making machine
Coated Peanuts Recipe
Ingredients
3 cups of Dried Groundnut
3 cups of Flour
83 ml or 1/3 cup of Powdered Milk
4 Eggs
83 ml or 1/3 cup of Sugar
½ teaspoon cinnamon
1 cap of liquid vanilla flavor
Pinch of Salt
Vegetable Oil
Preparation
Firstly, remove the bad and broken groundnut and pour it into a bowl, add hot water to the groundnut, add enough salt to taste, and leave for 20-30 minutes.
Secondly, pour the soaked groundnut into a sieve to drain water, transfer to a large tray, spread and sun-dry.
Thirdly, add powdered milk flavor and cinnamon into the bowl of sifted flour, set aside.
Fourthly, break the eggs and add just the egg white into the bowl. Whisk the egg a bit, then, add the sugar and mix very well.
After that, add the vanilla flavor, mix well and allow for a while so that the sugar can all melt.
Then, transfer the sun-dried groundnut into a dry bowl, add the egg mixture enough to coat the batch of groundnut you have in the bowl, mix, add the flour mixture to groundnut mixed with egg mixture, flip the groundnut with flour.
Similarly, repeat the coating process above till the groundnut is all coated with the flour.
When it gets sticky under the bowl, touch flour with your hand and drag the sticky ones out. Sprinkle some flour and shake.
Set a pot on heat and add vegetable oil. Allow to heat up.
Now fetch the raw coated peanut and add to the oil on heat.
Stir continuously to avoid burning. It's ready when it's golden brown.
Lastly, transfer to a paper towel to drain excess oil, leave to cool completely before serving.
Store in an airtight container
Enjoy!