Health Benefits of Prekese (Tetrapleura Tetraptera) | Aidan Fruit
Prekese or tetrapleura tetraptera is a species of the pea family and is originally from West Tropical Africa.
The plant has great demand in Ghana and other African countries, its fruit is part of Ghana's delicacies often used in palm nut soup.
Other Indigenous Names of Prekese
Depending on the region you live in, it has different names, but the name prekese (from Ghana) is the most popular and accepted worldwide. It is even on Wikipedia.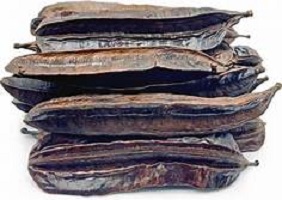 So the different tribes and nations around Africa have different names for this plant.
For example, the Igbos from Eastern Nigerian call it oshosho or osakirisa, while Yorubas from western Nigeria refer to it as Aidan and ubukirihu
Related >>> Aju Mbaise Traditional Medicine – Uses, Health Benefits, and Side Effects
The English name is Aidan fruit while the botanical name is Tetrapleura tetraptera
Other names for Prekese include Imiminje, Apapa, Edeminang, Ighirehimi, Ighimiaka, Uhio (Uhiokrihio), Uyayak, Edeminang, Dawo, etc.
It can also be found in Israel
Description/Taste
Tetrapleura tetraptera is dark brown fruit, 15-25 cm long and about 5 cm across, has four longitudinal, wing-like ends. It looks naturally polished/shiny
It has a slight taste, astringent taste. When used as an ingredient in recipes – soups and other dishes, it adds flavor and aroma.
Is Prekese in the Bible? The spiritual use of prekese and the presence in the Bible
According to many people, the existence of prekese in the Bible is very obvious in Exodus 30:34
In this case, the prekese or Aidan fruit is believed to be the fruit from God. Hence, many people hope that burning this particular plant fruit creates a strong odor that makes evil spirits go away.
Seasons/Availability
Dried tetrapleura tetraptera pods are available all year-round
Nutritional Facts of Prekese
The major constituents are tannins, flavonoids, and starch
Aridan fruit is very nutritious as it is filled with phytochemicals and nutrients that are vital in our body. It is also rich in iron, potassium, calcium, zinc, phosphorus, steroids, and phenolic compounds.
Some diseases can be treated with the use of prekese for instance leprosy, inflammation, arthritis, convulsions, etc.
The plant also contains antioxidants, anti-microbial, and anti-inflammatory properties, vitamins, minerals, and phytochemicals. Its bark, fruits, and leaves are packed full of medicinal properties.
Is tetrapleura tetraptera healthy? Yes, it is.
See below some health benefits of Prekese.
Prekese Health Benefits
Control Diabetes – The fruit extract is said to lower glucose levels
Others use the plant as a form of a purgative.
The plant also serves as a mosquito repellant.
The pods are said to be rich in calcium, iron, and potassium. These three components are said to be important for postpartum women.
Especially when prepared as soup since it helps with milk production increase in feeding mothers and to reinstate lost blood.
Fever & Enema
The best way to use the plant is to soak it in warm water.
Then bathe using the infused water
This is said to significantly reduce fever and body temperature.
Besides, you can also try this remedy if you suffer from enema, constipation
Contraceptive Properties
The stem and bark of the prekese plant contain saponin and ethanol. These release the luteinizing hormone that is said to act as a barrier to contraception.
Management of Convulsion
The Aidan Fruit, stem, and leaves of the prekese are used to create herbal concoctions in folk medicine that can help manage epilepsy.
Treats Cardiovascular System
Good in the management of fibroid, fertility, pregnancy, and weight loss
Has Antibacterial Properties
Anti-inflammatory Properties
The plant extracts have anti-inflammatory agents and contribute to many human pathogens. This can result to a reduction in arthritis, inflammation, and rheumatoid pain.
Culinary Purposes
The dried plant aroma is often used as a seasoning to add flavor to many recipes such as white soup, pepper soup, palm-kernel soup, etc. The fruit can be crushed or cut into small pieces before use.
Dermatological Care
The Aidan Fruit can be desiccated in direct sunlight and ground into a fine powder. This extract is then used as an ingredient in soaps.
It acts as a skincare product due to the presence of antibacterial and antimicrobial agents. The dried powdered extract can be used with other ingredients such as palm kernel oil and shea butter for external use.
Hypertension
The stem and bark of the plant can be used to treat high blood pressure.
Supports Immune System
This plant is a rich source of vitamins, calcium, iron, potassium, zinc, and magnesium. It aids to strengthen the immune system.
Treatment of Gastrointestinal Diseases
This plant can be used to treat intestinal ailments such as diarrhea, vomiting, and abdominal pain due to its presence of phytochemicals.
Now that we have covered the health benefits of Aidan Fruit and conversed about how these top fruits can be great for everyone.
Isn't it wonderful that Africans own this valuable plant with so many benefits?
We would like to know your opinion? Would you mind adding it to your diet? Or is it part of your daily diet already?
Get back to us in the comment box below. We enjoy hearing from you.
Please, share this article with your loved ones if you find it educative to let them know about the wonderful wonders of Aidan Fruit.
Disclaimer
This post is for reference purposes only and should not be used as professional treatment or diagnosis.
Always consult your doctor before making any decisions that affect your health. They will guide you and give you the right medical treatment.