How To Puree Tomatoes At Home
Tomatoes are among the most generally cultivated fruits in the world. In Nigeria, you can eat the fruits while fresh or as a processed product. It is grown in many states in the North and in the Middle Belt. Tomatoes are nutritious; they are rich in vitamins, minerals, carbohydrates, and proteins. It is also, one of the commonly used versatile vegetable crops in Nigeria. Tomatoes are seasonal and since we do not have good storage facilities in Nigeria, one of the best ways to store your tomatoes is to puree them.
WHAT IS TOMATO PUREE AND USES
Tomato puree is a thick, red concentrate or paste made from blended tomato pulp. A cooking essential in most Nigerian homes, tomato puree is a fast way to prepare and freeze a heap of fresh tomatoes for future cooking.
Tomato puree can be turned into tomato sauce or tomato soup. This puree can be used for tomato stew, jollof rice, egg sauce, tomato sauce, or for whatever recipe that calls for tomato puree. Even though you can buy tomato puree in a store, the finest and freshest tomato puree is homemade. What's more, I will show you a quick and easy way on how to puree tomatoes at home.
Also Read: Recipe for Nigerian Beef Stew
We all know that tomatoes contain lots of water and even more water when you blend them fresh because you need to add water for easy spinning. So what I normally do is to boil for few minutes thereby making it soft and to shrink, drain the liquid and allow a cooling off before finally blending.
Ingredients for tomato puree
• 15-20 healthy full balls of red tomatoes
• 5 red bell peppers (Tatashe)
• 2 medium onions
• 3 scotch bonnets (Atarodo)
• 1 medium ginger
• 3 cloves of garlic
How to Puree Tomatoes At Home
First of all, select your tomatoes-you must be choosy in selecting a better quality of tomatoes in order to achieve tomato puree that has a good taste.
Secondly, prepare your tomatoes by rinsing the tomatoes with peppers severally in clean water. Remember to remove the blemishes in the process.
Similarly, prepare your seasoning and flavors. If you're using dry seasoning, add it along with tomatoes for blending.
Then, add tomatoes, peppers, ginger, garlic, and onions into a medium sized pot, without adding water. Place a lid over it and put on the heat.
Cook these for 5 minutes, the tomatoes will shrink and turn very soft. Drain out the liquid with a colander and leave to cool.
After that, Transfer the mixture into a blender and blend without water until very smooth.
That's it on how to puree tomatoes at home. Your tomato puree is now ready for use or storage. Top it with little vegetable oil and sea salt and pour in a zip-lock bag while storing in a refrigerator. You can also use it immediately for your favorite recipe.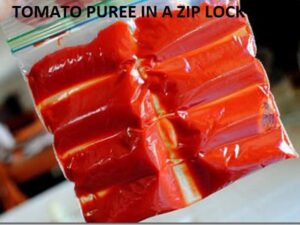 HAPPY COOKING!