Olive oil and Okra for Bigger Butt ~ How Real?
Olive oil and Okra for Bigger Butt ~ How Real? 
How to use okra for a bigger bottom
How to use okra and Vaseline for bigger buttocks
Okro and olive oil for bigger
Okra Olive oil
Olive oil and Okra for Bigger Butt ~ an Overview
A lot is going on social media right now. So, guys, I read somewhere, and I even watched it on TikTok, ''abeg follow me watch maybe am mistaken'';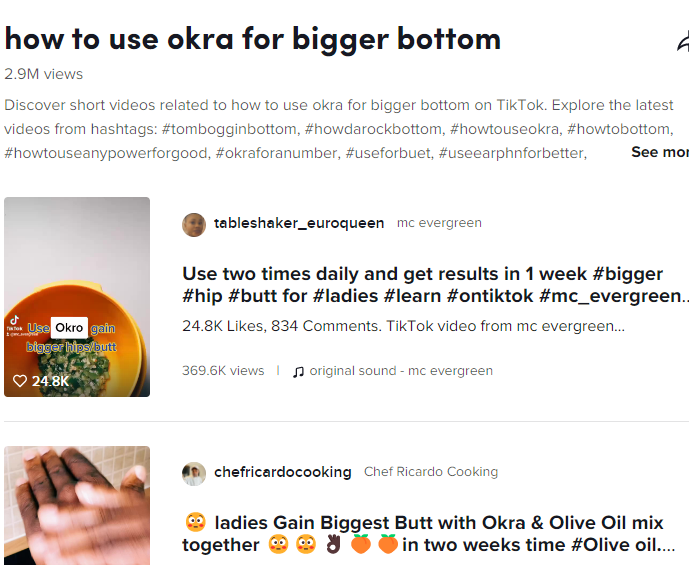 Olive oil and Okra for a Bigger Butt
As you can see from the above attachment the caption ''How to use okra for bigger bottom'' has garnered 2.9M views as of 12/10/22. How interesting is that?
Also on YouTube, many you tubers are advocating that mixing #okra with #olive oil or Vaseline and applying it on the buttocks can make the buttocks bigger, rounder, and fatter. Please see for yourself;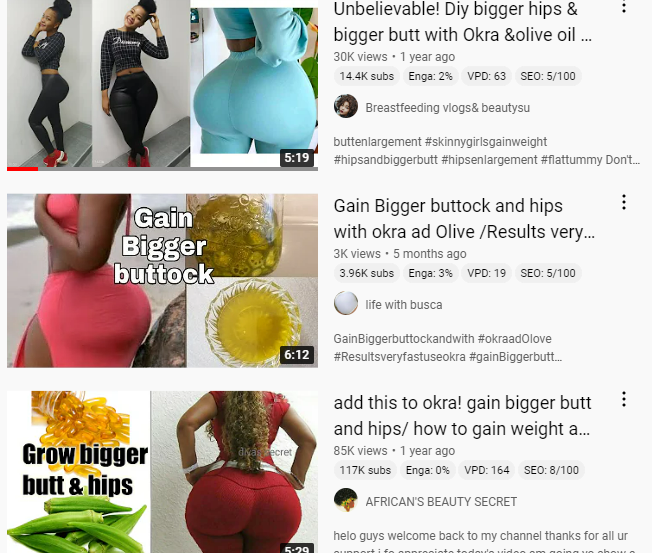 The YouTuber stated that putting a combination of #olive #oil and #okra in the buttocks and breasts daily for three months will make your rear and breasts huge, plump, round, and smooth.
Olive oil and Okra for a Bigger Butt? How Possible/Real?
But how true is this? Can okra and olive oil mixture make the bum bigger?
NO, IT DOES NOT. These assertions are completely incorrect and should never be permitted in our cyberspace.
Body enhancement and buttocks enlargement information has now flooded the internet and social media platforms… something had to be done as soon as possible.
Though, the combination of #olive oil and #okra for buttocks expansion has no negative effects; however, it does not function in terms of making the bottom bigger or rounder. It is a hoax that has been used repeatedly to defraud countless ladies.
The bottom line
The combination of olive oil and okra does not enhance buttocks size
Let me be clear on this: olive oil and okra do not increase the size of the buttocks.
#Oliveoil and #okra do not fill out the buttocks.
Olive oil and okra do not smooth/soften the buttocks.
Rubbing olive oil with okra water on the breasts does not increase their size or roundness…
Stop putting your money into something that will not work.
Brazilian buttocks lift surgery is the only way to get huge buttocks though it comes with its life-threatening risk too…
But creams, oils, and medicines will not make your buttocks bigger or rounder. Although some types of buttocks exercises are beneficial.
Now that you know the truth, I'd want to thank you for reading this instructive essay and urge you to quit wasting your money on bogus body enhancement gimmicks.
Do this and thank me later