Peppered Kpomo Recipe – Nigerian Cow Skin (Ponmo) Appetizer
Peppered kpomo recipe or Peppered ponmo or cow skin whatever you call it, all mean the same thing.
Peppered kpomo Recipe is a popular dish served in most Nigerian bars; this hot, spicy, and soft Ponmo sauce combines well with a bottle of drink.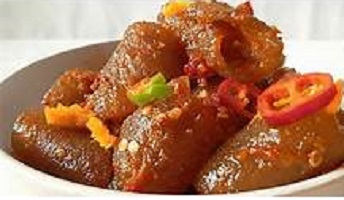 Peppered ponmo is not left out during Nigerian parties and events; some serve it as small chops or as an addition to the main dish.
Related >>> Cow Skin: Solid Truth about Eating Cow Skin (Pomo)
If you're not Nigerian and are curious about what Kpomo is like, let me help direct you a little bit.
Peppered Kpomo Recipe
If you are not Nigerian and are curious what in the world is Kpomo? Let me guide you a little bit.
But, essentially, instead of using it to make bags and shoes, we eat it. Got it? No? Ok
Cow skin is known as Kpomo. In order to remove all the hair, the skin of the cow is burned and Nigerians use the cow skin to cook stews, soups, and appetizers.
Peppered Kpomo recipe or Pomo is a mouthwatering and appetizing spicy dish also refers to as kanda meat.
Cow skin is also referred to as kanda meat.
We also have the stew Kpomo alongside the peppered ponmo Alata, which is equally delicious.
There are two variants of the Nigerian Kpomo, the thin and the soft kind we have. Kpomo English name is Cow skin, which is an edible cowhide.
Peppered Kpomo Recipe – What is Nigerian Pomo Food?
Pomo is simply pure cow skin that has been processed for people to cook and chew like meat.
As long as the cow is slaughtered for beef every day, there is bound to be cow skin that is the kpomo meat we're talking about.
When clasped against the upper and lower teeth, Kpomo has this sweet, dense, but loose feel that's so delicious you'll always want more.
Visualize mixing and lubricating it with a little bit of sauce, spice, and seasonings, making it taste even better.
Thus, why won't you rather begin your meal with a bowl of this tasty delicacy instead?
Peppered Kpomo Recipe – Harmful Or Healthy?
''Kpomo" or "Kanda" (or whatever name you call this common, processed cowhide and skin eaten as "meat") has a lot of stories around it, particularly because there has not been a lot of research done on it.
Still, let's come up with some basic details.
It's not correct to say "kpomo" has NO nutritional value! Instead is better to say it has LOW nutritional value when compared to other food sources.
When likened to regular meats, it has low protein and skin-collagen. Other nutrients are also low.
However, it contains high dietary roughage—it helps the process of digestion quite well.
In summary, the kpomo nutrients are very low (apart from supplementing them during cooking).
What is the Health Benefit of Kpomo?
Kpomo is said to be rich in collagen – which a type of protein that aids in holding bones and skin tissues together.
How to make Nigerian Peppered Kpomo
With as little as kpomo, pepper, onion, and a few other seasonings, you will be munching in a plate of this Nigerian appetizer.
This is an easy recipe to copy and it doesn't take time.
Recipe for Nigerian Peppered Kpomo Ingredients
1 kg Pomo (cow skin)
4 medium-size tomatoes
½ cup scotches bonnet pepper (Ata-rodo)
1 large onion
½ teaspoon curry powder
¼ cup vegetable oil
2 seasoning cubes
Salt to taste
Method
Firstly, wash your ponmo very well to be free from sand, then transfer to a clean pot set aside ready for cooking.
Secondly, spice the Kpomo/Ponmo/kanda meat with salt, 1 seasoning cube, ½ onions slice, curry powder, and cook to tender. Then, remove from heat and drain the stock.
Thirdly, Wash and rough grind the pepper, onion, and tomato. This recipe requires a chunky blend not smooth.
Fourthly, in a pot or frying pan bring the oil to heat; pour in the ground pepper and onions, stir fry for about 5 minutes.
After that, pour the cooked ponmo into the pepper stew and mix properly as it fries on the stovetop, add the remaining seasoning cube, and taste for salt. Continue to stir for like 3 minutes.
Lastly, remove from heat, at this point your delicious peppered Kpomo is ready.
Serve with a cold drink or as a side dish to a meal (fried yam), and enjoy!