Rice Jollof : How to Prepare Best Nigerian Rice Jollof
Rice Jollof : How to Prepare Best Nigerian Rice Jollof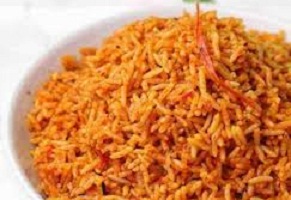 Rice Jollof is a rich and amazingly tasty West African one-pot Meal. I will try to answer if not all but some of the queries below in this essay:
Jollof rice secret ingredients, ingredients, with chicken, near me, jollof rice Ghana, rice Jollof secret ingredient list, Jollof rice king, Origin, How to Cook, how to prepare, how to make, spices of jollof rice, How to Cook Party Jollof Rice, How to Cook rice Jollof and the ingredients, Ghanaian Jollof rice, Jollof party rice
This is the most popular Nigerian party rice recipe and a common sight at parties. But, come on.., what are we (Africans) supposed to eat at parties? Burgers? Lol
The following are other variants of Rice Jollof. Click on the links for the recipes:
And even, the vegan jollof rice.
It is an adaptable dish, which is usually made from scratch using Rice, Tomatoes (fresh or tinned), Pimento peppers, Tomato paste (with or without), Scotch bonnet, Onions, Salt, and other spices.
What is Rice Jollof?
Jellof Rice, or at times called jellof rice, is a traditional rice dish prepared in a flavorful tomato-based broth.
Flavorful, easy, and perfectly African, this classic dish Jellof rice is best for any time in the day or on special occasions!
Jollof Rice Origin
The origins of jollof rice can be linked to the Senegambian region that was dominated by the Wolof or Jolof Empire in the 14th century, spanning parts of today's Senegal, The Gambia, and Mauritania, where rice was grown.
What Spices Are in Jollof Seasoning? rice Jollof
Tomato Powder, Onion, Bell Peppers Diced, Red Chili Pepper, Dried Honey, Coriander, Turmeric, Garlic, Salt, Non-GMO Yellow Corn Meal, Bay Leaf, Paprika, Thyme, Nutmeg, Black Pepper, Cumin, Ginger, Fenugreek, Cloves.
West African Jollof Rice
Jellof rice is one of the most popular West African dishes eaten in the regions of Nigeria, Ghana, Senegal, Gambia, Togo, Mali, Sierra Leone, Cameroon, Ivory Coast, Liberia, etc.
Africa's best jellof rice – Which African country has the best recipe jellof rice?
Ghana, Nigeria, Sierra Leone, Liberia, and Cameroon are the primary contenders in a competition to see who can manufacture the greatest Jollof rice. The Gambia and Senegal are rather unconcerned in the Jollof debate; after all, they invented it.
With its several regional variations in name and ingredients, there is NO absolute right or wrong way of cooking this popular African rice recipe.
Hence, no West African country can claim that title
Each of these West African countries has its variation of this meal.  It is low-priced and simple to make yet, delicious.
Recipe for Jollof of Rice ~ rice Jellof for Recipe
Notwithstanding its many variations and secret ingredients, the most common ingredients of a jellof rice recipe are as follows:
Rice Jellof Ingredients
Rice (uncooked long-grain rice)
Tomato sauce
Chicken broth (or water)
Onions
Cooking oil
Vegetables (like peas and carrots)
Hot pepper
Salt
Scotch bonnet pepper or hot pepper
How to Cook Rice Jellof?
We have two methods of preparing this traditional West African delicacy:
The Stovetop Method
The Oven Method
Rice Jellof Stovetop Method
When cooking Jellof rice, building a flavor base is important. Don't be in haste, each step counts so try to do each of the steps in detail.
Start With Stew Preparation
Firstly sauté the Onions, this should take about 3 to 5 minutes.
Secondly, stir in the Tomato paste. This adds a deep and rich tomato flavor; fry this for another 5 minutes or so.
After that, add the spices for rice jellof rice- Ginger and Garlic and cook along with the Tomato paste for another two minutes; stir occasionally to avoid burning
Then, add the blended peppers. Usually, there is no particular time frame for frying this pepper. Fry for another 20 to 25 minutes depending on the quantity of water in your blended pepper.
Lastly, for the flavor, add the Thyme, Salt, white pepper (good but optional), Curry powder, and seasoning cubes. Adjust the seasoning.
Now, stir in my Rice. Ensure you stir the Rice properly until you cover each grain of Rice with the sauce.
Add the chicken stock. Give it a brief stir and cover it up with a tight-fitting lid or foil paper.
This is because Jollof cooks with steam to turn out well.
Once, the rice comes to a boil, reduce the heat to medium-low immediately, and continue to cook until the rice is done about 20 to 25 minutes.
Rice Jellof Baking Method
Firstly, preheat the oven to 350 degrees F. Then, rinse rice through the water.
Secondly, get a half sheet baking pan (12-13/16″ l. x 10-7/16″ w. x 2-1/2") mix all ingredients, and stir thoroughly.
Thirdly, cover tightly with aluminum foil paper. And then, double if you can, it helps cook faster.
Carefully place it in the oven and let it cook for about 70-80 minutes. Then, remove gently.
After that, allow cooling for about 5 minutes before removing the aluminum paper.
Lastly, fluff rice with a fork, throw in your add-ins, and mix evenly. Serve warm.
What to Serve with Rice Jellof?
You can serve this delicious Nigerian rice dish alone or with just about any meat (jellof rice with chicken or turkey for me) or non-meat recipes, salads, beans, Fried plantains, etc.
Nutrition Information
Calories: 559 kcal (28%)| Carbohydrates: (20%)| Fat: 80 g (27%)| Protein: 10 g, 22 g (34%)| Saturated Fat: 3 g (19%)| Sodium: 1443 mg (63%)| Potassium: 642 mg (18%)| Fiber: 6g (25%)| Sugar: 4g (4%)| ,Vitamin A: 5685 IU (114%)| Vitamin C: 19.9 mg (24%)| Calcium: 69 mg (7%)| Iron: 3.1 mg (17%)
Questions People Ask
Nigerian Jellof Rice or Ghanaian Jellof Rice – Who's  Rice Is Better? Jollof war
A: All I know is that a good cook is a good cook at any time of the day irrespective of the dish or country.
Though, the cooking methods vary between Nigerian and Jellof Rice Ghana, with the main difference being in the type of rice used. There is still No competition or war!
Personally, it's like Much Ado about Nothingˌ
Q: What Type Of Rice Is Best For Jellof Rice?
A: A lot of rice types can make a good Jellof rice.- the long grain parboiled rice, Basmati rice, short/medium grain, etc.
Q: What Does Jellof Rice Mean?
A: Jellof rice, also called 'Benachin' meaning one pot in the Wolof language, is a popular dish in many parts of West Africa according to Wik