7 Amazing Health Benefits Of African Pear (Bush Pear)
Have you ever wondered why African Pear also referred to as Ube in the eastern part of Nigeria is always available in every part of Nigeria that you visit once the season arrives? This is because this  pear fruit has amazing health benefits that those who go after it get. 
Go for it just for this health benefits it offers and stay healthy. 
What Is Bush Pear?
It is a local fruit from West African and popularly called Ube in South East Nigeria. It is mostly eaten with roasted or cooked corn.
Bush pear is good to consume every period of the year but because of lack of storage facilities in Nigeria, it is largely available and cheap in its season. When it is the season, not only does it come cheap, it is also fresh.
It is botanically called Dacryodes edulis and is in the season (between June and August) at the moment.
Also Read: Great Nutrients 'Ukwa' In Your Diet Can Give You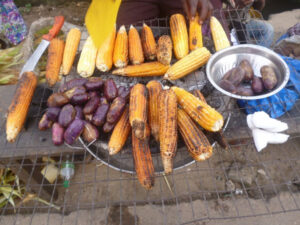 You must have seen it best served with roasted or cooked corn along the roadside. Ube is plucked at the same time when maize (corn) is harvested and the two are usually eaten jointly as a seasonal staple food.
Corn (oka) eaten with the native pear (ube) tastes good together. It's like eating aki with ukwa (palm kennel and breadfruit seed) combo. African pear tree bears fleshy luscious fruit with a bluish-purple skin and a pale to rich green flesh.
Ube is high in oils and minerals, rich in Potassium and can make key contributions to the body's dietary fibre.
It's known to have high calcium content.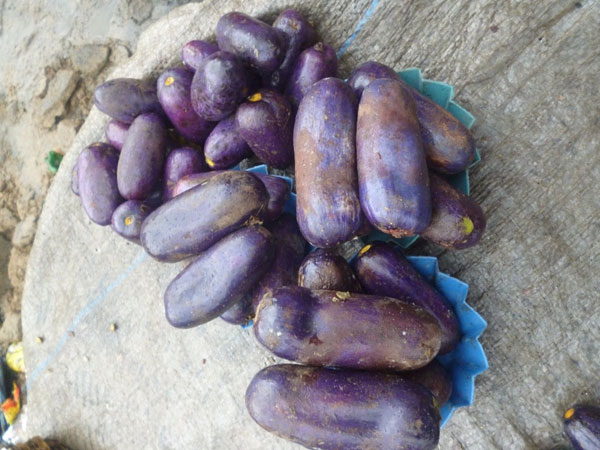 Actually, it is so notable that the calcium content from this fruit butter of about 7.05 tablespoon (100g) can give the everyday requirement for calcium, which is needed for the development and preservation of healthy bones and teeth.
Nutritional Composition/100g (Dry weight) of Bush Pear Calories
| | | |
| --- | --- | --- |
| Energy | 444.7kcal/1867.7kj | Mineral Component Mg/100g |
| CHO | 13.5 | Ca- 690 |
| Protein | 4.14 | Mg- 450 |
| Fat | 31.9 | K- 2380 |
| Fiber | 17.9 | P-220 |
| Minerals and Vitamins | 10.8 | Na- 80 |
| Moisture | 12.04 | |
HOW TO PREPARE UBE
Ube / African pear is one of the easiest recipes you can think of.
1, First of all, immerse the pear in hot water or roast it in hot charcoal/dry heat.
2. Secondly, In barely five minutes its fleshy pulp is melted into ready-to-eat 'butter' form. Simple! Isn't it?
Apart from the utmost satisfaction that is derived from pairing Ube with corn, the body also offers some amount of health benefits to you if you consume this amazing fruit.
7 HEALTH BENEFITS OF BUSH PEAR
Fruits generally are low in calories and rich in fiber, which may help you to lose weight. Actually, eating fruit is linked to a lower body weight and a lesser risk of diabetes, cancer, high blood pressure, and heart disease.
Firstly, native pears are rich in vitamins and minerals that play important roles in controlling the blood sugar level. It hinders the spiking of blood glucose levels which causes diabetes. Bush pears is very good for the body with no side effect
Secondly, it is a pregnancy super fruit because it contains natural folic acid. The presence of folic acid in bush pears aids in preventing deficiencies in baby's brain and spinal cord.
Cancer Prevention


 Thirdly, studies have revealed that consuming Ube, can help safeguard women from postmenopausal breast cancer. Pear is known as a hypoallergenic fruit, that is,

fruit that is least likely to cause allergic reactions in humans.

Good Fat

 Fourthly, African pear is contains carbohydrates, fat (no cholesterol), vitamins (C, B1, B6, Folate, Niacin) and minerals (Potassium, Phosphorous, Calcium, Magnesium, Iron, and zinc).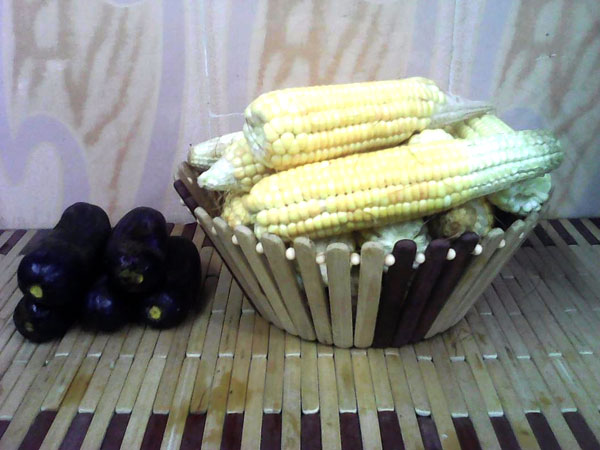 A Nice combination that almost everyone loves
5. Prevents Mouth Odor
It helps to prevent mouth odor and tooth decay; it contains antimicrobial properties which keep the bacteria responsible for tooth decay and mouth odour away.
6. Rich In Vitamins C & E
African pear is rich in vitamins C and E, which can be antioxidant in nature. These vitamins aid in maintaining radiant and healthy skin in addition to slowing down the aging process.
7. Good Source Of Fatty Acids
Above all,the oil from pear is a good supply of fatty acids and can serve as an alternative to vegetable oil, palm oil, coconut oil, and groundnut oil for both home and industrial use.
In conclusion, take advantage of this fruit while it is still in the season if you desire to have healthy bones and teeth, radiant and healthy skin among others. Go to the market, on the roadside, and just about anywhere they sell ube and indulge in this great fruit.