Top 10 Juices for Cancer Patients ~ Juicing for Cancer
Top 10 Juices for Cancer Patients ~ Juicing for Cancer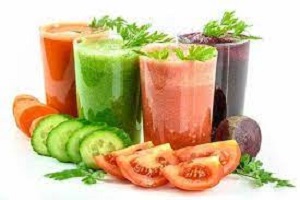 Healthy Juices for Cancer Patients
It is important for cancer patients to maintain their energy levels in order to cope with the side effects of treatment, and juices made from healthy fruits and vegetables are a great way to do so.
Because appetite loss is a common side effect of some cancer treatments, drinking juices can help with this when it is otherwise difficult to eat.
According to research, fruits and vegetables can help prevent cancer. Furthermore, because fruits and vegetables are high in antioxidants, eating at least 2.5 cups of them can lower your risk of developing various cancers.
Juice recipes are typically composed of vegetables, fruit, spices, or a combination of all three. Juices can be consumed in various ways, including purchasing them at a store, making them at home, or paying someone to make them for you and hand-deliver them to your door.
Juicing extracts nutrients from food and makes it easier to digest. Fresh juices, in addition to providing healing nourishment, also remove waste and toxins from the body.
What exactly is juicing?
Juicing is the process of extracting liquid from fruits and vegetables using a blender or juicer. This does not imply that they should replace their entire diet with juice, but rather that they should consume it more frequently.
A cancer patient's diet should include plenty of juice. Cancer patients are encouraged to consume enough fruits because of their benefits, and one of the most common ways to do so is by juicing them.
Juicing should not be used to meet basic nutritional needs because it drastically reduces the amount of fiber found in vegetables and fruits.
Importance of Juicing ~ Benefits of Juicing for Cancer Patients
Here are three compelling reasons why cancer patients should consume juice.
Fruits and vegetables contain nutrients that cancer patients require. Some fruits contain antioxidants, which help the body fight free radicals like cancer cells. Fruits also help to build strength and immunity.
Juice is very easy to consume. There may be times when swallowing becomes difficult and food cannot be enjoyed as much as it once was. Juice provides nutrients to the body that cannot be obtained through eating.
Your cancer treatment may require you to avoid fiber, particularly after surgery. When you juice your fruits, you get the nutrients without the fiber.
We've seen how helpful juices can be for cancer patients. It is also recommended that you consume the juice freshly made rather than purchasing it from a store where preservatives and other additives may be present.
But not every juice should be consumed; only those that can help your system recover and fight cancer should be consumed. So here are the top 5 juices for cancer patients.
Juicing & Cancer ~ Healthy Juices Recipes for Cancer Patients
Juicing (the process of extracting juice from the pulp of fruits, vegetables, and plant foods) is an excellent way to supplement a healthy diet with additional servings of vegetables and fruits.
Fruit juicing may be a good option for getting valuable nutrients into your body if you are in active treatment, have chewing, swallowing, or digestive problems, or are struggling with excess weight loss due to cancer and its treatment.
You could also try blending your vegetables and fruits to make healthy "smoothies."
Speak with a registered dietitian about how to do this in a way that ensures you meet all of your calorie and protein requirements while remaining safe if you have swallowing issues.
Orange Crush Recipe
3 oranges
½ cup whole cranberries (fresh or frozen)
1 carrot
1 teaspoon ground cinnamon
Process oranges, cranberries, and carrots in a juicer. Whisk together with cinnamon and serve.
2. Orange Zest
3 carrots
1 orange
1 apple
1 piece of gingerroot (½ inch)
Process all ingredients in a juicer and serve
Breakfast Blend
2 cups strawberries (fresh or frozen)
1 carrot
1 orange
Process all ingredients in a juicer and serve.
4. Blueberry Blast
1 cup blueberries
1 cup pitted cherries
½ cup raspberries
½ cup red grapes
Process all ingredients in a juicer and serve.
Orange Sunset
2 oranges
2 kiwifruits
1 carrot
1 papaya, seeded
Process all ingredients in a juicer and serve.
6. Pomegranate Blend
1 pomegranate (seeds only)
2 plums (pitted)
½ cup cherries (pitted)
½ cup strawberries
Process all ingredients in a juicer and serve.
7. Orange Blast
2 carrots
2 apricots (pitted)
¼ cantaloupe
Process all ingredients in a juicer and serve.
Cranberry Apple Juice
¾ cup cranberries
3 carrots
2 apples
Process all ingredients in a juicer and serve.
9. Leafy Greens
8 spinach leaves
2 kale leaves
1 beet
2 celery stalks
1 apple
Process all ingredients in a juicer and serve.
Anti-Cancer and Anti- Inflammation Spinach Juice
Other top juices for cancer patients:
These juices are packed with the most benefits, whether you make them at home or buy them ready-made:
Soursop juice
Blue Berry juice
Beet juice
Grape juice
Veggie Medley juice
Cranberry juice
Pomegranate and Citrus fruit juice.
Carrot and Broccoli Juice
Apple and Carrot Juice
Papaya Passion
Spinach and Cucumber Juice
Pineapple and Ginger Juice
Some Important Tips to Remember
Blend only the number of fruits you can finish in one sitting.
Do not blend more fruits than you can eat normally. That is why no recipes were provided.
Always wash your fruits and vegetables before combining them.
More vegetables than fruits should be blended. Always include a vegetable in your juice if possible.
It's All About Balance
Juices are a convenient way to consume fruits and vegetables, but whole foods are always preferable. The juicing process removes the majority of the fiber from the fruit.
Juice is also low in protein, which is required to rebuild healthy cells during treatment.
Shake an unflavored protein powder into your juice to make it more of a meal and to keep your energy levels stable, or pair it with a side of Greek yogurt, nuts, or a peanut butter sandwich.
The Bottom Line on Juices for Cancer Patients
Cancer is a fatal disease, and cancer patients suffer greatly. Fresh juice should be consumed by a cancer patient to prevent cancer.
Healthy juice is high in phytochemicals, nutrients, and vitamins that help the body fight cancer.
These top cancer juices are easily absorbed by the body and aid in the repair of damaged cancer cells
Questions people also ask on Juices for Cancer Patients
Which juice is best for cancer patients? Juices for Cancer Patients
Juices for Cancer, Healthy Juices for Cancer Patients
Sweet Lime and Kiwi Juice.
Papaya Passion.
Carrot Spinach and Parsley Juice.
Palak, Kale, and Apple Juice.
Black Grape, Strawberry, and Pineapple Juice.
Carrot and Red Pepper Juice.
Carrot Beetroot Parsley and Celery Juice.
Broccoli and Pear Juice.
Can a cancer patient drink fruit juice? Juices for Cancer Patients
While juicing has many health benefits, people with cancer or those undergoing cancer treatment should not consume only juice.
Remember that while juicing is a great way to add fruits and vegetables to your diet, it should not be used to meet all of your nutritional needs.
Can juice help cancer patients? Juices for Cancer Patients
Juicing can provide your body with the nutrients and phytochemicals it requires to help lower your cancer risk.
However, you must be careful about what you put in your drink or you will end up with a beverage that is high in calories.
Besides, juicing extracts the most calorie-dense component of fruits and vegetables: juice.
What juice is helpful after chemotherapy?
Include apple juice, grape/white grape juice, fruit nectars, clear soups, soda, Gatorade, Power Burst, Popsicles and sherbet, and other similar beverages.
Soups provide salt (sodium); juices provide potassium, and other drinks and watery foods provide calories.
What foods are known to kill cancer cells in the body?
Cruciferous plants – Cruciferous vegetables include broccoli, Brussels sprouts, bok choy, cabbage, cauliflower, collard greens, and kale. These vegetables contain glucosinolates, which fight cancer in a variety of ways.
What fruits should cancer patients stay away from?
Depending on your symptoms, you may also want to avoid certain fruits. Citrus fruits, for example, may irritate mouth sores and worsen the sensation of a dry mouth
Finally, some cancer patients find it difficult to eat whole fruits like apples, apricots, and pears due to mouth sores, difficulty swallowing, dry mouth, or nausea.
Is orange juice safe for cancer patients?
Previous in vitro research has shown that orange juice can reduce the risk of childhood leukemia as well as aid in the prevention of mammary, hepatic, and colon cancers.
Is pineapple juice good for cancer patients?
Pineapple juice may have cancer-fighting properties. Again, this is most likely due to the presence of bromelain.
According to some studies, bromelain may help prevent the formation of tumors, reduce their size, or even cause cancerous cells to die.