Coconut Oil for Hair Growth
Coconut Oil for Hair Growth: How to Use for Stronger and Healthier Hair. Please Watch >>>>
Is coconut oil good for your hair? A natural solution for hair and scalp health
Essential oils are more popular than ever, natural oils like castor oil have long been mainstays in the cosmetics industry, and body oils are a great way to hydrate.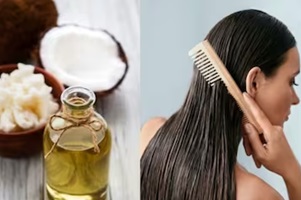 But because it's such an excellent conditioning treatment, coconut oil also has a place in your self-care regimen.
"Coconut oil is unique because it's similar to hair's natural lipid structure and able to penetrate the hair more than other oils."
Here are all the answers to your queries regarding using coconut oil in your hair care routine if it seems like your hair could need a little sensitive love and care:
Coconut oil is great for hair in many ways. It's applied to treat dandruff, bring back the shine to damaged and dry hair, control frizz, and shield hair from styling harm. For most hair types, it is safe to use.
Rich in fatty acids, coconut oil can help strengthen hair. Numerous shampoos, conditioners, styling gels, and other haircare items include it. In the kitchen, coconut oil can also be used directly from the container as a conditioning mask or prewash treatment.
The advantages of coconut oil for hair are covered in this article. It also describes how coconut oil may strengthen hair, improve texture, and fix damage done daily.
Benefits of Coconut Oil for Hair Growth
Several things, such as excessive use of hot tools, harsh pulling or brushing, prolonged exposure to heat, poor nutrition (lacking in protein, healthy fats, and specific vitamins and minerals), and more, can damage hair.
Coconut oil is a hero for restoring damaged hair. The following are some advantages of applying coconut oil to hair.
It May Assist in Split End Repair
The phrase "split ends" originates from the fact that you may detect the ends of your hair breaking off and splitting when it becomes extremely dry and brittle. Both healing and preventing split ends in hair are possible with the use of coconut oil.
It Can Add a Sheen to Hair and smooth it.
The primary lipid found in coconut oil, lauric acid, gives hair a glossy, silky feel.
In addition, coconut oil has additional vitamins and fatty acids that make hair feel and look healthy and remove sebum accumulation.
It May Aid in Combating Dandruff
Apart from providing moisture and nourishment to hair, coconut oil also helps minimize the visibility of dandruff.
According to a 2018 study published in the International Journal of Molecular Sciences, coconut oil can aid in skin barrier restoration and possesses antibacterial, anti-inflammatory, and antioxidant properties.
A 2021 study published in Scientific Reports reveals that coconut oil can help treat dandruff by boosting your skin's "good" bacteria, calming inflammation, and even combating dermatitis.
Many factors can cause dandruff, including dry scalp, dermatitis, fungus, and more.
It makes the cuticle stronger.
Because coconut oil softens, hydrates, and strengthens brittle, broken hair strands, it is excellent for the general health of your hair. Additionally, it fortifies the hair's cuticle, which helps shield hair from pollutants in the environment and maintains its better appearance and feel.
Because a cuticle that is thoroughly saturated with moisture is more durable to all the external impacts, this lessens environmental and heat damage until you wash it out, according to Davis.
It Tames Frizz
Frizz can also be eliminated with the use of coconut oil in hair serums or masks. According to Davis, "The cuticle-smoothing properties of coconut oil make it an effective anti-frizz remedy." When applied to hair on a very humid day, coconut oil helps prevent frizz.
Ways to Incorporate Coconut Oil into Your Routine
One of the most adaptable hair care oils available is coconut oil, which may be used as a mask, conditioner, style tool, or pre-shampoo treatment.
Here are four easy ways to use coconut oil to breathe new life into your haircare regimen:
Prewash protector: Using coconut oil before washing helps prevent damage and dryness by preventing your hair from absorbing excessive amounts of water. Try putting coconut oil on the middle and ends of your hair 15 to 30 minutes before washing it.
Conditioner: Using coconut oil can fortify the hair shaft and shield it from breaking.2. Coconut oil can be used in place of conventional conditioners. If you want to increase the smoothing effect of your regular conditioner, add a few drops of the oil to it.
A styling tool: When it comes to controlling frizz, a tiny bit of coconut oil goes a long way. Use moist hair while applying the oil for faster absorption and styling.
Hair mask: Work a teaspoon or two of the oil through your hair for an incredibly nourishing treatment. If your hair is particularly dry or damaged, you can leave it on overnight and wash it out in a few hours.
Some hair care professionals recommend using coconut oil two or three times a week for optimal results.
Ideas for Using Coconut Oil in Hair Care  and Growth
All hair types may benefit from coconut oil. It works particularly well on dry, damaged, or colored hair.
For people with coarse hair textures, there is some worry that using coconut oil frequently could cause their hair to become stiff.
To maximize the benefits of incorporating coconut oil into your hair care routine:
First, warm up the oil. If you warm up the coconut oil before using it on your hair, it might be simpler to use. One teaspoon of the oil should be placed in a basin and then half-submerged in hot tap water. In a few minutes, the coconut oil will turn liquid. You can also melt the solidified oil by placing it in your palm and rubbing your hands together. To keep the oil from getting too hot, don't microwave it.
Create a blend: For additional aromatherapy benefits, mix a few drops of essential oils, such as peppermint or lavender, with your coconut oil. Additionally, you can combine coconut oil with natural hair-nourishing substances like avocado, yogurt, or honey.
Apply it at night: Coconut oil takes time to penetrate hair, so applying it first thing in the morning may cause your hair to feel and look oily. Apply it at night instead, and shampoo the next morning.
Use sparingly: Although coconut oil is quite light, overuse can make your hair appear greasy. Use a tiny amount—no more than a teaspoon—and gently work the oil through your hair, beginning in the middle and working your way out the ends to prevent accumulation. You might be able to use a tiny bit more if your hair is thick.
Avoid clogging your scalp: Some people discover that their dry scalp can be relieved by directly putting coconut oil on it. Conversely, some people have problems like discomfort and blocked pores. Start with a small amount of coconut oil on your scalp if you've never used it before so you can monitor how your skin responds.
Shampoo Twice: Remember that getting rid of slickness from your hair may require a second shampooing when it comes to removing coconut oil.
Rotate oils: Coconut oil can be used in conjunction with other oils like castor, avocado, and argan oil if your hair is coarse.
Which coconut oil type is ideal for hair?
Some people treat their hair with pure, unrefined, organic, cooking, or organic coconut oil right out of the container.
We particularly adore a leave-in conditioner, deep treatment mask, or conditioner with coconut oil listed as an ingredient:
By doing this, you can prevent weighing down your strands and overdoing them. However, if you're going with pure coconut oil, our experts suggest Garden of Life Organic Extra Virgin Coconut Oil, which is raw.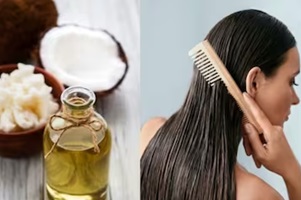 How to use coconut oil as a hair mask
To "protect hair from absorbing too much water," our experts advise using it as a prewash before shampooing, according to Wizemann.
Additionally, it reduces frizz and facilitates easier styling of hair after showering. The ideal way to use it is as follows:
Choose raw coconut oil, like Garden of Life Organic Extra Virgin Coconut Oil.
Smooth coconut oil onto hair and comb it through dry hair.
Leave it on for 15 to 30 minutes to let it absorb.
Thoroughly wash your hair with a great shampoo (you may need to shampoo twice to remove all of the oil) and condition it as usual.
Expert advice: "Only apply it to the middle and ends of your hair if you have an oily scalp," advises L'Oréal Professionnel national artist Brooke Evans.
How to use coconut oil as an overnight treatment
Wizemann states that applying coconut oil overnight will yield the "maximum benefits" of the substance and "should provide a sleeker look and softer-feeling hair" following a shampoo.
For a more thorough treatment, comb through dry hair after applying raw coconut oil.
Tightly wrap your hair before going to bed in a towel, old scarf, or shower cap.
The next morning, wash everything out, keeping in mind that you might need to use two shampoos to completely get rid of the oil. Then, use your regular conditioner.
Expert advice: Consider including a tiny bit of coconut oil in your conditioner if you have oily skin.
How to style hair using coconut oil
If you're apprehensive about using oil on your hair, start simply by taming frizz with a small amount applied to the ends of your hair. Gently massage hands together, then scrunch or comb through ends.
According to celebrity hairstylist Andrew Fitzsimons, "This will leave a polished, shiny look." Alterna Haircare Caviar Anti-Aging Anti-Frizz Blowout Butter "tames frizz while protecting hair from heat styling and humidity," is what he suggests using."
Is coconut oil damaging to hair?
As the rumor has it, coconut oil cannot cause hair loss! Generally speaking, though, if you have oily skin, you should generally stay away from coconut oil as it can clog pores and "cause breakouts around the hairline in people who don't tolerate oils well on their skin," according to Wizemann.
Choosing of Coconut Oil
Choose the unrefined type of coconut oil (also known as virgin or extra-virgin oil) while looking for the best oil for hair. Choose organic, sustainably harvested items wherever you can.
Raw coconut oil that hasn't been refined: It comes from the first pressing of fresh coconuts; it doesn't include any chemicals; it has a strong coconut scent
Refined coconut oil is made from dried coconut kernels and goes through several steps to be bleached and deodorized.
Products that are cold-pressed are a wonderful option because the oils are extracted without the use of heat or chemicals.
Seek items like Dr. Bronner's Organic Virgin Coconut Oil or The Garden of Life Raw Extra Virgin Coconut Oil. These have labels with symbols (such as the Fair Trade Certified or non-GMO-confirmed stamp) indicating that the oil is of a high caliber.
Summary of Coconut oil for hair growth
In conclusion, coconut oil might aid in moisturizing and mending damaged hair. It's also been demonstrated to stop dandruff. It can be used as a style tool, conditioner, hair mask, or prewash treatment.
Start with a tiny amount and observe how your skin responds. Apply the oil two or three times a week if you are happy with the outcome and have no difficulties.
Use only a teaspoon, paying attention to the midsection to the ends of your hair, keeping in mind that a little goes a long way. The best coconut oil to use is unrefined.