Curry Powder Substitute: Best Substitutes for Curry Powder
Curry Powder Substitute: Best, Simple, Substitutes for Curry Powder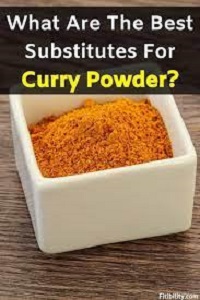 After a jar of curry powder loses its flavor, you may not always want to buy a new one, especially if you only need a teaspoon or two for your recipe.
Instead of curry powder, try one of the alternatives listed below. Do you want to make food but don't have any curry powder? I've got you taken care of.
Here are some of my favorite curry powder alternatives.
What Is Curry Powder and How Do I Use It? Curry Powder Substitute
Turmeric, coriander, salt, fenugreek, black pepper, chili, allspice, and celery are some of the spices used in curry powder.
Spice blends come in a wide variety of flavors in India.
The terms 'curry' and 'curry powder' are more British in origin.
Despite the fact that generic "curry powder" isn't authentic, it's nevertheless a helpful and tasty ingredient.
Eggs, meat, poultry, fish, and vegetables all go well with it.
Origins of Curry Powder
There are numerous hypotheses about the origins of the word curry.
According to one theory, when British colonial Indians looked for a common term for all spicy Indian meals, they couldn't find one in English or any other European language.
The closest match was an item called Kari, which means sauce in Tamil. Another probable etymology of the name is from an ancient Sanskrit root that signified "sourness."
Because most Indian spice foods were sour, English speakers who observed the resemblance may have coined the phrase.
What Does Curry Powder Taste Like?
Curry powder has a unique, nuanced flavor that is slightly bitter and spicy.
If you're unfamiliar with it, try combining cinnamon, nutmeg, red pepper flakes, fennel seeds, coriander seeds, cloves, garlic powder or onion powder, ginger powder, raw ginger, and cumin.
Curry Powder Substitutes
Here are some common curry powder replacements that people like to try when they don't have any curry powder on hand.
The following are the best Curry Powder Substitutes:
Make Your Own
Cumin, coriander, chili (or not), turmeric, and black pepper are the only spices I use. Please see the recipe below.
All Spice and Cumin – Curry Powder Substitute
Another easy dish to make at home is cumin and allspice. Use two tablespoons of each spice in equal proportions.
Garam Masala – Curry Powder Substitute
The spice mixture is popular in India. Garam Masala is a 'finishing spice' that is used at the end of the cooking process to add flavor. However, I prefer to use it in place of curry powder when I want a milder flavor.
Cumin powder – Curry Powder Substitute
While it's a whole different feel, simple ground cumin will give your food a subtle spice flavor. Add a lot of black pepper and some dried chili powder or flakes for a better match.
Turmeric, coriander, and all-purpose seasoning – Curry Powder Substitute
Alternatively, use equal portions of turmeric, coriander, and all-spice in a homemade version. If desired, add dried chilli powder or flakes for further heat.
The good news for folks who want to cook with curry powder replacements is that most recipes only require one or two ingredients from the list below.
As long as you have coriander, cumin, and turmeric on hand, you can mix and match spices.
Masala Chaat – Curry Powder Substitute
Chaat masala is a curry powder-based spice blend with citrus undertones. If you have any chaat masala on hand, this is a great recipe to try.
However, because chaat masala has a bit more of a bite than curry powder, make sure to add it in moderate increments.
Cumin powder – Curry Powder Substitute
The color of ground cumin is correct, but it lacks the flavor that makes curry powder so delicious.
If you run out of curry powder and don't have time to run to the shop, you can still use ground cumin. Add a little at a time until your recipe is exactly right.
Powdered Sambar – Curry Powder Substitute
Another curry powder replacement is sambar powder, which is used in many south Indian recipes.
Use cayenne pepper, ground coriander seed, black mustard seed, fenugreek seed, ground ginger, garlic powder, or clove powder asafoetida to produce your own sambar powder.
Curry Powder – Curry Powder Substitute
If you don't have any curry powder, various curry paste brands will suffice.
Most supermarket stores have Madras and Jamaican curries, but other varieties may need a trip to an international store.
How to Make a Spicier Curry
Do you enjoy the mild heat of curry powder and want to make your dish more spicier? Cayenne or chili pepper can be used to adjust the heat intensity.
Uses of Curry Powder
It makes sense to produce your own curry powder when you have access to fresh, fragrant spices like mustard seed, coriander, cinnamon, and fenugreek seeds.
It's simple to make, but the tastes take a few days to develop. This mixture can be stored in your pantry or spice rack.
Storage of Curry Powder
If you won't use all of your homemade curry powder right away, keep it in a tightly sealed jar in a cool, dry location.
Refrigerate or freeze it if you want to keep it fresh for a longer period of time.
Curry Powder Recipe
Ingredients
4 tsp ground cumin
3 ½ tsps. ground coriander
2 tsps. turmeric powder
1 tsp. ground ginger
¼ tsp. yellow mustard powder
¼ tsp. cayenne pepper
Method
In a mixing bowl, combine all of the ingredients and then, well combine.
After that, store in an airtight jar and use as needed in your favorite recipes.
People also ask
Which brand of curry powder is best?
The Best Curry and Spice Blends for Home Cooking
Biju's Madras Curry Spice Blend.
Rumi Afghan Curry Braise.
Spiceology Curry Madras.
Spicewalla Indian Essentials.
Sun Brand Madrascurry Powder.
How do I choose curry powder?
You should also be aware that red, yellow, and green curry pastes are available, depending on the flavor you like.
The spiciest is red curry paste, while the mildest is green curry paste. This One-Pot Green Chicken Curry is flavored with green curry paste and curry powder for a vibrant mild curry taste.
Is all curry powder created equal?
In a nutshell, there is no single standard definition or recipe for curry powder because each mix is unique and made with a unique balance of spices to suit the chef's preferences.
What is the world's best curry?
Forget about Korma and Tikka – here are ten of the best curries to try instead.
Goan
Dhansak
Rajma Masala
Bhuna Gosht
Massaman
Thai Red Curry
Thai Green Curry
Lemongrass, coriander, fish paste, and chilies abound in this gentler Thai curry, which is fragrant, creamy, and full of unusual flavors.
Is Indian curry powder the same as Jamaican curry powder?
Authentic Jamaican curry powder differs from Indian curry powder in that it uses a variety of local ingredients to produce a unique spice blend.
This delectable blend of lightly toasted seeds, warming seasonings, and chili powder can be used to season a variety of meals. It's quite adaptable.
Should curry powder be kept in the refrigerator?
It's preferable to keep spices in the refrigerator if you're used to buying them in bigger quantities.
Whole spices can be kept in the refrigerator for three years, while ground spices can be kept for six months.
Which country serves the greatest curry?
India: India, of course, is the place to go for some of the world's most exquisite curries.
Vindaloo curries are widely accessible in the country's south, particularly in Goa and Andhra Pradesh.
Is curry a British or an Indian dish?
Curry (as in a spiced dish) is the British term for a variety of spicy Indian cuisines.
Curry powder was created by the British when they attempted to recreate Indian cuisine at home.
What distinguishes Jamaican curry from Indian curry?
Indian curries contain more chilli powder than raw peppers, which is a significant difference between Jamaican and Indian curries.
This imparts a characteristic red color and a spiciness to Indian recipes. Indian meals, like Jamaican cuisine, are frequently marinated in a blend of Indian spices before being cooked.