How to Use Ginger and Garlic for Manhood
How to Use Ginger and Garlic for Manhood. Please Watch >>>>
Two potent superfoods, garlic and ginger, may have a variety of positive effects on men's sexual health and overall wellness.
Ginger and garlic may help you with a variety of issues, including enhancing your general health and well-being or spicing up your love life.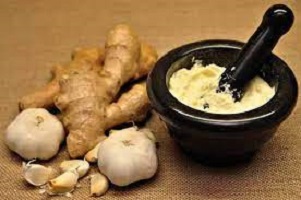 So let's get started and learn about the incredible benefits of these two superfoods and how to use them to promote virility.
An Overview of How to Use Ginger and Garlic for Manhood
I don't like either ginger or garlic, particularly garlic since I feel irritated by the smell.
However, despite their strong aromas, these two herbs are incredibly therapeutic and have huge health advantages.
They are also excellent in meal preparation and add great taste to dishes
Some of us are already aware of this, but I want you to know more. I want to demonstrate to you the benefits of ginger and garlic for masculinity.
SO, GET IN HERE MEN!
Few things are more vital for men's health than maintaining an active and healthy sex life.
Unfortunately, a lot of men have difficulties with their sexual health, including low libido, erectile dysfunction, and other disorders.
But what if we told you there's a simple, all-natural fix you can find sitting there in your pantry?
Yes, we are discussing the potent combination of ginger and garlic! For decades, these two herbs have been utilized to improve men's sexual health and increase general vigor.
Although contacting a doctor or visiting a physician is a fantastic way to start treatment, you may also attempt some at-home cures.
How to use ginger and garlic for adulthood
Can ginger and garlic impact a man's libido? They certainly can, particularly when it comes to erectile dysfunction.
There are popular treatments for erectile dysfunction. Some of them include; prescription, erectile Dysfunction(ED) medication, and prosthetic surgery. These have been confirmed to work for several men.
However, ginger, garlic, and honey are among the all-natural treatments for erectile dysfunction.
These ingredients (ginger, garlic, and honey) together may help reduce the symptoms of ED.
Ginger appears efficient at increasing blood flow, honey is a common aphrodisiac that most likely improves the potency of ginger, while garlic may help dilate blood vessels together with increasing blood flow
For these reasons, a mixture of these three natural compounds may aid in reducing erectile dysfunction symptoms.
Let's explore the use of Garlic and ginger as independent plant and their benefits on manhood. In addition to how to use and prepare this mixture
Garlic and ginger benefits for male sexuality ~ The Health Benefits of Garlic for Men
Another potent superfood that may provide a variety of advantages to men's health is garlic.
Here are just a few advantages of garlic for men that might enhance sexual performance and well-being:
Improves Circulation
Garlic, like ginger, may aid in enhancing blood flow throughout the body.
This may help to enhance erections, boost libido, lower the risk of cardiovascular disease, and improve other bodily functions.
Increases immunity
The immune system may be strengthened by garlic, which also benefits general health and well-being.
This may improve sexual performance and provide defense against a variety of ailments and disorders.
Brings down inflammation
Garlic has immune-boosting qualities as well as being a potent anti-inflammatory.
This may aid in lowering body-wide inflammation, which may enhance general health and well-being and also sexual performance.
Garlic is simple to include in your diet and is also tasty.
Try flavoring your favorite sauces and marinades with fresh garlic or incorporating it into your favorite foods. Garlic supplements are also available at your neighborhood health food shop.
Benefits of Ginger for Men ~ Ginger Benefits for Men
In view of that, eating ginger root may improve testosterone synthesis by increasing blood supply to the testes and raising testosterone production.
An important physical marker of a male's capacity for fertilization is testicular weight.
The Function of Garlic and Ginger in Increasing Testosterone
To maintain sexual health and vigor, testosterone, the main hormone involved in the male sex, is necessary.
Both ginger and garlic may support the increase of testosterone in males, which has a variety of positive effects on sexual function and general health.
Just a few of the ways that ginger and garlic may support testosterone augmentation include:
Raises luteinizing hormone levels
A vital hormone in controlling testosterone synthesis is luteinizing hormone.
According to studies, ginger may help men have higher luteinizing hormone levels, which can raise testosterone production and improve sexual performance.
Boosts the quality of sperm
Men's sperm quality has been shown to improve by garlic, which may have a favorable effect on fertility and sexual function.
Additionally, ginger and garlic may also aid to enhance sexual performance and vitality as well as general reproductive health.
Lessens tension/stress
Reduced testosterone levels are only one health issue in which stress plays a key role on.
Both ginger and garlic may aid in stress reduction, which can enhance general health and well-being and enhance sexual performance.
How to Improve Manhood with Ginger and Garlic
Ginger works well to improve blood flow in your intimate areas. Garlic, on the other hand, aids in blood vessel dilation and blood flow enhancement.
Both masculinity and ED symptoms may benefit from the combination of these two organic substances.
This natural cure functions as a natural stimulant in many types of conventional medicine.
It has the power to increase desire in addition to giving you more control. It is said to be a potent aphrodisiac and a libido enhancer.
Also, eating ginger and garlic increases your stamina and lengthens your endurance.
You may either add ginger and garlic to diets or meals, create a drink out of them, or just chew them for improved virility.
Read on to learn how to make ginger and garlic tea
How to Prepare Ginger and Garlic Mixture for Modality ~ How to Use Ginger to Last Longer
You may prepare a ginger, garlic, and honey mixture to extend your intimate shelf life
Ginger-Garlic with Honey Recipe
200 ml of water
20 cloves of Garlic
2 medium-length roots of Ginger
4 tablespoons of Honey
Apple cider vinegar, OR Lemon juice (optional)
How to Make
Firstly, grate the ginger root after peeling it, and then, mash the garlic gloves.
Secondly, mix warm water in a glass. Add honey, lemon juice or apple cider vinegar in a bowl together with the warm water.
Then, add the ginger and garlic.
After that, put the mixture in a blender or food processor and blend until thoroughly mixed and finely blended.
Finally, pour the liquid into a glass jug and refrigerate.
Dosage
Take the remedy daily by spoonful or can keep it stored in the fridge.
A Ginger-Garlic Recipe
200 ml of water
20 cloves of Garlic
2 medium-length roots of Ginger
A teaspoonful of salt
Method
Firstly add the salt to the water
Secondly, peel the garlic and wash them in salty water to remove dirt and bacteria
After that, grind the garlic after washing. Make it smooth to use, or get a paste out of it.
Then, wash and remove the outer coat of the ginger
Meanwhile, grind ginger and garlic together this time to get a mixture. Take water and add to the mixture of ginger & garlic
Gradually stir, and leave it for 5 to 10 minutes
Lastly, serve yourself with the solution from the mixture
Dosage
This can be taken daily, early in the morning and before bedtime.
Ginger-Garlic & Bitter Kola Recipe
5 pieces of bitter kola
3 cloves of garlic
1 liter of water
1 medium-sized ginger
Method
To start, peel off the back of the bitter kola and grate using a grater
Then, peel off the back of the garlic, and ginger; grate both of them differently
After that, combine well and put inside a glass tumbler or bottle of one-liter size.
Then, pour 1 liter of water into the glass tumbler or bottle and shake it together
Now keep it till the next morning to allow fermentation
Lastly, shake the mixture every morning and take half a cup 30 minutes before the meal or after the meal.
The combination of ginger, garlic, and bitter kola affects a man's sexual health in a few positive ways.
It aids in the treatment of erectile dysfunction and low sperm count. Additionally, it controls blood pressure.
The Bottom Line on How to Use Ginger and Garlic for Manhood
The ginger and garlic mixture is excellent and typically healing. Both are used in diverse ways as natural treatments for certain health problems.
Remember that this is a process and won't provide results right away. However, over time you will see a progressive improvement in how you carry out your official responsibilities.
Above all, seeking medical advice shouldn't be disregarded. In most cases, the use of these two herbs should be done under the guidance of health professionals.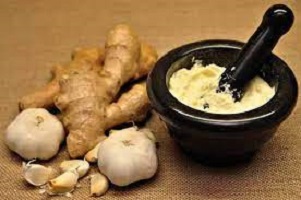 FAQs on Using Ginger and Garlic for Maleness
What does ginger do for a guy in regard to sexual performance?
In light of this, eating ginger root may increase testosterone synthesis via increasing generation and blood flow in the testes. An important physical marker of a male's capacity for fertilization is testicular weight.
How can I use ginger to last longer?
Peeling and shredding the ginger root should come first. Next, smash the garlic cloves. Next, combine lemon juice, honey, and warm water.
You may also add some ginger juice and a teaspoon of lemon juice to a glass of water.
What is the importance of ginger and garlic to a man? Ginger and Garlic for Manhood
Strong anti-inflammatory, antioxidant, antiviral, and antibacterial effects may be found in both ginger and garlic.
Consequently, including them in your diet may aid in maintaining a strong immune system.
Why is garlic beneficial to maleness?
May improve blood flow
Nitric oxide, a substance that aids blood arteries in expanding to promote improved blood flow, may also be increased by garlic. This could be able to enhance erectile function.
What does ginger garlic and honey mixture do for men?
Health Benefits of Garlic Ginger with Honey
Infection Treatment
Increase Immunity.
Treatment for aortic stenosis and hypertension.
Solution for asthma.
Cancer
Aid in Losing Weight.
Heart health is improved.
Digestive Problems
Does ginger garlic lemon and honey mixture benefits?
Benefits of Drinking Ginger, Garlic, Lemon, and Honey
Though ginger and garlic are thought to aid in digestion and regulate body temperature, this combo could aid in weight reduction.
The negative consequences of high blood pressure and heart disease may be reduced by this mixture.
Do ginger and garlic raise testosterone levels?
Additionally, there are signs that antioxidants, which garlic unquestionably contains, support the health of testosterone and the whole male reproductive system.
Additionally, it provides a host of additional benefits that combat the effects of low testosterone, like increasing your energy and libido.
What happens if you drink honey and ginger every day?
Strengthens the immune system
Your immune system may be strengthened by taking a spoonful of Honey Ginger every day or by drinking a cup of ginger, lemon, and honey tea.
Also, ginger and honey both possess antioxidant qualities that strengthen the body's immune system.
What happens when you mix honey and garlic?
When examined independently, scientists discovered that bacteria could be destroyed by both garlic and honey. Even more effective was garlic and honey together.
The combination of garlic and honey inhibited or prevented the development of bacteria that cause infections and illnesses including pneumonia and a specific kind of food poisoning.
What are the benefits of boiling ginger garlic and lemon?
It has limonene, pectin, calcium, magnesium, and vitamin C, all of which have beneficial effects.
Supports digestion.
Detoxifies and cleanse your body.
Heals the body and rejuvenates the skin.
Promotes weight reduction.
Strengthens the immunological system.
Skin clearing.
Maintains pH balance.
Improves mood and energy.
Can ginger and garlic cure infection?
Since they don't replace the usage of antibiotics but rather work to prevent multidrug resistance, garlic and ginger extracts may be used as a source of antibiotic compounds for potential staphylococcal infection therapy.
What happens when you drink ginger lemon and honey every day?
Dry coughs are brought caused by inflammation, which ginger may help to alleviate. A sore throat might be relieved with honey.
Lemon helps to clear congestion. In addition, this all-natural trio helps lessen flu-related discomfort and nausea!
How to cure infections with garlic and ginger
Can ginger and garlic be used to cure infections?
Against a wide range of pathogens, such as the flu and respiratory illnesses, garlic, and ginger have strong antiviral and antibacterial properties.
How can ginger be used to cure an infection?
As a result, ginger functions as an antioxidant and aids in the body's release of toxins, which helps to clear infection and flu.
Boil ginger water and squeeze in some lemon. The vitamin C present in lemon also works as an active agent in the removal of mucus and offers relief from pain.
What is ginger used for sexually?
In both men and women, ginger may help lower blood pressure and boost blood flow, which may improve arousal and sexual performance.
Benefits of drinking hot water with ginger and garlic ~ what effects do warm water with ginger and garlic have on the body?
Strong anti-inflammatory, antioxidant, antiviral, and antibacterial effects may be found in both ginger and garlic.
Thus, including them in your diet may aid in maintaining a strong immune system.
Turmeric and ginger benefit sexually
Are ginger and turmeric good for men?
Due to the potent anti-inflammatory qualities of turmeric, taking supplements may assist in greater joint health while also reducing pain and inflammation.
In combination with ginger supplementation, turmeric has been shown to lessen the signs and symptoms of arthritis and improve joint health
Benefits of ginger and garlic sexually ~ Is garlic and ginger good for a man?
Because it inhibits blood clots, ginger is regarded as a natural blood thinner.
However, it guards against cardiovascular illnesses and lowers blood cholesterol levels. Low-density lipoprotein cholesterol and aortic plaque buildup on vein walls may both be reduced with the help of garlic.
Side effects of ginger and garlic ~ what are the ginger and garlic side effects?
Heartburn, diarrhea, burping, and overall stomach pain are all possible moderate side effects.
The risk of adverse effects rises with greater daily dosages. Ginger may be safe for short-term usage when applied topically.
Though, some individuals could have skin sensitivity from it.
How to prepare ginger and garlic drink ~ how do you mix garlic and ginger water?
Add water to a pan and bring to a boil. Then, grate some ginger and add some minced garlic.
After that, cook using low heat, cook. Lemon juice and honey may be added.
Finally, stir and turn off the heat, then, pour into a cup and enjoy hot.
How do you mix ginger and garlic?
Take a pot and fill it with boiling water (about a cup). Add a little piece of cleaned and peeled ginger.
After that, add ½ a teaspoon of black pepper and 1 teaspoon of smashed garlic, and let it steep for 5 minutes.
What happens when you mix garlic, ginger, and honey ~ what do ginger garlic, and honey does to the body? ginger garlic and honey benefits
Enhance Immunity
Garlic ginger tea with honey boosts immunity. The antibacterial, anti-inflammatory, antimicrobial, and antiviral characteristics of this herbal blend help it combat oxidative stress and safeguard the body.
What happens when you drink ginger and garlic on an empty stomach?
Lower blood sugar levels are aided with ginger.
Blood sugar management may be helped by consuming a teaspoon of ginger juice together with a glass of water in the morning.
Blood sugar control may be aided by garlic. Garlic raises blood insulin levels, which may help in managing diabetes.