Keto Cheesecake Recipe Nigerian
Keto Cheesecake Recipe Nigerian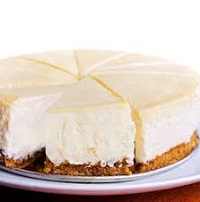 The keto cheesecake has a low carbohydrate count, a high-fat content, and a moderate protein content. It is a guilt-free dessert option for those following a Ketogenic diet. It has a sweeter flavor than conventional cheesecake.
What Is Keto Cheesecake?
Cheesecake is one of the world's most popular sweets, however, most cheesecakes are created with sugar and a graham cracker crust. As a result, traditional cheesecake is not keto-friendly.
The difference between a "regular" cheesecake and this Keto cheesecake is minimal. The only item that has to be changed is the sweetener to make it sugar-free, and the crust to make it gluten-free.
A single slice contains more than 30 grammes of carbohydrates. This low-carb keto cheesecake recipe, on the other hand, has only 5g of net carbs!
Fortunately, by adjusting a few ingredients, you can create a keto-approved cheesecake recipe that is really tasty and tastes identical.
How to Make Keto Cheesecake ~ Cheesecake Recipe
Keto Cheesecake recipe is simple to create and only requires a few simple steps. Although it appears to be a lot of work, it is actually not that difficult because a water bath is not necessary.
Ingredients
This delectable keto cheesecake requires only eight common ingredients, which are listed below:
Almond flour is excellent gluten-free flour for making a keto cheesecake crust. It's low carb and perfect for a crispy on the exterior and crumbly on the inside keto crust.
Butter: Adds a buttery flavor to the crust and helps it crisp up in the oven.
Vanilla Extract: use the best vanilla extract you can find, preferably sugar-free.
Cream Cheese:  is the major component in this keto cheesecake, so use a high-quality brand. Another thing to remember is that the cream cheese must be full-fat and at room temperature.
Do not use cream cheese spread, even if it is low-fat.
Sweetener: To sweeten this low-carb dessert, use a powdered sweetener with no cooling effect or foul aftertaste, such as monk fruit+allulose blend.
You can alternatively go with erythritol or xylitol-based combination. Pure stevia is not a good choice.
Eggs:  Eggs aid in the binding of all the ingredients and cannot be substituted. Room temperature eggs are required
Sour Cream:  Sour cream adds a rich flavor and texture to the cheesecake, plus it's a great keto option! In addition, use room temperature full-fat sour cream.
Steps
Preparing the Keto Cheesecake Crust
Warm the oven to 350°F and butter the sides of a 9-inch springform pan.
Mix the crust ingredients and spread the crumbled dough into an equal layer in a baking pan.
While making the keto cheesecake filling, chill the dough. This step allows the crust to firm up and forms a buttery crust.
Preparing the Cream Cheese Filling
Mix the melted cream cheese and sweetener in a mixing bowl,
Add the eggs one at a time.
Mix with an electric mixer until smooth.
Add the other ingredients and clean the sides and bottom of the bowl with a spatula.
Flatten the cream cheese filling over the crust with a spatula to remove any air bubbles.
Baking and Refrigerating the Keto Cheesecake
Bake for 50 minutes in a preheated oven.
When the sides of the cheesecake are golden brown and the center is firm yet unshapely like jello gelatin, it's done.
Take out of the oven and set aside for an hour to cool before transferring to the refrigerator.
Tips for a Perfect Keto Cheesecake
Ingredients should be at room temperature to get a smooth and creamy cheesecake filling.
If you forgot to melt the cream cheese: Microwave the cream cheese bricks in a microwave-safe basin for 20-30 seconds, or until melted but not heated.
Use full-fat cream cheese (about 33% fat) and sour cream. Philadelphia cream cheese is the best for cheesecake.
Overheating the egg will result in a ruined cheesecake.
Over-stirring might result in cracks because there is too much air in the mixture.
Stop stirring every now and then to scrape the sides and bottom of the bowl to ensure there are no lumps.
Avoid opening the oven while the cheesecake is baking. It can result in cracks.
Keto Cheesecake should not be overbaked as it can also cause cracking.
Cooling the Keto Cheesecake
It is critical to allow the cheesecake to cool at room temperature before transferring it to the refrigerator. This could take an hour or two. Cracks in the cheesecake can result from a significant temperature shift.
Uses of Keto Desserts
Serve your cheesecake with:
keto ice cream
whipped cream
a drizzle of sugar-free chocolate syrup or
a thin coating of keto powdered sugar.
3 Ingredients No Bake Keto Cheesecake
Water baths, sensitive chilling processes, and other sophisticated preparations appear to be a recurring theme in an oven-baked keto cheesecake.
This delightful dessert has a rich cheesecake filling on top of a 3-ingredient crust and is completed with a colorful berry garnish. Plus, it's just plain lovely.
All you have to do is put it together and put it in the fridge (no worrying about over-baking, under-baking, or having your keto cheesecake crack)
It's quick – it just takes 10 minutes to put this together. You don't have to bake the crust!
Equipment
8-inch springform pan: for simple cheesecake shaping and release
Parchment paper: the use of parchment paper guarantees that the crust is flawless and that it adheres to the filling.
Stand Mixer: to properly incorporate the no-bake filling, use a stand mixer or a hand mixer.
Silicone spatula: is excellent for scraping the edges of the mixing bowl and smoothing the contents into the pie crust.
No-Bake Keto Cheesecake Filling Ingredients:
Keto condensed milk: Keto condensed milk makes this no-bake cheesecake luxurious
Cream cheese or mascarpone: the main ingredient for a soft and creamy no-bake cheesecake
Lemon juice: adds freshness and balances the rich flavors
Keto Cheesecake Crust Ingredients
Almond flour: is a keto component that is similar to graham cracker pie crust.
Melted butter: bonds the almond flour and adds a rich taste to the crust.
Granulated sweetener: sweetens the pie crust without adding carbohydrates.s
Making the Keto Cheesecake Crust
Combine the almond flour, butter, and sweetener in a mixing bowl.
Fill a spring form pan halfway with the mixture.
In a mixing dish, combine the keto no-bake pie crust ingredients.
1. How to Make a Keto No-Bake Cheesecake Crust
Combine the cream cheese, condensed milk, and lemon juice in a mixing bowl.
Whisk together all of the ingredients until well incorporated.
2. How to Make No Bake Keto Cheesecake Filling
In a medium mixing bowl, combine all of the filling ingredients except the sour cream.
To mix, use an electric mixer.
Stir in the sour cream.
Continue to mix until smooth.
Spread the mixture evenly on top of the crust with a rubber spatula.
Refrigerate the cheesecake for at least 4 hours to allow it to the firm.
3. How to Make No Bake Keto Cheesecake with Berry Sauce
After the cheesecake has chilled,
Combine the topping ingredients in a saucepan
and heat over medium heat until the berries have turned into a light jam.
If desired, add sweetener.
Serve immediately or chill the jam over the cheesecake.
Nutritional Value of Keto Cheesecake
This recipe offers nutrition information for a slice. Compared to a classic cheesecake this one is very low in carbs and refined sugar:
Calories: 454
Fat: 47g
Carbohydrates: 5 g
Protein 6 g
Other Keto desserts Recipes to try:
No Bake Keto cake Fluff
Keto Chocolate Mousse
Keto Chocolate Chip Cookies
More Keto Desserts
Keto Brownie Bombs
Keto Cake
Chocolate Chip Peanut Butter Bars
Avocado Chocolate Mousse
Keto Brownies
Coconut Ice Cream
Fat Bombs
Keto Vanilla Cake
Mixed Berry Crumble
Keto Coconut Cream Pie
Faux Keto Apple Pie Parfaits
Keto Strawberry Ice Cream
Health benefits of Keto Cheesecake
There are numerous advantages of eating these keto snacks, including the following:
Loss of Weight: consuming keto cheesecake increases fat-burning in the body. Losing weight is equivalent to burning fat.
Hunger Control: Low insulin levels allow you to eat less while yet feeling full. Consuming keto cheesecake sometimes helps the body to access massive amounts of stored energy (fat) and reduces hunger pangs.
Increased Energy and Cognitive Function: When the body burns stored fat, it gets more energetic. Even keto treats can help you enhance your physical power and endurance.
Ketosis induces a spike in ketones which prevents blood sugar swings. It improves mental performance and concentration. In reality, fat fuels the brain rather than carbohydrates.
Blood Sugar Control:  A keto diet is beneficial for Type 2 diabetes management. According to some research, it can really reverse the illness over time. This appears to be the result of improved insulin regulation in the body.
Digestive Wellness:  Also improves digestive health. It is usually the first thing that a new keto dieter observes.
Side Effects of Keto Cheesecake
Ketoacidosis: Excessive ketones might cause a condition known as ketoacidosis. Ketoacidosis is a potentially lethal complication of Type 1 diabetes.
The Keto Flu: Keto flu is a common occurrence for persons who are new to the Keto diet. It usually only lasts a few days until the body adjusts. It is caused by your system losing too much water and electrolytes.
Constipation and cramps: the keto diet causes your body to lose magnesium, which causes leg cramps to worsen. Taking a magnesium supplement may assist with the issue.
Meanwhile, dehydration causes constipation, which is why increasing water intake while on a keto diet is critical.
Furthermore, eating veggies high in fiber can help with stomach troubles.
FAQS
Can you eat cheesecake on a keto diet?
Cheesecake is the ideal keto dessert because it's heavy with cream cheese and eggs, as well as being extremely low in carbs and high in fat.
It also does not necessitate modifying many of the ingredients, except for the sweetener and wheat for the base.
How many carbs are in a keto cheesecake?
Each decadent slice contains only 3 NET CARBS
Is cheesecake high in carbs?
Because of the sugar, regular cheesecake has a high carbohydrate content — often 32 grammes or more per slice.
How many calories are in a slice of keto cheesecake?
1 piece contains 512 calories.
What kind of cheese can you have on the keto diet?
The greatest keto cheeses are cheddar, Gouda, goat cheese, and blue cheese, while cottage cheese and low-fat and processed kinds are the worst. If you're on the keto diet or know someone who is, keep these cheeses in mind to induce ketosis and satisfy dietary objectives.
How do I know if the Keto Cheesecake is cooked?
The center, on the other hand, should be set but "jiggly" and pale in color. Bake it at a low temperature for 50-60 minutes. Another source of cracking that we are attempting to avoid is overbaking.
Conclusion
Keto cheesecake is one of the best desserts to try because of its high caloric content. Not only is it healthy but it is also very sweet and easy to make.
If you're in a hurry try the 3 ingredients no-bake version. It's quick, cheap, and easy. Also, for the topping of your cheesecake, you can use blueberry, raspberry, strawberry, peanut butter, or any berry at all.