Keto Cookies ~ Best Keto Chocolate Chip Cookies
Keto Cookies ~ How to Make Keto Chocolate Chip Cookies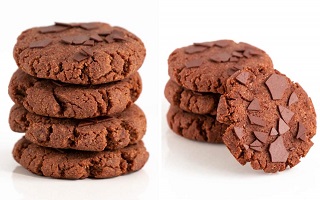 In the keto diet, you consume little to no carbohydrates, no sugar, lots of fat, and moderate amounts of protein. Keto cookie recipes fit the keto diet's macro requirements.
Hot Topics on Keto Right Now >>>>
Remember that everyone has distinct macro requirements, so indulge within your own restrictions.
What Are Keto Cookies?
Similar to regular chocolate chip cookies, low-carb cookies are baked with almond flour rather than wheat flour. Erythritol, a sweetener that is compatible with the keto diet, is used in place of regular sugar.
How to Make Keto (Chocolate Chip) Cookies? Best Keto Chocolate Chip Cookies Recipe
Keto chocolate chip cookie is widely known and easily comes to mind when people think of keto cookies.
We will substitute keto-friendly ingredients for those "regular" ones instead. And if you've been on the ketogenic diet for a while, you probably already have the majority of what you need in your cupboard.
Having stated that we'll be employing ingredients like:
Almond Flour
Sweetener
Sugar-Free Chocolate Chips
Pure Vanilla Extract
Butter
An Egg
Instructions:
Mixing the Ingredients
The almond flour needs to be sifted through a sieve as a preliminary step. By doing this, you can guarantee that the chocolate chip cookies will have a soft and chewy texture.
Add the baking soda, salt, and chocolate chips to the bowl
Then, simply stir those until thoroughly incorporated, and put that bowl to the side.
Then, take a still bigger bowl and put the softened butter in it.
Add the cream and sweetener
Make sure to use softened butter because trying to cream the mixture with hardened butter would take longer and be ineffective.
After completely creaming the butter and sweetener, add the egg and whip it into the mixture until everything is well incorporated.
When it does, stir once more before incorporating the vanilla extract.
Making the Cookie Dough
You can now take out the dry ingredients again and pour them into the bowl.
Add and combine them in two batches, each batch including half of the dry ingredients.
After everything has been combined and cookie dough has formed
Chill the cookie dough for 30 minutes in the refrigerator before baking the cookies.
If you neglect this step, your cookies will stretch out way too much in the oven and you won't get the ideal cookie size and texture.
Space out the dough on the pan so they don't bake into each other
Baking Keto Cookies
Flatten your cookie dough with the back of a spoon.
Give them 30 minutes to cool once you remove them from the oven
Giving them time to set will give you the desired soft and chewy texture since they are a touch too soft right out of the oven.
Now, the best thing to do is to microwave them for 5 seconds after they have set if you want to eat them warm.
No Bake Keto Cookies
The most popular treats to create are no-bake cookies. Because you don't need to use a fussy oven that can sometimes be too hot and other times not hot enough, they are easy to make and always turn out wonderful.
Ingredients:
Peanut butter: you can use almond butter, although natural peanut butter is ok and really preferred for its creamy nature.
Unsweetened cocoa powder: this gives the keto cookies their rich chocolate flavor.
Roughly chopped raw pecans: They have some fiber to reduce the net carbs even further, and they are also low in total carbs.
Butter: Since the butter will help them set and solidify in the fridge, there's no need to take it out of the fridge early to use room temperature butter.
Powdered erythritol: is a sugar substitute that is 100 percent sugar-free and low in net carbohydrates, making it a good choice for ketogenic diets.
Liquid stevia: You only need a little because its sweetness is considerably more concentrated than sugars.
Vanilla extract: is a wonderful complement to all baked items made with ketones. Additionally, vanilla extract has a strong flavor, so you only need a little.
Unsweetened coconut flakes: Unsweetened coconut flakes are actually great on a keto diet.
Instructions:
In a big bowl that can be used in the microwave, combine the butter and peanut butter.
For 30 to 60 seconds, microwave them to a melted state.
In order for the mix-ins to be coated uniformly, the peanut butter in this recipe needs to be quite runny.
Using a large spoon, thoroughly mash the melted butter into the peanut butter. The remaining components are now added.
Mix until everything is thoroughly coated and combined.
Form 10 cookies, place on a parchment-lined baking sheet, and freeze for 30 to 45 minutes until firm and ready to enjoy.
Best kept in the refrigerator or freezer in a zip-top bag.
That's it! You can then grab your keto cookies on-the-go
Storing the Cookies
You should preserve the cookies in an airtight container for storage. They should be able to last for approximately a week if they are stored in this way.
You can store yours in the refrigerator, but some prefer to keep it out on the kitchen counter.
Other kinds of keto cookies are:
Sugar-free thumbprint cookies are healthier than their high-carb counterpart.
Keto lime cookies: use coconut flour and a combination of lime zest and lime extract to make for a delicious citrus-infused cookie treat.
Keto blueberry bars: make the perfect keto treat. Packed with fresh or frozen blueberries and made with a combination of almond and coconut flour they are healthy bars that are easy to make and share.
Keto Peanut Butter Jelly Bars: are the ultimate keto snack. The salty rich flavor of peanut butter combines beautifully with the homemade strawberry jelly! It's a gluten-free, grain-free, sugar-free PB&J tasty treat.
Keto lemon shortbread cookies: have the perfect crisp, melt-in-your-mouth texture. Made with coconut flour, it's gluten-free, sugar-free, and tree-nut free.
Keto matcha cookies: use coconut flour and some matcha powder for a delicious, healthy low-carb treat. The addition of matcha gives these cookies a natural green color.
More keto cookies are:
Nut-free keto blueberry cookies
Keto soft sugar cookies
Keto Chocolate Chip Butterscotch cookies
Peppermint meringues
Keto white chocolate macadamia cookies
Keto black and white cookies
Coconut flour shortbread cookies
Keto Mexican wedding cookies
Keto oatmeal cranberry cookies
Homemade Keto Nutter Butter Cookie
Keto brown butter chocolate chip cookie
Keto rolled sugar cookies
Red velvet keto cookies
Keto pumpkin cranberry cookie
Keto cream cheese chocolate chip cookies
Ingredients Substitutes for Keto Cookies
Fine Almond Flour: It works, but the cookies are too flat
Coconut Flour: Don't try coconut flour; it's quite terrible.
Coconut Oil: It doesn't function very well either. The cookies don't completely melt and maintain their ball-like shape.
Without Xanthan Gum: It might work if you bake the cookies for a little less time like eight minutes. Gelatin can also be used in place of Xanthan Gum.
Liquid Stevia: The cookies baked up rock-hard.
Nutritional Value of Keto Cookie
1 Keto Chocolate Chip Cookie contains:
90 calories.
7g total carbs
2g net carbs
8g fat
2g protein
Health Benefits of Keto Cookies
The benefits of keto cookies just like keto diets are that they are:
Low Carb & Keto Friendly: It has 88 percent fewer net carbohydrates per serving than commonly available biscuits, only 1.8 grams per serving.
Multi-Seed Cookies: High Protein and Fibre
Safe for diabetics: Cookies are a healthier snack than a regular biscuit because they are low in carbohydrates and sugar.
Side Effects of Keto Cookie
Keto Flu: The keto flu which resembles some flu symptoms, is a widely discussed adverse effect of going on keto.  These could happen as a result of the body switching from carbs to fat as the body adjusts to a low-carb state initially.
Nutrient Deficiency: Following a ketogenic diet can result in macronutrient shortfalls of fiber, which is essential for the health of our gut microbiota, as well as micronutrient deficiencies of minerals like magnesium and phosphorus.
Dehydration, electrolyte imbalance, or kidney issues: can occur when the body is in a state of ketosis. Because the kidneys are working harder than usual, this increased urination and electrolyte loss can cause dehydration, dizziness, kidney stones, or acute kidney injury.
Brain Fog and Mood Swings: Extreme low-carb diets may decrease cognitive attention and cause irritation since the brain needs energy from carbohydrates to function at its best.
Bad Breath: The ketosis process can lead to bad breath since the byproduct is expelled by urination and breathing, combined with protein metabolism, which causes the body to create ammonia when the protein is broken down.
Due to the fact that the body needs a lot of water to properly eliminate ammonia, dehydration can result in a buildup that necessitates adequate hydration to correct. Without this hydration, the breath may continue to smell.
Constipation: Low-carb diets are thus a contributing factor in constipation by causing the bowels to become backed up. Increased hydration, eating more non-starchy veggies, and reducing dairy consumption are some of the keto-approved treatments for this.
FAQS
What kind of cookies can you eat on a keto diet?
These are some of the best keto cookies to buy near me:
Kiss My Keto Chocolate Chip and Butter Cookie
Lenny & Larry's Keto Coconut Cookies
Justine's Raspberry White Choc Protein Cookie
Superfast Peanut Butter Cookie Bites
Catalina Crunch Keto Vanilla Creme Sandwich Cookies
Fat Snax Lemony Lemon Cookies
What cookie has the least amount of carbs?
Some keto cookies include:
Chickpea chocolate chip cookies.
Banana grain-free chocolate chip cookies.
Black bean brownies.
Snickerdoodles
Nilla vanilla wafers.
Lorna Doone shortbread cookies.
Peanut butter cookies
Can you eat sugar-free cookies on keto?
Since sugar-free cookies have so much butter in them, they are excellent keto snacks or treats. Make certain to use grass-fed, premium butter.
Does Crumbl cookie have keto cookies?
Crumbl cookies are NOT acceptable for a ketogenic diet since they are created with high-carbohydrate ingredients such as white sugar, brown sugar, powdered sugar, flour, chocolate chips, and cereal bits.
Will eating a cookie kick me out of ketosis?
Even while cookies come in the ideal serving size and are very handy, each chocolate chip cookie still contains about 10 grams of carbohydrates.
This is the purpose of keto cookies. You may make cookies that you can enjoy without worrying about your carb intake by making a few simple ingredient changes.
Are keto cookies good for you?
Going for some keto cookies during your snack time will not be a bad decision, regardless of whether you are carefully adhering to your keto diet plan or on a low-carb diet.
Because they are constructed with nutritious ingredients, these cookies can help you stop reaching for bad treats whenever you get hungry.
What are keto cookies made of?
Preparing keto cookies is typically similar to making ordinary cookies. Even though the components may differ—for example, erythritol may be used in place of cane sugar, and almond or coconut flour may be substituted for all-purpose—the technique is usually the same.
Why are keto cookies soft?
You must utilize erythritol as your sweetener if you desire something that is crisp, soft, and chewy. It provides a very comparable crunch and chew and is the only natural sweetener in the keto diet.
Conclusion
You hardly notice the difference when using almond flour as a substitute for conventional flour in keto recipes. Sunflower seed flour and walnut flour are the greatest alternatives to almond flour. Any of my recipes that call for almond flour can substitute these at a 1:1 ratio.
Never use coconut flour in place of almond flour. If the cookies turn out at all, they will be extremely dry and crumbly since coconut flour absorbs so much moisture.
Additionally, coconut flour has a strong flavor that is distinctly coconut-like. And I don't know about you, but when I eat a chocolate chip cookie, I definitely don't want to taste the coconut.