Kabalagala: Ugandan Banana and Cassava Flour Pancakes
Kabalagala, called kabas locally are traditional Ugandan pancakes. The closest interpretation for what kabalagala is would be banana fritters.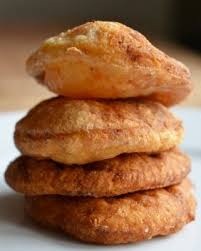 Who loves Pancakes? And by pancakes I mean Kabalagala? They are popular street food, in reality, the area Kabalagala in Kampala is named after it.
Please Read: Healthy Oatmeal Pancake Recipe
Kabalagala: Pancake Business in Uganda
Pancakes in Uganda are not made out of eggs, milk, and flour but rather, plantain (bananas) and plain cassava flour.
These pancakes, commonly known as kabalagala are usually found on the streets and local restaurants in Uganda where locals turn it into Pancake business.
Although, deep-fried, they look more like a banana doughnut and taste like fried plantains and are very scrumptious.
Kabalagala is a fun way to explore the culture of Uganda. They will make a great side dish for your dinner and they are gluten-free!
Traditionally kabas are a healthier choice because you can make them with cassava flour instead of wheat and pepper powder.
However, in the absence of cassava, you can use regular all-purpose wheat flour or plain flour, and add some sugar for those with a sweet tooth.
Kabalagala – Ugandan Banana Local Pancake Recipe
If you want to order for pancakes/kabalagala, you need to be very particular on what kind of pancakes you are referring to.
Or else, you will be disappointed because there is a difference between English Pancakes and Ugandan Pancakes/kabalagala.
Ingredients
Ripe Bananas
Cassava Flour
Salt n Sugar to taste (optional)
Oil for deep frying
Method
Firstly, peel the bananas and mash them in a bowl.
Secondly, add flour while mixing until the mixture is thick enough to knead.
Please note, the quantity of flour is reliant on the number of bananas and their water content.
Then, knead the dough, adding flour until the mixture is no longer sticky.
After that, place the dough on a lightly floured surface and roll it to about 1/4 inch thick. At this time, begin heating oil in a frying pan. Then, using a cookie cutter or any circular cutter cut the dough into circles.
Simultaneously, Place the cut pieces into the hot oil. Cook until one side turns golden brown then flip and cook until done.
Lastly, allow cooling and serve with any drink of choice.
Serving Suggestion
You can make it extra yummy with a little peanut butter and strawberry or apple slices on top.