Nigerian Black Soup | Edo's Pride | Easy Healthy Meal
Nigerian black soup is not a fancy kind of soup but very nutritious, medicinal, and tasty. This vegetable soup can be likened to another Nigeria vegetable soup called Edikakong soup.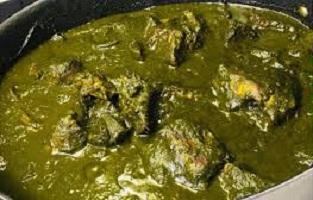 Since I started my food blog – 9jafoods.com, I have been exploring Nigerian foods by other ethnic groups and today we will be making the popular Edo (Esan) black soup.
Especially for You >>> Nigerian Groundnut Soup
In Nigeria, we are ONE. Your language or ethnic group doesn't matter, you do not have to be from any ethnic group that 'owns' the food or soup before you cook and enjoy it.
If you attempt this soup and get it accurately; you are going to have the same feeling as those that have been enjoying it for years.
Nigerian Black Soup(s)
There are many 'black' soups across the nation, from the Ondo type, Obe Marugbo to Eru ru shin, scent leaf soup from Agbor in the Delta, and the popular Edo Esan Soup from Benin.
In Benin, Black soup, Omoebe is praised for its medicinal potentials. Bitter herbs – which is the bitter leaf, are valued for stimulating digestive juices and supporting digestion
Some folks make theirs with just one leaf (bitter leaf). But, there are three basic leaves for making this delicious soup (bitter leaf, scent leaf, and uziza leaves or Ugu leaves or Ebeewuwa).
While some claim that only two leaves are important with just Bitter leaf and effirin (scent leaf), it is clear that all the three are necessary.
These leaves are ground together with the native Edo grinding stone or the electric blender.
Though optional, if you want to take this soup to another level then make it with banga sauce/ palm nut cream/Palm fruit sauce and not palm oil. Is there any difference?
It is the same as coconut oil versus coconut cream/ milk. Different extraction methods, outcomes, and flavors
Simply, buy 4 cups of banga (palm fruit), boil for 15 minutes or until soft, pound with mortar and pestle, add water, filter to get the sauce and set aside.
Furthermore, most people focus on the color (it gets the dark color from the ground leaves) and forget that it is not all about the color. It is super yummy and proposes several health benefits.
Nigerian Black Soup Recipe
This black soup is native to the Esan people in Edo state Nigeria but loved and eaten by many Nigerians.
Ingredients
A Bunch Scent leaves
Bunch Pumpkin leaves
A bunch Uziza leaves
Bunch Ebeewuwa leaves
A bunch bitter leaf (wash before use)
Palm-nut cream (optional)
2/3 Cooking Spoon palm oil
Cubes Seasoning
Salt
Dry bony fish pieced
Handful crayfish blended with the leafs
Goat head pieced or other meats of choice (300 g of roasted fish, 1 kg of assorted meat, pieces of stockfish)
Blended fresh peppers
How to Cook Nigerian Black Soup
Firstly, choose three from the listed vegetables- For that real taste of this soup I chose scent leaf, Uziza, bitter leaf,
Secondly, wash and grind the leaves – the bitter leaves should be ground separately, then add the uziza and scent leaves should be ground together.
Thirdly, season the meat and precook for 30-45 minutes. (Use one seasoning cube and a pinch of salt). Then, cook the meat until it is tender.
After that, add the palm nut cream, washed stockfish, dried fish, and crayfish.
Then, allow cooking for 10-15 minutes and watch the soup thicken.
Lastly, add the ground leaves, stir, add two seasoning cubes, salt to taste, allow simmering for another five minutes and that's it!
Serve with Nigerian swallow (Eba, Fufu, Semo, or Pounded yam). Nigerian Black soup and pounded yam is an instant hit for me.