Efo Riro (Yoruba Delicacy): Stewed Spinach Recipe
Efo Riro (pronounced 'eh-faw ree-roh') is a traditional rich vegetable Nigerian soup made popular by the Yoruba's of Western Nigeria.
Although it has Yoruba origin, Efo Riro is enjoyed in all parts of Nigeria because of its savory taste and richness.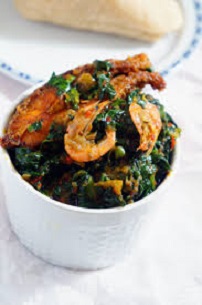 The vegetables that can be used to cook this soup are Efo Shoko or Efo Tete (Green Amaranth) or spinach
What is Efo Shoko in English? 
The English name: Green Vegetable. Shoko (Yoruba). Efo Shoko a.k.a Lagos Spinach! Botanical Name: Celosia Argentea, an indigenous plant with leaves high in beta-carotene and folic acid.
While Efo Tete (African Spinach):  "Green" (English), Efo Tete/ tete eleegun (Yoruba). Botanical Name: Amaranthus hybridus. Family: Amaranthaceae,
These vegetables are perennial herbs. As expected, they are in great abundance during the rainy season.
Efo means "Green leafy vegetable" and riro, "to stir".  Simply put, Efo riro means "stirred leafy vegetable".
However, we just don't stir the vegetable by itself; rather we stir it in a rich pepper sauce which is laden with Meat, Crayfish, Dry Fish, and other Meat or Fish of Choice.
Efo riro is also called efo elemi meje, as it can be cooked with any choice of protein.
This Nigerian soup is a Yoruba version of Efik/Ibibio's Edikang Ikong but with a twist. If you love healthy soups, then this is a must-try.
Efo Riro with ugwu vegetable soup is very rich in minerals and vitamins, making it a suitable option for invalids and the aged because of its health benefits.
The Health Benefits of Efo Riro
As the saying goes "health is wealth", hence this soup is recommended for the following reasons because of its magic body transformation:
Firstly, the Efo Riro leaf is very low in calories and fats. African Spinach leaves contain a good quantity of soluble dietary fiber and assist in controlling cholesterol and in weight loss programs.
Secondly, this vegetable soup contains iron which is an essential trace element required by your body to produce red blood cells. About 100 g of fresh Efo Tete can provide about 25% of your body's daily requirements.
Thirdly, vegetables are an excellent source of the vitamin – K. 100 g of fresh greens provides 402% of daily vitamin-K requirements.
Above all, the consumption of this soup aids digestion and prevents constipation, and plays a key role in maintaining healthy bones
Should I cook efo riro with tomatoes?
One important rule is that using tomatoes in efo riro is a no-no! Only bell peppers and scotch bonnets are required. There will be no tomatoes!
Efo Riro Recipe: How to make the African stewed spinach
The irreplaceable taste of traditional Nigerian efo riro comes from the use of Locust beans, Lightening of palm oil, and not adding tomatoes at all.
Efo Riro Ingredients
Step A
4 Red bell peppers (tatashe)
1 medium onion bulb
2-3 Scotch Bonnet (Ata rodo)
Method:
Firstly, slice all the above-listed ingredients and combine them in a blender, and pulse to a rough coarse consistency.
Then, pour the mixture into a strainer to remove extra liquid.
Step B
1 cup of palm oil
2 Tablespoon blended crayfish/shrimp
1 medium thinly sliced onion bulb
½ cup red prawns (without the head)
2 cups washed and de-boned shredded fish (smoked Catfish preferably)
Parboiled meat about 6-8 pieces (Goat meat or beef and/or Ponmo/shaki )
2 tablespoons whole locust beans (Iru)
Egusi (Optional)
Salt- to taste
2-3 seasoning cubes
Step C
15 cups chopped fresh spinach (Efo tete) is like 3 bunches in the local Nigerian markets. Washed and chopped.
Directions
Firstly, cook the shaki until tender, then, add the meat, stock cubes, and some of the onions, and cook with little water till all the meat and fish are ready. Set these aside.
Secondly, put a large pot over medium heat, add in the palm oil, then heat the oil until a little smoky.
Thirdly, add in the sliced onions and fry until translucent.
After that, add the result of step A and the leftover ingredients in step B.  Cover and leave to simmer for 20-25 minutes.
Please Note: (The palm oil will float to the top when the sauce is ready).
Lastly, add in the spinach, combine. Taste and adjust for seasoning, leave to simmer for another 3- 5 more minutes.
Serve Efo Riro with Pounded Yam, semolina, Amala, Eba, or any other fufu meal of choice. It also goes well with boiled white rice.