Nigerian Dishes: Learn How to Cook 27 Different Nigerian Foods
Nigerian dishes variety is mind-boggling. Nigeria is blessed with so much food, fresh organic produce with a lot of variety, due to its climate range. Nigerian dishes are significant to Nigerian food culture. It defines who we are.
Nigerian dishes is home to some of the tastiest savory flavors in the world. We also very good at adjusting imported cuisine to our taste and customizing it such as the unrivaled Nigerian jollof rice or instant noodles
Whether:
You are new to 9jafoods
Curious about West African dishes
Simply want to know more about the exciting and intriguing diversity of Nigerian recipes that cut across more than 250 ethnic boundaries
Or just looking for ways to improve your menu,
I have a plethora of Nigerian food recipes and, a wide range of options for you to choose from. These Nigerian dishes truly unite and made us a cohesive nation.
From tubers-cereals-swallows to Nigerian soups and stew/sauce, not forgetting Nigerian Snacks, here are the classic Nigerian dishes, just the way grandmas made them.
Nigerian Dishes: Learn How to Cook 27 Different Nigerian Foods
Nigerian foods are simple and easy to make. If you can read your emails and chat across social media platforms, then you can follow the recipes on this site to learn how to make Nigerian dishes, it is that simple
Nigerian Dishes under Rice Recipes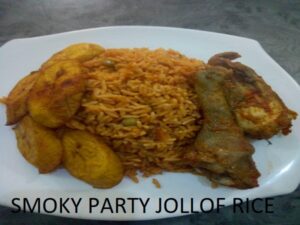 Party Jollof Rice
This signature jollof rice is famous Nigerian food. A Nigerian party is not complete without jollof rice! There is a theory that the Nigerian party jollof rice is unique.
Well, the food has a special taste and aroma that is different from ordinary jollof rice. Most Nigerians look forward to owanbe parties, to enjoy this delicious food.
Follow this link to learn how to cook party jollof rice: How to cook party jollof rice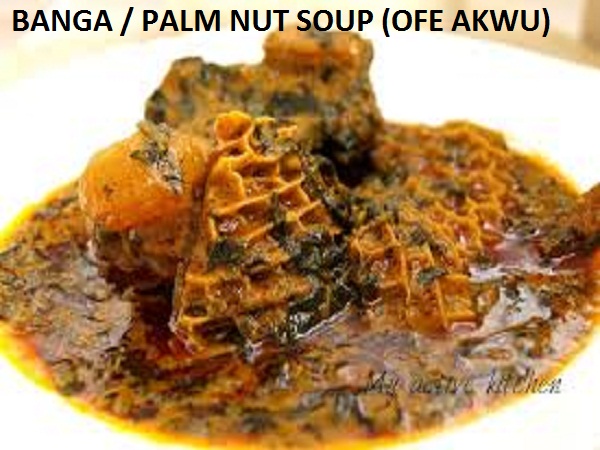 Banga Soup (Ofe Akwu) With Rice
Ofe akwu as it is fondly called by the Igbo's is a very important part of Nigeria food, banga soup is a kind of stew made from palm fruit, often eaten with rice.
Follow this link to learn how to cook: Banga Soup (Ofe Akwu) With Rice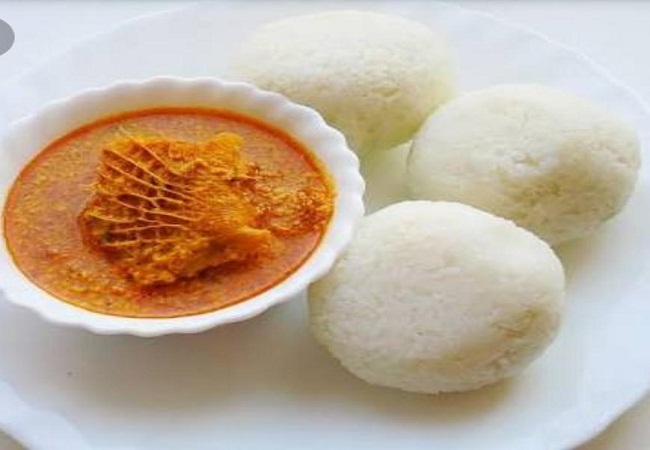 Tuwo Shinkafa
Tuwo shinkafa is translated from Hausa language meaning – mashed rice. It is one of the most delicious foods in the northern part of Nigeria.
Tuwo is made of soft rice and spicy sauce. Most northerners from Nigerian living abroad love and miss this food.
Learn how to cook :  Tuwo Shinkafa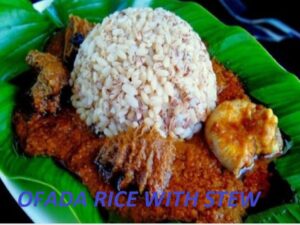 Ofada Rice Stew
The dish is a stew that originates from western Nigeria and is commonly eaten with locally grown rice called ofada rice.
Learn how to cook:  Nigerian Stew
People go crazy over ofada rice and stew. Possibly because of the iru (locust beans) ingredient that makes the stew unique or the fact that it is made with just peppers and assorted meats.
Nigerian Dishes Under Beans Recipe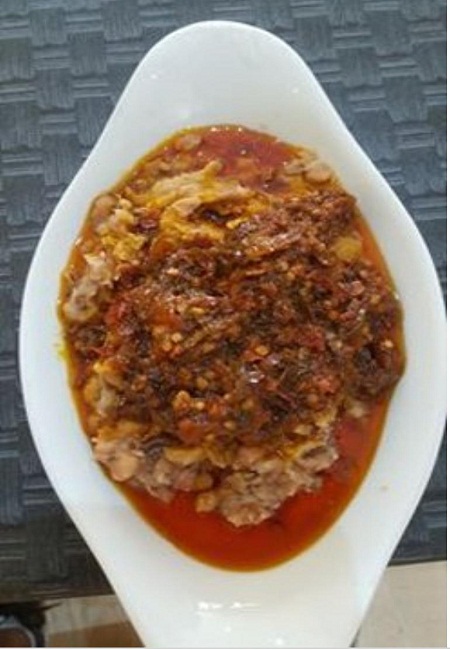 Ewa Aganyin
Ewa aganyin is a delicious beans dish, popular for its softness and tasty sauce. It is usually eaten with Agege bread, boiled yams, and fried plantains and it tastes ah-mazing!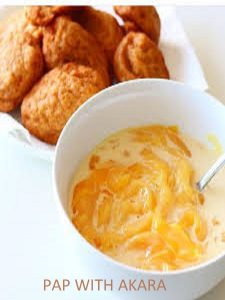 Akara and Pap
Akara and pap are one of Nigerian's native breakfast foods. Pap is cornmeal made from wet corn starch while akara, on the other hand, is a processed ground bean, turned into a fried bean cake.
Akara is also a great street food as sellers can be found frying them at different hours of the day. It is popularly served with ogi (pap), bread and cornstarch (agidi or eko). To prepare this morning Nigerian dish, follow the link below: Akara and Pap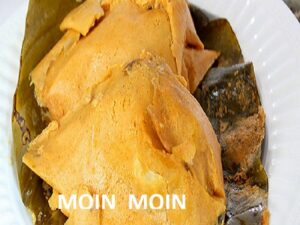 Moin Moin
Moimoi or moin-moin is a steamed bean pudding made from a combination of grounded-pealed beans, pepper, and onions.
It is a Nigerian staple food which is very rich in protein. Very delicious and tasty and native to Yoruba people of Nigeria
Nigerian Foods Under Native Soups
Soups are very essential to Nigerian food recipes. All Nigerian soups can be served with eba (garri), tuwo shinkafa, pounded yam, agidi, amala, semolina, or cassava fufu.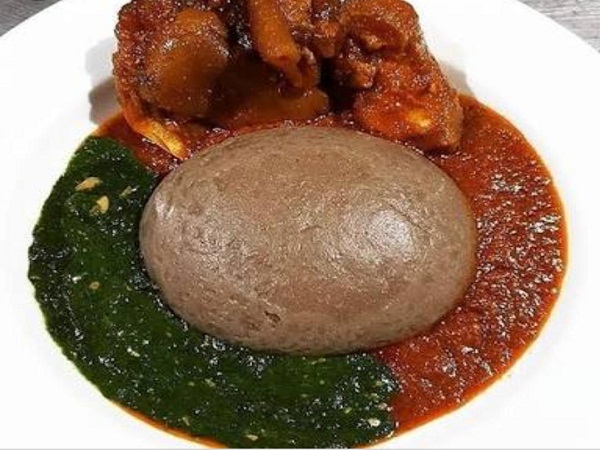 Amala and Ewedu Soup with Buka Stew
Ewedu Elegusi (Jute + Melon Seed) is a Yoruba food that is commonly served with gbegiri (beans soup) and or palm oil-based stew.
This mishmash is often set aside for amala (fermented yam dumpling) and served as daily lunch or during occasions.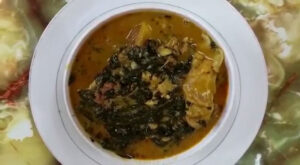 Bitter Leaf Soup with Fufu
Bitter leaf soup is one of the most popular soups in Igbo land. The Igbo people of Nigeria refer to it as ofe onugbu.
The name bitter-leaf soup is derived from the fact that a particular leaf which is bitter (until washed) is used in cooking it. Serve with pounded yam, fufu, semo, wheat or garri.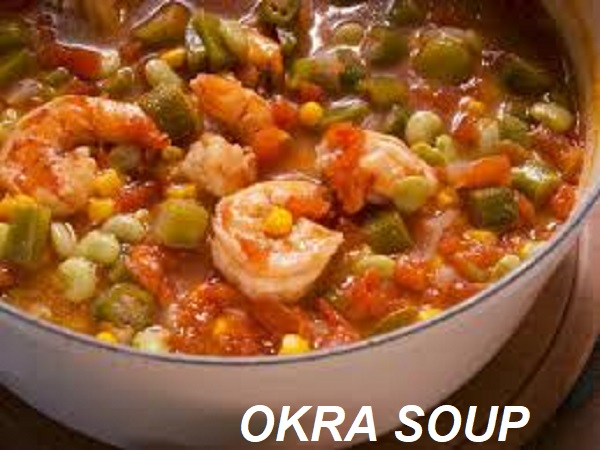 Okra Soup and Eba
Okra soup is one of the cheapest and quickest Nigerian soups to prepare. This soup is known as miyan kubewa in Hausa.
Once you are through with cutting the okra, the soup cooks in no time at all. Serve with eba, or swallow of choice.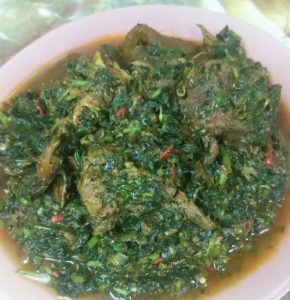 Edikang Ikong Soup
The Nigerian edikang ikong soup or simply vegetable soup is native to the Efik, people from Akwa Ibom and the Cross river state of Nigeria.
Prepared with a substantial amount of pumpkin and water leaves, this Nigerian soup recipe is nutritious in every sense of the word.
Learn how to cook Nigerian edikang ikong soup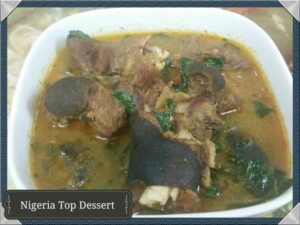 Pepper Soup
The Nigerian pepper soup is a common Nigerian soup recipe. It is such an adaptable recipe since it can be prepared with different types of fish and meat.
As a result, we have the catfish pepper soup (popularly known as point & kill), chicken pepper soup, the goat meat pepper soup, the cow foot pepper soup and the assorted beef pepper soup
Follow this link to learn how to prepare Pepper Soup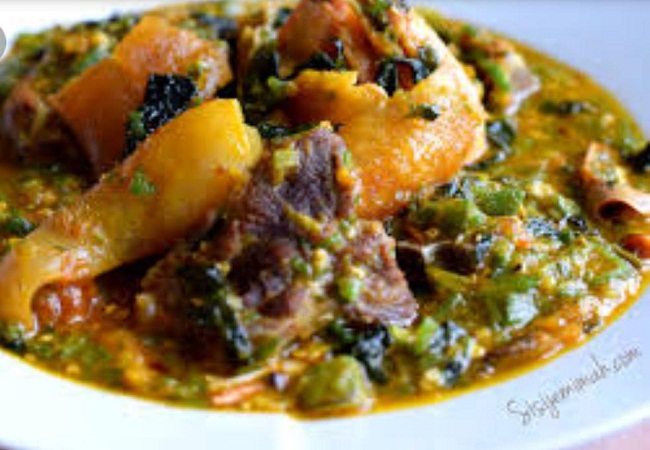 Photo Image Source: sisijimamah.com
Otong Soup – Efik Style Okra Soup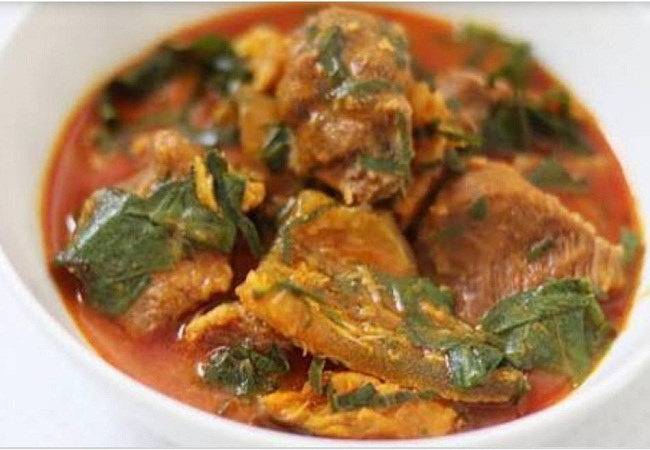 Oha Soup
Ora (oha) soup is origin to southeastern Nigeria. It is a traditional soup comparable to the bitter leaf soup but prepared with ora leaves.
Ora (oha) soup is a special dish because the tender ora leaves used in cooking this soup recipe are seasonal not like their bitter leaf counterpart which can be found all year round.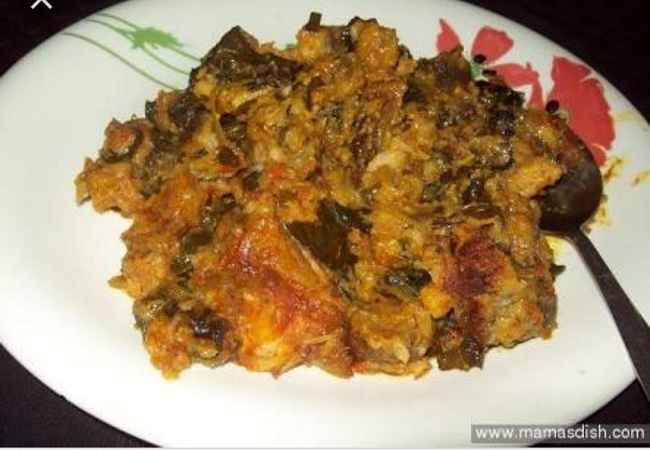 Photo Image Source: www.mamadish.com
Ekpang Nkukwo
Ekpang nkwukwo is one of the Nigerian cocoyam recipes made with grated cocoyam, cocoyam leaves, water yam, and periwinkle.
It is a Nigerian food recipe origin to south southeastern Nigeria, the cross river and akwa ibom states of Nigeria.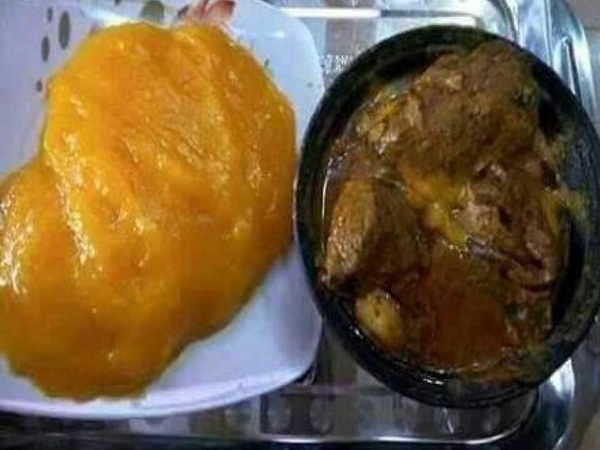 Starch and Banga Soup
Banga soup is popular in the southern part of Nigeria. This delicious Nigerian soup can be served with starch. Who would not miss it?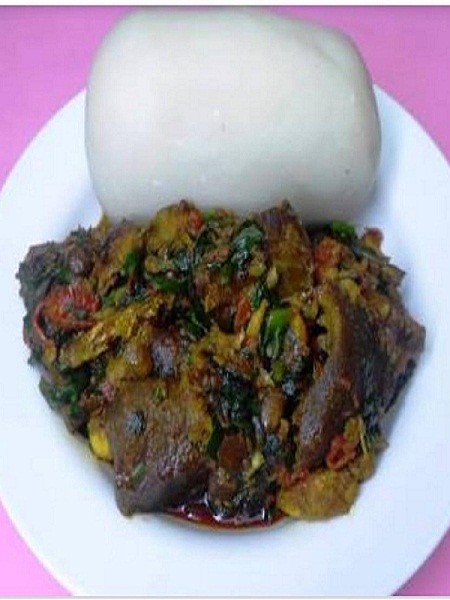 Semolina and Efo Riro
Efo riro is a Yoruba delicacy that is native to Western Nigeria. Green vegetables like pumpkin leaves or water leaves are used in preparing the stew, spinach, can also be added to the ingredients.
Usually, eaten with semolina, this food combination is missed by Nigerians in the diaspora.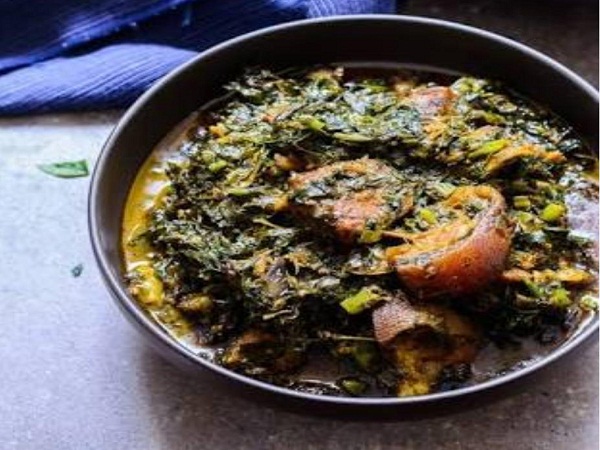 Afang Soup
Nigerian afang soup is similar to the edikang ikong soup. It is native to the Efik people of Akwa ibom and cross river states of Nigeria but enjoyed by all.
It is also very nutritious as the soup consists mainly of vegetables. This soup is cooked with a generous quantity of water leaves and the wild herbal okazi leaves.
Afang Soup Nigerian Recipe: A Step by Step Guide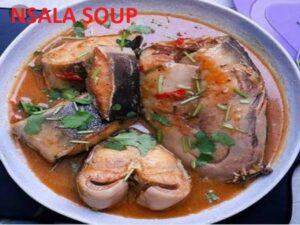 Ofe Nsala
Ofe nsala (nsala soup) is a popular soup in the eastern part of Nigeria. It is also known as white soup because of its light color, due to the absence of palm oil.
The real nsala soup recipe calls for fresh whole catfish, which gives this soup its distinctive flavor. However, in the absence of catfish, catfish fillets or conger eel can be used.
Nsala Soup: Nigerian White Soup Recipe
Other Dishes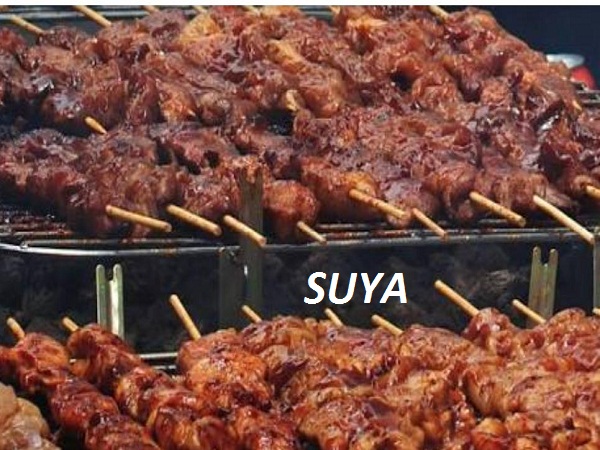 Suya
Suya is spicy meat which is enjoyed as a delicacy in West Africa. (also called agashe). Suya is usually made with skewered ram, beef, or chicken.
It is by tradition prepared by the Hausa people of northern Nigeria. Innards such as kidney and liver are also used.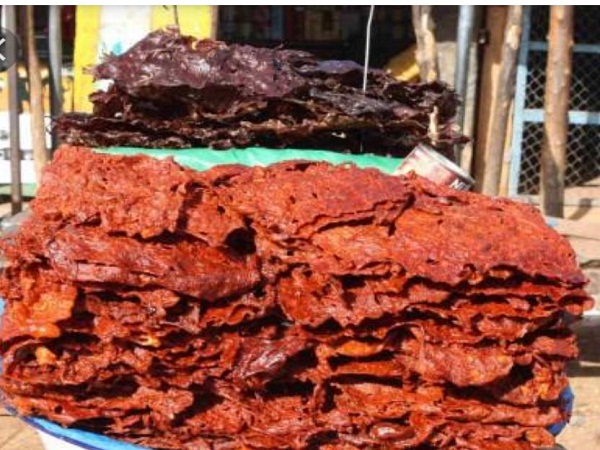 Kilishii
Kilishii is a dried form of suya and a delicacy in Hausa land. It is made from cow, sheep or goat meat after the bone has been removed.
Kilishi can be kept for months without much change to its taste.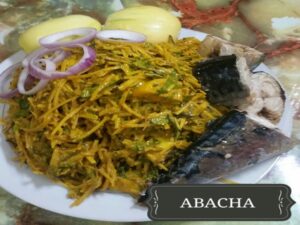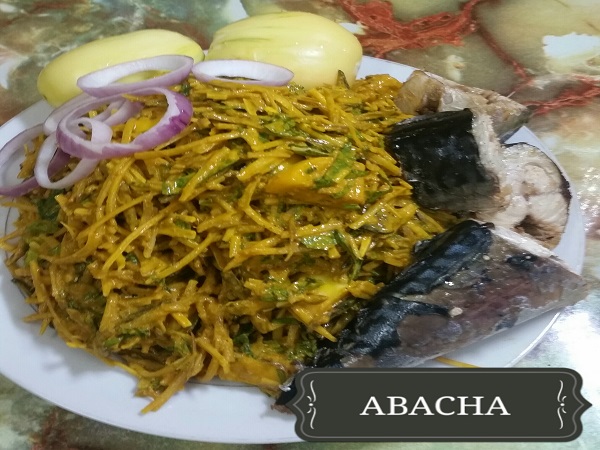 Abacha and Ugba
Abacha and ugba are known as African salad and it can be eaten as a meal or snack, people eat it as a meal because it fills up the stomach just like any other meal.
This meal is well-known and very popular in the eastern part of Nigeria, among the Igbos, and they love it.
How to make African salad (Abacha and ugba/ukpaka)
Nkwobi
Nkwobi is a popular cooked spicy cow leg desserts in eastern Nigeria. Most Nigerian men visit Igbo restaurants to enjoy this special delicacy.
Nkwobi: Easy Ibo Spicy Delicacy Cow Foot to die for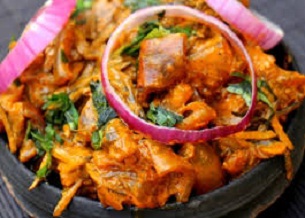 24. Boli and Groundnut
Boli-roasted plantain is truly a mouthwatering snack for Nigerians especially when taken with groundnut or pepper sauce.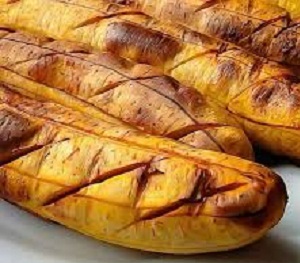 This snack is loved by Nigerians both within and abroad.
Roasted Plantain or Bole:  Nigerian Street Food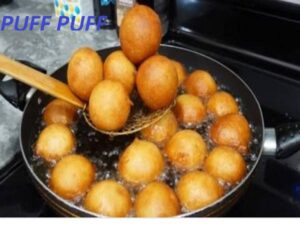 25. Puff Puff – Hearty Sweet Delicious Balls
A common West African street food that's quick and easy to create with different variations. Nigerian puff puff is that spongy, deep-fried, round snack that is from Nigeria.
Follow this link:: Puff Puff – Hearty Sweet Delicious Balls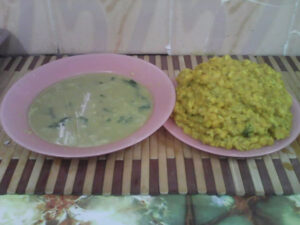 26. Ukwa – A Traditional Porridge
Ukwa also is known as breadfruit in English is a versatile meal and common in the eastern part of Nigeria. It could be eaten fried alongside with palm kernel or coconut.
Ukwa can be prepared with maize or the authentic traditional way which is to mash it up (ukwa agworoagwo).
After that, serve with the liquid (mmiri ukwa) that has scent leaf or bitter leaf being added to it.