Okra Soup | How to Make Simple Nigerian Okra Soup
Okra Soup is one of the most popular African soups. This African dish is prepared differently in each country; we have the Ghana, Sierra Leone, Cameroon version and of course the popular Nigerian
What Is Okra?
Okra is a seasonal vegetable that tracks down its origin from ancient Ethiopia (Abyssinia) through to Eastern Mediterranean, India, the Americans, and the Caribbean.
The fruit is also known as Okro, Okwuru (Igbo), ObeIla (Yoruba ), MiyanKubewa in Hausa language in Nigeria, gumbo, bhindi, ladies' fingers..
Okro scientific names are Abelmoschusesculentus and Hibiscus succulent.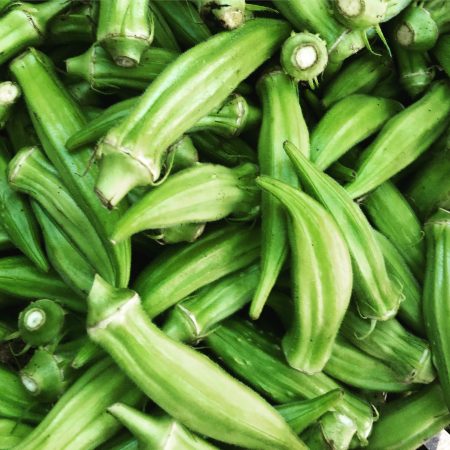 Popular forms of okro for medicinal purposes include okra water for weight loss, okrq peels, diabetes and okrq, raw okro juice, okro seed oil, and okro powdered seeds.
Okra plant (immature okro pods) is high in calories and widely used as a vegetable in tropical countries. It is also used for making soups, stews or as a boiled/fried vegetable.
Above all, it can be eaten raw as a snack.
Okra Soup Health Benefits 
Okro benefits include:
Firstly, okro fruits are a nature's treasury of potassium, vitamin B, vitamin C, folic acid, and calcium.
Secondly, the vegetable contains a lot of specific slimes, which is extremely useful for people with digestion problems and stomach issues.
Above all, ladies' finger is known to have a positive effect on blood sugar control. It's also low in calories and has high dietary fiber content.
The main reason why I like this Nigerian dish is that it is pocket- friendly and kids love it too.
The best way to introduce eba or fufu or any kind of swallow to kids is to serve with Okra or ogbono soup because it draws and is easy to swallow. Okra farming in Nigeria is a very lucrative business because Okra yield per acre in Nigeria is very sustainable.
Above all, okra contain many health benefits, as well as being one of the cheapest, and delicious soups in Nigeria.
The good news is that it is in season now (from April to July, is its exact harvest season), so why not make the best out of this seasonal plant.
Okra Soup Recipe
There are so many incredible ways to make the best okwuru soup recipe. We have Okra sauce and tomato recipe, fried okro recipe, okro mixed with ogbolo/ogbono.
(you can learn more here about making ogbono soup).
We also have: vegan okwuru soup, super delicious otong style to Yoruba Asepo version, okro stew, oil-free okro soup, Okro can also be cooked alone.
It all depends on your choice, budget and time. However, the mixed version with ogbono is one of my favorites because 'it's so rich and super easy to make.
Okro Soup Vegetable Recipe/Ingredients
– 500g fresh okro (sliced or pounded)
– 1.5 Kg assorted meat (beef, kponmo, cow leg)
– Stockfish (cut into small sizes)
– 1 medium size dry fish (thoroughly washed)
– 1 cup periwinkles(shelled)
– 2 cooking ground crayfish
– 6 fresh peppers(chilies)
– 2 medium onions
– 4 medium bunch pumpkin leaves (Ugwu)
– 2 maggi/knorr cubes
– 3 cooking spoonful palm oil
– Salt to taste
Okro Soup Preparation/Cooking Okro
Firstly, wash the ugwu/pumpkin leaves thoroughly with plenty of water, slice into thin strips. The same applies to okro. Set the two ingredients aside.
After that, wash the meat and place in a large pot. Add 1 onion chopped, 2 pepper chopped, salt and 2 maggi/knorr cubes. Cook till it is completely soft.
Thirdly, wash and boil stockfish until tender. Wash the dry fish with salt and soak in boiling water for 5 minutes to kill any insect and loosen any sand. Rinse with lots of cold water.
Fourthly, add the stockfish, dry fish and periwinkles to the meat and cook for a further 10 minutes, add some water if needed
Then add the crayfish, palm-oil and 2 maggi/knorr cubes, salt, and remaining pepper, stir and cook for 10 minutes.
In addition, you can now add the ground ogbolo at this point if you are making a combination of Okra and Ogbolo soup, it is a good combination but very optional.
Next, add the sliced okro in soup 5 minutes after the ogbono and cook for 3 minutes.
In conclusion, add the shredded ugwu/pumpkin leave or washed bitter leaf. Mix in properly. Allow simmering for 3 more minutes.
Gently, remove from heat and serve okro with fufu, okra soup with pounded yam, semo, eko, or eba or any swallow of choice.