Plantain Chips Recipe | Plantain Chips Production | Plantain Chips for Sale
Plantain chips recipe is the frying of sliced ripe or unripe plantain or a combination of both in hot oil until it's dry, crispy and crunchy. This is achieved using three main ingredients-plantains, oil and salt.
What Are Plantain Chips?
It is a form of snacks, desserts or an appetizer. It is also known as sweet banana chips and is good for everybody.
When making the chips with ripe plantains, ensure that the plantains are semi-ripe. Plantain chips recipe made with unripe plantains (kpekere or pekere) are bright yellow while those made with ripe plantains are deep yellow in color. Plantain chips calories in 100 g is 500.
Please Read: Hibiscus Drink Recipe: Nigerian zobo drink
Nigerians love this sweet banana chips and some have turned it into a lucrative business. Selling plantain chips in Lagos does not require much money. You can even combine it with your regular job. The good news is that the sweet banana chips recipe is very simple and straight forward. It requires just 3 basic ingredients.
Plantain Chips for Sale
In Nigeria for instance, sweet banana chips for sale are big business. People prefer it to flour base snacks because they see it as a natural snack which is trending now in the 'fitfam' world.
This increases market demand of the chips which now make it a sort after business. The setting up of plantain chips factory together with plantain chips machine is really simple depending on the size and output you have in mind.
The profit margin is good when you compare it to other manufacturing businesses. The only downside to look out for is when plantain is not in season. The scarcity is from April-July. During this period, the price of the plantain is always very high. Hardly do plantain chips producers cope.
Alternatively, you can branch out into related products with almost the same production line e.g. potato chips, coconut chips, and even chin-chin.
In addition, plantain chips packaging and labeling is another challenge. It has to be eye-catching to attract customers to pick yours in the mix of many.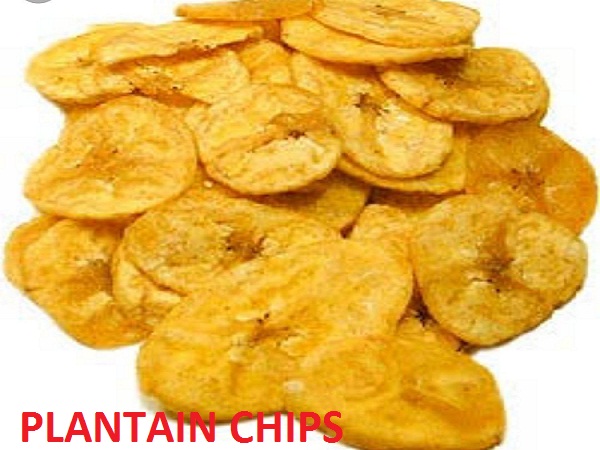 The Production Process of Plantain Chips
You can air fryer plantain chips, oil dip or even bake them. Making of sweet banana chips follows clear-cut process line irrespective of how it's been done.
The production line basically follows this fryer pattern -peeling, slicing, application of spices (optional), frying, cooling and packaging.
Ingredients
Ripe/Unripe Plantain
Vegetable Oil: enough for deep frying.
Salt to taste
Spices (optional)
Directions
First, place the plantains in a bowl of cold water to soak for 30 to 40 minutes (this will help make them easier to peel).
Secondly, combine the salt, pepper, and other spice of choice in a dry pan and toast lightly until aromatic, 1 – 2 minutes. Put aside.
Then, preheat a large pan of oil to 350 degrees F.
After that, peel the plantains and, using a mandolin or plantain chips cutter, finely slice lengthwise or any shape of choice.
Finally, working in batches, deep fry the plantain slices in the hot oil until golden and crispy, 2 to 3 minutes. Drain on a paper-towel-lined plate.
Allow to cool and enjoy!