Pounded Yam and Egusi Soup Recipe – How to Prepare
The history of Pounded yam and Egusi soup
Pounded yam is a glutinous dough made by pounding and kneading boiled yam traditionally.
It is a choice food when having a traditional event like naming, marriage, chieftaincy title awards, the coronation of a new King, and buffets.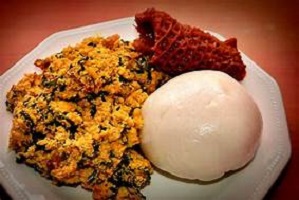 It's known as iyan in Nigeria, foutou in the Ivory Coast, fufu in Togo and Benin, and yam fufu in Ghana, and goes well with Egusi or Ogbono soup.
Pounded yam and Egusi soup calories
The simple Egusi soup, which includes chunks of stockfish and two pieces of meat, has about 700 calories per serving.
Related >>> How to Make Nigerian Egusi Soup with Lumps
You'll probably eat it with about three wraps of pounded yam, which adds up to about 600 calories.
Preparing Poundo Yam and Egusi Soup | Pounded Yam and Egusi Soup Recipe
Ingredients
1 pack African Yam Cubes
170g ground egusi
450g shredded pumpkin leaves (Ugu)
10 pcs of cow skin (Kpomo)
330g shredded dry Fish
10 pcs of goat meat
5 pcs of shaki (beef tripe)
330g shredded stockfish
5 fresh yellow peppers
3 tbsp. of ground crayfish
2 medium onions
5 fresh red peppers
1 tbsp. of ground pepper
¼ tsp. opeyi (optional)
6 seasoning cubes
240mL palm oil
Salt to taste
How to Cook
How to Prepare Egusi Soup & Pounded Yam;
Egusi Soup
Firstly, wash goat meat, kpomo, and shaki thoroughly in water. Add one diced onion, 3 seasoning cubes, 1 tablespoon ground pepper, and salt and pepper to taste Mix in the bath thoroughly. Then, cook on medium heat until the vegetables are tender.
Secondly, clean and dry stockfish thoroughly, first with hot water and then with tap water. Depending on the hardness of the stockfish, you will need to boil it again; the stockfish should be very tender.
Thirdly, using an electric blender, blend remaining onion, yellow peppers, and red peppers
After that, place ground Egusi in a pot, add blended pepper purée and palm oil. Mix together with 60mL water until a thick batter is formed.
Now, stir fry on low heat for about 10 minutes, or until the batter starts to dry up and the oil bubbles on top.
Stir in the cooked meat and the meat stock in a mixing bowl. As required, add water to achieve the desired soup consistency.
Add seasoning cubes, ground crayfish, shredded dry fish, shredded stockfish, opeyi, and salt. Cook for about 25 minutes, stirring constantly.
Finally, add the pumpkin leaves (ugu) and immediately turn off the fire.
Note: You can make this soup with any kind of meat you want. Just make sure the meat is soft.
Read Also >>> Pounded Yam | How to Pound Yam from Scratch
Pounded Yam
Firstly, in a medium-sized pot, bring 475mL of water to a rolling boil.
Secondly, boil for seven minutes after adding two packs of Yam Cubes.
Then, scoop the yam into a food processor or a wooden mortar until it's done cooking.
If using a food processor, blend the yam for 5 minutes with the chopping blade until smooth and fluffy with no noticeable lumps. Scoop out with a wet spoon and form as desired. It is best to blend when the yam is very hot.
If you're using a mortar and pestle, pound vigorously for around 6-7 minutes, or until no visible lumps remain.
If the yam becomes too tough, add one cooking spoon of the yam's cooking water and pound for one minute more. It's best to pound the yam while it's still hot.
It's important to note that your pounded yam shouldn't be too soft or too hard
How to Eat?
The pounded yam is usually served with a rich and tasty soup or stew, such as Egusi soup, Ogbono soup, okra soup, Ewedu soup (Jute leaves), or light soup.