Classic Chicken Salad Recipe – How to Make
Classic Chicken Salad Recipe is flavorful with simple ingredients. It can be prepared in different special ways for any event such as weddings, birthdays, dedications, Christmas, parties, or even at home.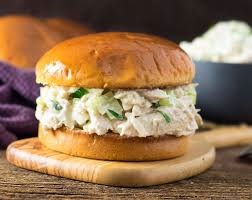 Classic Chicken Salad is the perfect combo of seasoned chicken breast, creamy mayonnaise, a little lemon juice, and crunchy celery (plus if you want you can add crunchy nutty almonds), ready in just minutes!
Best-Ever Chicken Salad is the best dish to bring to a picnic, a barbecue, or get-together.
Why We Love Classic Chicken Salad Recipe
Firstly, it takes just minutes to prepare
Then, the flavors and textures are a delicious combination of sweet and savory, creamy and crunchy!
Lastly, it is a great recipe to make-ahead especially if you have a busy schedule. Just make it at the beginning of the week for grab-and-go lunches.
You will never want to go back to store-bought again!
What Else Can You Add To This Classic Chicken Salad Recipe?
Feel free to add in whatever you want. You can customize the recipe by adding other fresh ingredients such as red onion, green onion, fresh dill, or avocado.
Also, you can add flavors to this dish subject to what you like. Below are a few suggestions:
Eggs
Olives
Pickles
Dried fruits
Bell peppers
Seasonings
Fresh herbs
The Best Classic Chicken Salad Recipe
Ingredients
4 cups cooked chicken breast chopped
¼ teaspoon kosher salt
2 tablespoons lemon juice
¼ teaspoon ground black pepper
1 cup mayonnaise
½ cup celery chopped finely
¼ cup sliced almonds (optional)
Instructions
Firstly, mix all the ingredients in a bowl and combine well. The salt will need about 20 minutes to dissolve.
Then, add more salt if needed and add pepper to taste. Chill in the fridge until ready to serve.
Finally, serve on sliced bread or croissants. For a low-carb version serve as lettuce wraps or all alone.
Nutrition Information
Yield: 6 servings, Amount per serving: 435 calories, Calories: 435 g, Carbohydrates: 1g, Protein: 30 g, Fat: 33 g, Saturated Fat: 5 g, Cholesterol: 95 mg, Sodium: 405 mg, Potassium: 286 mg, Sugar: 1g, Vitamin A: 60 g, Vitamin C: 1.9 g, Calcium: 29 g, Iron: 1.2 g
Tips for Making Classic Chicken Salad Recipe
If you are going to cook chicken specifically for chicken salad, the easiest thing to do is to poach it.
Poaching allows the chicken to cook gently, in order to retain more moisture.
Apart from poaching, you can easily use any cooked chicken for this chicken salad—rotisserie chicken, grilled chicken, or roasted chicken.
Then, add grapes, apples, or raisins to add a sweet and savory flavor.
This recipe calls for almonds but you can use other types of nuts like walnuts, pecans, or cashews.
Substitute the mayo with pureed avocado and sour cream for an avocado chicken salad.
Reduce the calories in this recipe by using Greek yogurt instead of mayonnaise.
This recipe takes about 5 minutes to throw together, and at least an hour to refrigerate it to give the flavors a chance to come together.
What to Eat With Classic Chicken Salad?
Firstly, you can eat this chicken salad as a sandwich on some good bread or a croissant,  however, for a low-carb and Keto friendly variety eat it in lettuce wraps, or else by itself.
Another option is to eat it with a fork or in lettuce wraps served with fruit!
How Long Does Chicken Salad Last?
Chicken Salad will keep in the fridge for 3-5 days.
Can Chicken Salad Be Frozen?
Recipes with mayonnaise are not great for freezing because once they thaw the mayonnaise separates. Thus, I will not recommend freezing this recipe.
Love Chicken? Try These Chicken Recipes: