Keto Recipe: Crispy Skin Slow Roast Pork Shoulder
Keto Recipe is a low-carb diet (like the Atkins diet). The idea is for you to get more calories from protein and fat and less from carbohydrates.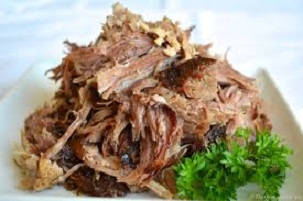 Crispy Skin Slow Roast Pork Shoulder is an ideal Keto low-carb diet and a perfect meal for entertainment.
This smoky, melt-in-the-mouth Roast Pork Shoulder is slow-cooked for several hours, making it ideal for a Bonfire Night feast after the fireworks
Keto Recipe: Types of pork shoulder
There are 2 parts of the pork shoulder – the Picnic Roast and Boston Butt (which comes from the upper part of the shoulder).
Boston Butt is a bit more expensive, but will usually have the bone removed for easier serving.
Keto Recipe: Slow Cooking the Pork
Firstly, bone-in shoulders take a little longer to cook, but then can make the meat more flavorful and succulent.
Secondly, boneless cuts can be cut into smaller portions for easier handling and faster cooking.
Thirdly, pork shoulder generally takes time to cook. This results in incredibly tender and juicy pork once finished.
Then, slow and low will let the fat and connective tissues to render down properly, in essence basting the whole shoulder as you cook it. You can't rush it.
Lastly, the pork is done when it's tender that it flakes apart when you poke it with a fork and falls off the bone.
Keto Recipe: How to make Pork Shoulder Roast
Ingredients
8 pounds boneless, skin-on, pork shoulder
3 ½ tablespoons salt
1 teaspoon garlic powder
2 teaspoons oregano
One teaspoon black pepper
1 teaspoon onion powder
Method
Firstly, season the pork with salt, pepper and optional fennel with a drizzle of oil
Secondly, put onion and garlic in a pan and add wine
After that, roast uncovered in a low oven 160 C/320 F for 2.5 hours
Then, remove from oven and level the surface using foil balls
Lastly, roast at 240 C/450 F for 30 minutes until crackling is puffy and crisp
This makes a total of 20 (6 oz.) servings of Crispy Skin Pork Shoulder. Each serving comes out to be 461 Calories, 36.7 g Fats, 0.2 g Net Carbs, and 30.3 g Protein.
Love Pork? Try These Pork Recipes: