Pork Chops with Pineapple Fried Rice Recipe
Pork chops with pineapple fried rice look complicated but it's so very easy, and the good news is that you have most of the ingredients in your pantry.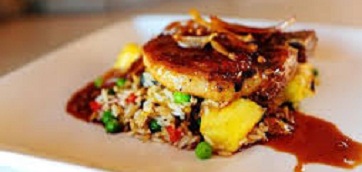 Fried rice is one of my favorites and I have made it a handful of times but today I am taking a stab at fried rice again with this pork chop and pineapple variety.
For You >>> Grilled Pork Chops – Nigerian Barbecue Chops
However, I really thought the grilled pineapple was a must for the flavor of this dish so start up your grill!
Pork Chops with Pineapple Fried Rice Recipe
Ingredients
½ whole Pineapple, cut into spears and skewered 2 cups,
Brown rice,
Cooked 6 whole pork chops
6 tbsp. Soy sauce
1 tbsp. Rice wine vinegar
2 tbsp. Honey
1 tbsp. Butter 1 tbsp.
1 tbsp. Hot sauce
3 cloves garlic pressed
2 whole eggs
1 large onion, sliced
2 ½ cup frozen peas
Canola Oil
2 tbsp. Soy sauce
Method
Firstly, cook rice and Set aside.
Secondly, sauté or grill the pineapple spears until they have a good color. Set aside.
Thirdly, heat butter and oil over medium heat, then add the pork chops to the pan. Sauté until they have nice color.
Fourthly, add sliced onions and work them into the crevices between the chops. Then, shake the pan and move the onions around and let them cook for a good couple of minutes.
After that, when onions are starting to soften, add soy sauce, rice wine vinegar, honey, and hot sauce.
Then, shake the pan, stir it around and let it cook and bubble up for another couple of minutes until chops are finished cooking. Remove chops to a bowl.
Cook sauce a little bit more until it thickens and then pour over the chops in the bowl.
Add a little oil and the garlic to the same pan, and then add the eggs. Scramble.
Add peas and rice to the pan. Stir and cook for several minutes.
To serve place fried rice on a platter. Place pineapple around the edge.
Lastly, top the rice with pork chops and pour the sauce over the whole thing.