Deep Fish Fry at Home: How to Fry Fish like a Pro
Deep fish fry at home is always a good option if you have some fresh fish and you are not sure what to do with it.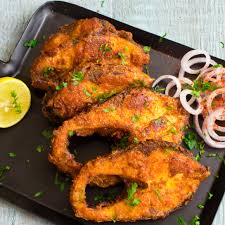 The irresistible combination of fried fish that comes with a crispy exterior and the moist interior is all thanks to a deep fryer.
For You >>> How to Prepare Shito (Ghana Pepper Sauce) 7 Easy Steps
To deep fish fry at home is not very hard at all; the most work that is involved is breading the fish. The fish can be breaded in a flour, cornmeal, and seasoning mixture.
However, you can also add additional seasonings or adjust them to your taste.
Most often, home cooks are not sure of how to deep fry fresh fish especially when it comes to cooking with lots of oil for health and safety reasons.
Deep Fish Fry – Expert Tips
 Firstly, choose your oil wisely
Secondly, get the right equipment
 Then, season your flour
After that, make the Perfect Batter
Lastly, do not over-crowd the deep fryer
How to Fry Fish
You can either pan-fry a fish or deep fry one. Pan-fried fish is a bit simpler, less messy, and more healthful than deep-frying.
Procedures on How to Fry Fish
Select Your Fish
Make the Coating
Dip and Dredge the Fish
How to Make Deep-Fried Fish
When deep-frying fish, either dip pieces of fish in a beer batter or coat with egg and seasoned flour before frying to a crisp golden brown.
Method
·     Firstly, prep the Fish
If frozen, defrost the fish. Then, cut the fillets into 3 * 2-inch pieces. After that, rinse the fish and pat dry with paper towels.
·     Heat the Oil
Firstly, attach a deep-frying thermometer to the side of the pan before heating 2 inches of vegetable oil to 375 degrees F. Then, pre-heat the oven to 300 degrees F.
Recipe: Make the Batter – Ingredients
½ Cup All-Purpose Flour
Ground black pepper
1 Egg
 ½ Cup Beer
 Salt
 ¼ Teaspoon Baking Powder
Preparation 
1. Firstly, add ½ cup all-purpose flour in a shallow dish. Set it aside.
2. For the batter, in a deep bowl, mix all the ingredients. Use a whisk to beat the batter until smooth.
3. Then, dip fish pieces into the flour, turning to coat all sides, and shake off excess flour. The flour will help the batter to stick to the fish.
4. Finally, dip the fish into the batter next, turning to coat all sides.
Fry the Fish
1. Fry the marinated fish in the hot oil being mindful of overcrowding (two or three pieces at a time).
2. Fry for about 3 or 4 minutes or till the coating is golden and fish begins to flake when tested with a fork, turn to the other side and fry in the same manner.
3. Lastly, Remove from heat and drain the fish on paper towels, flipping the fish to drain both sides. Put the fish to a baking sheet to keep warm.
Serve the Fish
Serve and enjoy with shito sauce or as desired. Yummy and great!