Cod Fish ~ Easy Lemon Garlic Baked Cod Fish Recipe
Cod Fish ~ Easy Lemon Garlic Baked Cod Fish Recipe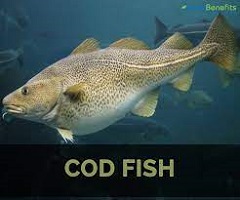 Codfish is one of the most common types of fish in the world, and apart from being widely accessible, it is also packed full of vital nutrients that can enhance your health.
Meanwhile, unlike many other varieties of seafood, cod is not often supported as healthy food, so you may wonder if it's good for you.
Cod Fish Related Articles
This article informs you all you want to know about cod, as well as its nutritional value and health benefits.
What is Cod Fish?
Codfish is the broad name for a special genus of fish, Gadus, though more than a dozen other species of fish have cod as their common names.
The two most common types of cod, which most people have eaten in seafood restaurants, are Atlantic cod and Pacific cod.
Based on its nutrient profile, cod is generally considered a healthy fish, and the oil from this fish – cod fish oil is particularly sought after.
Cod can grow to be 12-20 pounds in weight and are very hardy fish that reproduce in large numbers.
The fish's light texture and ease of preparation have also made it one of the most popular types of fish in the world.
Cod liver oil contains a high concentration of omega-3 fatty acids and is frequently sold as a supplement.
Cod Fish Varieties ~ Types of Cod Fish
While much other fish have been given the name "cod," the following are the main types of true cod fish.
Atlantic Cod (Gadus morhua)
Pacific Cod (Gadus macrocephalus)
Greenland Cod (Gadus ogac)
Haddock
Cod Fish Nutrition Facts
Just like most other fish, cod is a good source of omega-3 and omega-6 fatty acids.
It is rich in vitamins B12 and B6, niacin, and also vitamins E, A, and C.
It is also a good source of phosphorus, potassium, selenium, and other trace minerals.
Is Cod Healthy? The Health Benefits and Side Effects
The Benefits of Cod Fish include:
Supports heart health
It May help lower triglycerides
Controls high blood pressure
Protects against deep vein thrombosis
May reduce the risk of cancer
Protects against heart arrhythmia
Reduces the risk of strokes
May protect against Alzheimer's disease
Provides 90% of RDI of vitamin A
Side Effects of Cod Fish
To prevent moisture loss during thawing, frozen cod is treated with a salt solution.
A three-ounce serving of cod contains 60 milligrams of sodium, which increases to 316 milligrams when treated.
To avoid consuming excessive amounts of sodium, always read the label on the packaging.
According to the Natural Resources Defense Council, codfish contains trace amounts of mercury. So, is cod good for you?
When compared to other types of fish, cod is the most nutritious. Smaller amounts of mercury consumption do not pose a health risk.
Cod Fish Related Articles
Fish high in mercury can be harmful and toxic, especially to young children, so make sure you know where the fish came from.
This is due to an increase in industrial pollution levels, which increases the amount of mercury in the environment, including water sources.
Fish consume this mercury through their food. As a result, it is critical to understand mercury levels before consuming any fish.
Is Cod Safe to Eat While Pregnant? Is it Healthy during Pregnancy?
Because higher levels of mercury can harm a fetus or newborn, pregnant and nursing mothers should limit the type of fish they consume.
According to the FDA, pregnant women and children under the age of six should consume no more than two servings of low-mercury fish per week.
Because cod contains moderate amounts of mercury, it should be avoided by children and pregnant women.
Cod Fish Recipe ~ Lemon-Garlic Baked Cod
This super-easy lemon-baked cod is buttery and flaky, with the bright flavors of lemon and garlic bringing it all together.
Fresh chopped parsley adds a fresh note.
Lemon, garlic, and a delicious but straightforward spice blend flavor succulent codfish.
This quick and easy light lunch or dinner is cooked in the oven for only 10-15 minutes.
This quick-baked cod recipe takes just over 15 minutes to prepare, but there's a reason it's a fan favorite!
Tender, flaky cod tossed in a bold Mediterranean spice blend and baked with a garlic and lemon sauce.
But this easy lemon-baked cod is one of my favorite go-to dinners! And it's the most popular fish recipe on my site for a reason!
 Why Will You Love This Oven Baked Cod Recipe?
Lemony, bright flavor
Tender, flaky cod texture
Easy preparation
Bakes in under 15 minutes
Healthy seafood dinner with a lot of protein
Is it possible to use frozen cod in this recipe?
Frozen vs. fresh? This is one of the most common questions I get about cooking with fish.
For high-quality wild-caught fish, frozen is usually the better option.
Depending on where you live in the United States, the "fresh" fish on ice at the fish counter was probably frozen and thawed before being displayed.
Flash frozen fish, on the other hand, is caught and frozen at the peak of freshness, and it is often more affordable.
If you can find a well-frozen fish fillet (also known as cod loin), use it in this baked cod recipe. Thaw it thoroughly before using it.
Delicate, Tender, and Juicy Flavor
Baking cod with garlic, butter, and a pinch of salt and pepper is a delicious way to prepare this mild, moist fish without overpowering its delicate flavor.
It only requires an easy but flavorful marinade of oil, fresh garlic, paprika, cayenne pepper, and herbs.
With a whole lemon or two to drizzle over the cooked fish, you'll have the perfect, juicy go-to fish dish that everyone will enjoy.
Cooking codfish in the oven is a great way to prepare it.
Because of the high heat and short baking time, the fish will cook while remaining tender and flaky.
How do you defrost frozen fish?
In 15 to 20 minutes, frozen fish fillets thaw quickly. Here's how it's done:
First, make sure the fish is still vacuum-packed. Place it in a zip-top bag if it isn't already packaged (do not place it water "naked").
Place the vacuum-sealed fish in a bowl with cold tap water and cover. Warm or hot water should not be used; this increases the risk of bacterial growth and affects the texture of the fish.
After 15 to 20 minutes, check to see if the fish is tender and thawed. If some parts are hard, leave it in for a little longer.
What is the best temperature for baking cod?
First and foremost, at what temperature should cod be cooked? My oven is usually set to 400 degrees F for baked cod.
How long? It could take 10 to 15 minutes in the oven, depending on the thickness of your cod fillet.
Is leftover cooked fish safe to refrigerate or freeze?
I rarely have leftovers when I make this baked cod recipe.
And, as with all fish recipes, it's best eaten fresh the day it's made, especially because the fish was frequently frozen before it was cooked.
However, a reader recently posed this pertinent question
You can keep the leftovers in the fridge or even the freezer, depending on how fresh the fish was.
Cool the fish slightly before refrigerating or freezing it. Do not leave it out at room temperature for more than 1 hour.
Refrigerate the cod for up to 2 days in a shallow glass container with a tight lid.
If you need to warm it up, simply place it in a medium-hot oven until it is just warm (there is always a chance the fish will be overcooked when you warm it up again).
Cooked fish can usually be frozen for up to a month. Because I believe the texture of the fish changes slightly when frozen, I prefer not to do so.
The best-baked cod recipe is available!
Prepared in the Mediterranean style with a few spices, lemon juice, olive oil, and plenty of garlic. 15 minutes in the oven!
10 minute prep time
12 minutes to prepare
22 minutes total
Course: Entree
Greek cuisine
5 person servings-
3 calories per kilogram
Ingredients
4-6 pieces of 1.5-pound cod fillet
14 cup fresh parsley leaves, chopped
Sauce with Lemon
5 tablespoons fresh lemon juice
5 tablespoons extra virgin olive oil
2 tablespoons melted butter
5 minced garlic cloves
For Coating
1 teaspoon ground coriander
34 teaspoon sweet Spanish paprika
13 cup all-purpose flour
34 teaspoon cumin powder
34 teaspoon salt
12 teaspoon black pepper
Instructions
Firstly, preheat the oven to 400 degrees F.
Then, in a shallow bowl, combine the lemon juice, olive oil, and melted butter (do not add the garlic yet) and place aside.
Thirdly, combine the all-purpose flour, spices, salt, and pepper in a shallow bowl. Serve alongside the lemon sauce.
After that, air dries the fish. The fish should be dipped in the lemon sauce before being dipped in the flour mixture.
Shake off any remaining flour. Save the lemon sauce for another time.
In a cast iron skillet (or an oven-safe pan), heat 2 tablespoons olive oil over medium-high heat (watch the oil to be sure it is shimmering but not smoking).
Sear the fish on each side to give it the color, but don't fully cook it (about 2 minutes on each side). Take the skillet off the heat.
Mix the minced garlic into the remaining lemon sauce. Drizzle over the fillets of fish.
Bake until the fish flakes easily with a fork in a hot oven (10 minutes should do it, but begin checking earlier).
Lastly, remove the pan from the heat and add chopped parsley. Serve right away.
Serving ideas: What should I serve with this cod dish?
I always serve this fish dinner with a large salad and a simple side dish.
Serve with Lebanese rice and this Mediterranean chickpea salad or a traditional Greek salad right away.
We like to serve this with vegetables and any carb to help mop up the delicious sauce, such as mashed potatoes, roasted baby potatoes, rice, or even crusty bread.
Sautéed green beans (or air-fried green beans), roasted broccoli (or air fryer broccoli), or roasted asparagus (or… you guessed it: air fryer asparagus) are some of our favorite vegetable sides.
Leftover Storage
Allow the fish to cool slightly before placing it in a shallow glass container with a tight lid.
Refrigerate for up to three days or freeze for up to a month. Fish should not be frozen, in my opinion, because the texture can change.
Calories:
319.3kcalCarbohydrates: 9.6gProtein: 25.8gFat: 19.8gSaturated Fat: 5gTrans Fat: 0.2gCholesterol: 70.6mgSodium: 466.1mgPotassium: 641.5mgFiber: 1.2gSugar: 0.5gVitamin A: 603.3IUVitamin C: 14.2mgCalcium: 45.3mgIron: 1.7mg
What Other Fish Can Be Used In Place Of Cod?
This recipe requires a fish that is both elegant and sturdy enough to withstand the flavors. That is why codfish is the best choice.
If codfish is unavailable, other flaky white fish such as haddock, pollock, and bass would be suitable substitutes.
Frequently Asked Questions
Is it better to bake the cod covered or uncovered?
When baking the fish, there's no need to cover it. It's fine to leave it out.
Does cod contain a lot of mercury?
Not only is cod fish low in mercury, but the FDA recommends two to three servings of it or other low mercury fish for pregnant women and children.
If you want to learn more about other fish that are good for you, click here.
Which Is Better: Fresh Or Frozen Cod?
You are free to use whatever you have.
If you're using frozen cod, make sure it's completely defrosted first (it is best to transfer the frozen fillets to the refrigerator the day before so they thaw overnight).
How Long Does Cod Fish Bake In The Oven Take?
In a 450°F oven, a codfish fillet of average size takes only 10-12 minutes to cook.
After 10 minutes, gently pull the flakes apart to reveal the middle of the fillet to see if the fish is properly cooked.
If it is translucent, return it to the oven for another 2 minutes before checking.
Remember that it will continue to cook after you remove it from the oven, so a little translucency in the center is acceptable.
How can you tell when cod is done? At what temperature should cod be cooked?
When your cod becomes opaque and flakes easily, you know it's done. To be safe, the internal temperature of the cod should reach 145°F at the thickest part.
Bake as directed in the baked cod recipe.
What is cod fish called in Nigeria?
Among the Igbo of Nigeria, the name okporoko for stockfish refers to the sound the hard fish makes in the pot and literally translates as "that which produces sound in the pot."
Lutefisk can be produced from both stockfish and salt cod. Is Panla codfish?  What kind of fish is Panla?
Hake Fish
What is the English name for Panla fish?
Panla fish is also known as HAKE fish in English, while other individuals refer to it by different market names.
They are located in the Atlantic Ocean and the Mediterranean Sea, as previously stated.
Where can we find codfish?
Atlantic cod (Gadus morhua) live in the colder waters and deeper sea regions throughout the North Atlantic.
Pacific cod (Gadus macrocephalus) is found in both eastern and western regions of the Pacific.
What is Kote fish in English?
Horse Mackerel ~ Horse Mackerel (Kote) fish
What fish is common in Nigeria?
A variety of species are eaten in Nigeria, including crayfish, sardines (freshwater and saltwater), Bonga, and mackerel, and also cultured fish species like tilapia, carp, and catfish
Is Panla fish from Nigeria?
PANLA is the universal term used for this very fish. It has many species, but three main species are imported into Nigeria.
What is Titus fish called in English?
Mackerel
Mackerel is a common name applied to a number of different species of pelagic fish, mostly from the family Scombridae.
It is also called Titus fish, especially in Nigeria.
Is Panla fish healthy?
Hake fish, commonly known as panla in Nigeria has at least four indisputable benefits for a healthy diet;
It is low in fat, low in calories, a source of high-value protein, and a significant content of vitamins and minerals.
What is Eja Osan?
Eja Osan is known to be one of Nigeria's most costly types of fish, it is called dansarki in Hausa and azu asa in Igbo.
It is not nurtured artificially; in its place, it is reared from the water where it grows naturally. This is one of the reasons why it is expensive.
Which fish is Eja Osan?
African knifefish (English)
The African knifefish known as Eja Osan- Yoruba, Azu Asa- Igbo, and Dansarki- Hausa is a prized component of Nigerian seafood cuisine.
What is sardine fish called in Nigeria?
In Nigeria, Sardines are commonly known as 'Titus Fish'.
Titus fish is a canned sardine brand that became well known among Nigerians and hence most people now refer to sardines as Titus fish
Which country cod fish is the best?
Norwegian Arctic cod fishing is limited naturally: It can only be reared over a short season between January to April when the skrei spawns off the coast of Northern Norway.
At this time, the quality of the cod – as well as their much-prized roe and liver is at its best.
Is cod a white fish?
Cod is a firm, white fish that's popularly prepared by frying, grilling, steaming, baking, and broiling, and is popular in cuisines around the world
What does cod fish look like?
Cod has a paler underbelly and are greenish-brown to gray on the sides and back.
The lateral line is a faint line that goes down the side of their body.
However, their chin has a conspicuous barbel, or whisker-like projection, giving them a catfish-like appearance.