Mackerel and Tomato Sauce Recipe – A Quick Stew for Rice
Mackerel and Tomato Sauce is a quick fish stew recipe for a busy night after a tiring day or when you want something unusual from the everyday stew.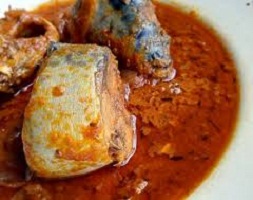 The dish is also good for both casual and fine dining; it all depends on the presentation.
Best mackerel in tomato sauce is an easy and luscious sauce that can be eaten with a variety of side dishes.
Feel free to substitute Mackerel in Tomato Sauce with any other sauce of protein of choice such as egg, pork chops, chicken, etc.
Mackerel is  global food and is one of the most popular fish that we eat in Nigeria. The imported frozen mackerel comes at an affordable price and is commonly called Ice-fish ('Azu fridge').
Mackerel contains healthy oil and is rich in omega 3 fatty acids. It has a strong, distinctive flavor, hence making it an unfailing option when you're in the mood for a fish dinner.
Mackerel pairs well with almost all Nigerian soups and dishes e.g.  egusi soup, Okro soup, tomato stew, Abacha, porridge, even on toast bread, etc.
Mackerel and Tomato Sauce Recipe
This sauce is cheap and easy to make. The fish is boneless, soft, and fragrant. The unique taste of mackerel in this recipe is given by  the rich tomato sauce cooked on the stove-top
Ingredients
2 medium-sized Mackerel cut into different sizes
1-2 habanero peppers (cut into tiny pieces)
A Sprig of Rosemary or Thyme
4 plum tomatoes(cut into small pieces)
A handful of Basil or Scent leaves
1 small onion ( crushed)
2 tsp chili flakes
1 garlic clove (minced)
2 Bouillon seasoning cubes
Salt to taste
½ cup olive oil
Instructions
Firstly, wash the fish and pat dry; then season with salt and the chili flakes.
Secondly, heat olive oil and then add the fish and onion. While the onion is cooking sear the fish gently on each side making sure they do not break.
Thirdly, as soon as both sides of the fish are seared, add the tomatoes, thyme, and habanero peppers; then cover to let it cook for about 20 minutes (do not stir).
After that, season to taste with salt and bouillon. Shake to spread the seasonings; then add the basil and set aside to serve.
Spicy mackerel and Tomato Sauce is ready. There is something about this Mackerel stew that beats my imagination – I mean, its so deliciousness.