Yamarita with Shrimp and Mushroom Sauce
Yamarita is loved by everyone; it is one of the most popular Hausa foods where it originates.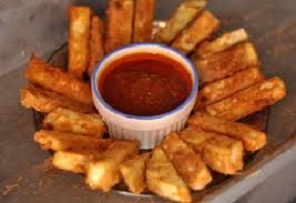 What is the meaning of Yamarita?
Yamarita is plain boiled yam that is covered in egg, flour, ginger, garlic, and salt. Not forgetting the frying part.
Yamarita can be prepared with left-over boiled yam. I like thinking of it as the perfect thing that can happen to boiled yam. It recipe reminds me of over-ripe plantain and ukpo-ogede
Yamarita is an exceptionally easy meal to prepare; even you will be surprised to find out just how easy it is.
Serve with tomato stew, shito, egg sauce, ketchup, Shrimp, and Mushroom Sauce or with Ata Dindin or even Monica sauce. Grilled fish or chicken is also a welcome addition.
As for Shrimp and Mushroom Sauce, we would talk about that soon.
Yamarita Recipe
Yamarita is an exceedingly easy meal to make, even you will be surprised to find out just how easy it is. This recipe shows you how to make yamarita.
Equipment
Frying pan
Ingredients
1 kg Peeled Yam
2 tablespoons all-purpose-flour
3 eggs
400 ml vegetable Oil for frying
1 teaspoon of garlic
One teaspoon of ginger
1 teaspoon of ground pepper
One seasoning cube sweetener
1 Pinch of salt.
Instructions
Firstly, boil peeled and sliced white yam for 10-15 minutes and set aside.
Secondly, combine garlic, ginger, pepper, sweetener, salt plus the three eggs in a small bowl
Then, get the boiled yam immersed in the barter and deep fry. Flip and fry top-side.
After that, fry the egg-coated yams and flip. You can use a spoon to apply more of the egg mixture while it fries. I prefer it heavily coated in the eggs.
In Nigeria, the restaurants and eateries, usually serve yamarita with tomato stew or sauce though you could throw in some fried or roasted fish.
Shrimp and Mushroom Sauce Ingredients
½ Cup of Raw or Cooked Shrimps
1 Cup blended Pepper Mix (which should comprise of bell peppers (Tatashe), Tomatoes, Scotch bonnet
3 Tablespoons Cooking Oil
Sliced Mushrooms
2 Garlic Cloves Minced
1 Stalk Spring Onions, sliced
One Small Onion Sliced
1 Bouillon Cube
Salt to Taste
How to Make Shrimp and Mushroom Sauce
Firstly, place a saucepan on a hob on medium heat, and then, add the cooking oil.
Secondly, when hot, add the garlic, sauté till fragrant, then add the onion, sauté till translucent
Afterward, add the blended pepper, bouillon cube and salt to taste, fry for 6-8 minutes, stirring occasionally to avoid burning…
Fourthly, you'll know when it's fried when oil floats to the top. Now, add ½ cup of stock and continue to fry for another minute then add the chopped spring onion.
Lastly, add the Shrimps and mushrooms, continue cooking for 2-3 minutes if using cooked shrimps and 5-7 minutes if using raw shrimps
Your Shrimp and Mushroom sauce is ready.