Ugba Vegetable Soup | Ofe Ugba | Nigerian Oil Bean Soup
Ugba vegetable soup aka ofe ugba/oil bean soup is a special delicacy from Eastern Nigeria. It is a special soup common to the owerri people and its environs.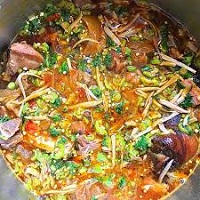 What Is Ugba Vegetable Soup?
Ugba vegetable soup is simply Okra Soup cooked with shredded oil beans.
This oil bean soup can be called ofe ukpaka also because Oil bean seed is either called Ukpaka or Ugba subject to the part of Igbo land you come from.
The way Ofe Ugba also called Ofe Okwuru Ugba is indigenous to the people of Abia and Imo State is the same for other tribes.
Just like fisherman's soup is very popular among the Niger-Delta states of Nigeria, Efo riro to the Yorubas, as well as Dan Wake (Beans Dumplings) for the Hausas
Try Ofe Ugba if you have not and I promise, you will thank me later
Ugba Vegetable Soup Recipe/Ofe Ugba Recipe
This is fundamentally okro soup with ugba (Ukpaka, processed oil bean seed), but you don't just toss ugba into your Okro soup and call it Ugba soup, there's a process
Please note:
The ugba must be well fermented, almost sticking together but not rotten, this is what gives the soup its local flavor. If not the soup will taste bland or taste just like an ordinary okro soup
If your ugba is not well fermented, leave it tightly wrapped in its wrap at room temperature for more days. Check constantly.
Remember, once you put ugba in the fridge, it won't ferment further.
Be careful with how you put salt in your ugba soup because there might be salt already added to the ugba and the fermentation also add a local flavor to the food which reduces the need for salt.
Ofe Ugba is a thick soup, and it tastes even better the next day.
To Prepare Ugba Vegetable Soup/ Ofe Ugba, Ugba Soup
Beef
Dry fish
Stockfish
1/3 cup ground crayfish
Snail, cleaned
2 teaspoons Cameroon pepper
2 seasoning cubes
1 medium onion (1 cup chopped)
250 g okra small bunch and Ugu leaves
Periwinkle
1/2 cup palm oil
1 small Potash
1 ½ cups Ugba
4 scotch bonnet, chopped
Salt
Preparation
Firstly, wash meat and stock fish, put them in a pot, and add some onion slices, water, salt, and seasoning cube. Cook until soft.
Then, process the Okro: Cut and pound okro, or grate or finely chop them, put aside.
Thirdly, rinse the periwinkle and set aside.
Fourthly, add cleaned snail, dry fish, Cameroon pepper, crayfish, seasoning cubes, and the rest of your onions to the boiling meat with some water.
Then, mix 1 tablespoon akanwu powder (or small piece) to 4 tablespoons water, set aside to settle a little.
After that, pour palm oil into a large bowl, add some of the akanwu water, and using a wooden spoon stir until the color changes and becomes thick and uniform. We call this Ncha.
Gradually, mix ugba with the Ncha.
Add the okro, shredded ugu, periwinkles, and scotch bonnet, stir and cook for 3-5 minutes until tender.
Scoop in your ugba with the ncha and stir. Adjust for salt.
Cover and cook 1 minute, then take off from the heat.
Serve Ugba vegetable soup on its own or with any Nigerian swallow of your choice – Cassava Fufu, Eba (Garri), Semolina fufu, Amala, Pounded yam, Tuwo Shinkafa