Eba food: How to make Nigerian Eba Food
Eba food: What is Eba, Nigerian food?
Eba food (garri) is a Nigerian staple and it is one of the Nigerian Swallows (Nigerian Fufu) eaten across the country. It is made with grated cassava (manioc) flour commonly called Garri and hot boiling water.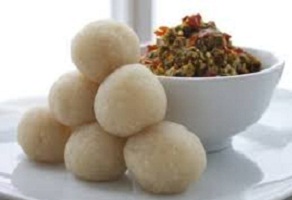 Garri is a by-product of cassava. It goes through a lot of processes before it finally becomes garri.
For More Information, Please Read: How to Make Garri from Raw Cassava – 8 Simple Steps
The combination is traditionally mixed with a large wooden spoon to form a smooth stiff dough and is then rolled into a ball.
Learn More >>> Eba Recipe – A Nigerian Garri Meal
Eba food: What does EBA taste like?
This type of fufu, usually known in Nigeria as eba, is made of dried and grated cassava (garri) which provides it with a grainier texture than the usual cassava fufu. It is repeatedly labeled as having a slightly tart and sour taste.
What Is the Meaning and English Name Of EBA?
I am not sure of the country of origin or meaning of the word Eba/Garri or even the English word but I know that garin is the Hausa word for grain.
Maybe there is a link somehow, do you know about the origin? Please let me know in the comment section
What Is Eba Food Made Of? 
Eba is made with garri (processed cassava). Some Nigerians are in the lucrative business of processing cassava to get Garri,
This traditional side dish from Nigeria usually comes in 2 different colors: the white garri and the yellow garri.
The yellow garri is being administered with palm oil that immediately vicissitudes the color to yellow, while the white retains its original color.
We also have different types of garri subject to the state it is handled and processed. For example, we have garri oyo, garri ijebu, garri Ibo.
Garri ijebu is the tangy type that is good for drinking and also for making Eba food. Ibo garri is usually made with some palm oil which gives it its yellow color.
Is Eba Food Healthy?
Yes! Eba is healthy food and can be consumed on Nigerian weight loss diet. Eba Food (Garri) Health Benefits include;
Low in calories-Although very starchy, the high fiber content in cassava helps you stay full for a longer period and prevents binge eating. Thereby, making it a great food for weight- watching
Fiber Content – Garri contains fiber that is not soluble in water. It assists in the immersion of toxins in your intestines and as a result, mends your digestive health.
Folate and Calcium Content – A cup of garri holds 15 percent of your everyday folate need and 47 percent of the daily calcium need; which is best for pregnant ladies. These vitamins also aid the body's immune system.
There Are 3 Techniques To Enjoy Garri:
You can chew the Garri grains. You can combine it with groundnuts (peanuts), coconut, or palm nuts.
As a drink: You can add cold water, sugar, milk, groundnuts (peanuts) and drink it like cereal.
By Making small lumps of it using boiling water, and then dip in any Nigerian soup and swallow.
Eba Food Recipe
Eba Food Ingredients
4 cups of Garri (white or yellow)
Hot water
How to Make Eba Food (Lump Free Eba)
Equipment
Ingredients
½ Cup of Garri
A Cup of Boiling Water
Instructions
Firstly, boil water in a kettle
Secondly, add boiling water in a bowl, then add the garri
After that, turn with turning spoon or spatula till all comes together and becomes smooth
Lastly, serve and enjoy with any soup of choice
How Do You Eat Eba Food?
Firstly, a small amount of eba food is taken with the fingers and rolled into a small ball and dipped into any Nigerian soup such as bitter leaf (ewúro) soup or pepper soup, Egusi soup, okra soup, stewed vegetables, etc.
How to Style Eba Food
If you'd like to style the eba to make it pretty, check out my Creative and Fun Ways to Present Nigerian Swallow
What is fufu Nigeria Food?
Fufu is an essential food in most of West Africa. It comprises of starchy foods such as cassava, yams, or plantains-that have been boiled, pounded, and rounded into balls.
It is habitually dipped into sauces or consumed with stews of meat, vegetables, or fish
Is Fufu And Pounded Yam The Same Thing?
Obviously, pounded Yam is a type of fufu. As the name implies, this popular fufu is made of yams, cooked on a stove with hot water, and then pounded down to a smooth, mashed potato-like texture that entails some arm strength but it's worth it in the end.