How to Make Garri from Raw Cassava – 8 Simple Steps
Garri is made ready through a process using Cassava (Mandioca) which is a tuber crop. This cassava flake is one of the well-liked foods which originated from the processing of Cassava.
It is a staple food and widely cultivated. In addition, it serves a larger purpose in both industrial food processing and for commercial use.
The way gari (cassava flakes) is made ready from cassava, is similar to other food products which can be processed from it such as Fufu (Akpu or Santana).
Cassava flakes can as well be processed into Bobozee (commonly known as Abacha Mmiri) and cassava chips for snacks.
What is Garri?
Gari (also known as, garry, gali, or tapioca) is a well-liked West African food produced from cassava tubers. The word gari is mainly used in Nigeria, Sierra Leone, Cameroon, Togo, Benin, and gari in Ghana.
Nigeria is one of the world's leading producers of this cash crop. It contains a very high level of carbohydrate and is processed in several ways to get an edible end-product.
Please Read: Discover the delicious taste of corn fufu and ogbono soup
Gari in its raw form is creamy-white or light-yellowish flour with a faintly fermented flavor.
Ijebu Gari is one of the varieties of white Gali.  Its produced mainly by the Yoruba people of Ijebu Origin in Nigeria. It has a pleasantly sour taste that is great for soaking/drinking.
Homemade tapioca is better because it is without sand and stone and you are sure of the environment. Above all, it is best when preparing a small quantity for yourself and family.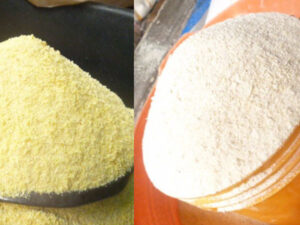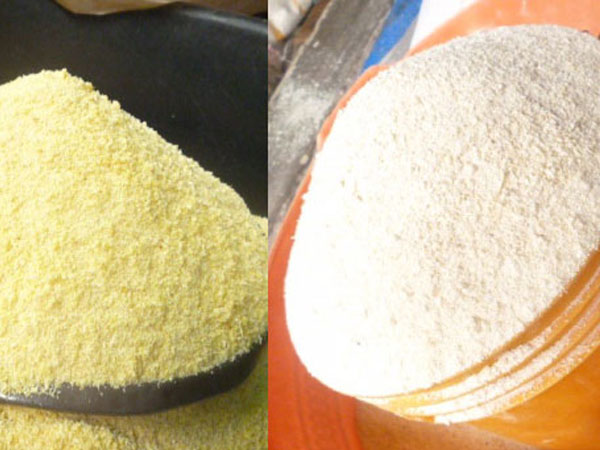 Two Main Types of Gari
The White Gari
The Yellow Gari
Both varieties of Gari have similar processing methods; however, the yellow color can be achieved by simply adding a few drops of palm-oil (mmanu nri) to the wet cassava flour during the frying or drying stage.
To produce Grri from cassava tubers at home especially for your eba and snack with few seed of groundnuts, the following steps are required:
How to Process Cassava into Gari Traditionally
To produce Garri from cassava tubers at home especially for your eba and snack with fried groundnut seeds, the following steps are required:
Go to any market near you and ask for where you can get cassava tubers and that is the beginning of the process.
Firstly, peel off the skin of the cassava tubers. Strive as much as possible not to peel too deep.
Secondly, wash the peeled tubers. Use a lot of water because this is the only time you wash the tubers.
Thirdly, cut the tubers into medium sizes to enable even grinding.
Fourthly and most importantly is to take them to the grinding machine (usually a very large one) and grind them. But if the cassava tubers are really small, you can comfortably grate them at home.
After that, the cassava paste is packed in the bag and drilled to dryness for 2-3 days (fermentation occurs at this stage).
Then, use a wide sieve, to remove the fine cassava powder from other particles.
Subsequent to that, use a thick frying pan, to stir fry the cassava powder in reasonable quantity until it becomes very dry and brittle. Add tiny drops of red palm oil occasionally if you want your gari to be yellow in color.
Finally, store your gari in a dried and cool place, and have fun with your meal.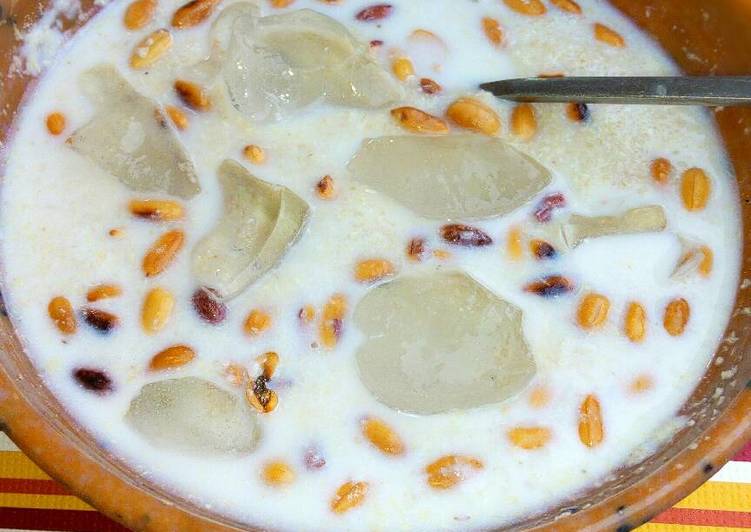 Soaked Gari for Drinking
Nutritional Values of Garri
Calories
330
Sodium
0 mg
Total Fat
1 g
Potassium
0 mg
Saturated
0 g
Total Carbs
80 g
Polyunsaturated
0 g
Dietary Fiber
48 g
Monounsaturated
0 g
Sugars
0 g
Trans
0 g
Protein
1 g
Cholesterol
0 mg