6 Most Popular Fish and Seafood Market in Lagos, Nigeria
6 Most Popular Fish and Seafood Market in Lagos, Nigeria
Are you a fish enthusiast? I do, and if you ask me, Lagos has the largest fish markets in West Africa.
So, to start the week, I'd like to take you on a tour of the Lagos Fish Markets (where to get fresh seafood in Lagos), from Ikorodu to Ajegunle to Yaba to Apapa to Idumota to Epe…
Ready? Then, let's Go! Don't get lost abeg. lol
Lagos is surrounded by sea on all sides. Lagos Island is literally on the ocean, and the abundance of water has aided the city's development in areas such as tourism, vacationing, transportation, and gastronomy.
Fish is abundant, and there are numerous markets where you can get your favorite fish, such as salmon (Titus), herring (Shawa), tuna (Kote), catfish, and so on.
Furthermore, fish is regarded as a better source of protein in the country than pork or beef, and as a result, health-conscious consumers are increasingly choosing it.
Whether you want to make stew or soup, to enhance your jollof rice or yam porridge, or to enjoy a delectable warm place of pepper soup, your seafood is good to go.
Check Out These Related Articles >>>
Check out the 6 Most Popular Fish and Seafood Market in Lagos, Nigeria
Best Fish and Seafood Market in Lagos
Makoko Fish Market ~ Fish and Seafood Market in Lagos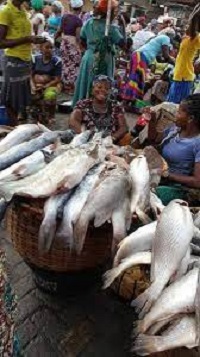 Makoko is a hamlet that is both on the ocean and land, therefore fishing is the primary source of income. There is much fish for sale, and believe me when I say they are all fresh, with crystal eyes and gleaming skin.
Where is the Makoko fish market? How to get to Makoko fish market
This seafood market may be found in the Lagos neighborhood of Yaba. There are four ways to reach there: via Iwaya, Sabo, Adekunle, or the Third Mainland Bridge exit. My path is largely dictated by the current traffic situation.
Epe Fish Market ~ Fish and Seafood Market in Lagos
The biggest home of fish in Lagos and, arguably, Nigeria. Here, Culture Meets Commerce
Epe is a town and Local Government Area (LGA) in Lagos State, Nigeria, located on the north side of the Lekki Lagoon. t's a Yoruba settlement near the Lagos lagoon.
Epe is known for its fish market, which thrives on the toil of the men and women whose livelihoods are dependent on the lagoon – and the fish that dwell there.
The fish market, which is located in Epe, is a sight to behold. Large and fresh fish are caught in the Lagoon. If you enjoy snails, you can get those as well.
To be honest, the sheer size of the fish will astound you.
Ojah Market ~ Fish and Seafood Market in Lagos
Located in the Badagry area of Lagos mainland. It's a market close to the Benin Republic border. It serves both Nigerians and Beninese.
Ojah Fish Market is a seafood lover's haven, and people troop in from both inland Lagos and the Benin Republic to buy fish and other exotic animals made available in the market.
The women of Badagry are famous for creating savory smoked fish that is sought-after all over Nigeria.
Fishing is a popular pastime there, so if that's what you desire, you'll get a fish-only supper.
Ijora Olopa ~ Fish and Seafood Market in Lagos
Ijora was originally a swampy and water-logged village where residents from Lagos Island could reach their homes via canoes. The founding of a railway terminus at Iddo, a nearby hamlet boosted the status of Ijora.
In the 1960s, the Lagos State town planning authority and the Federal Government of Nigeria decided to zone tracts of land in the area for industrial use
The industrial estate used to be a base for the firms: K Maroun, Incar cars, and West African Cold Storage. The Ijora wharf also functioned as an offloading point for frozen food.
Ijora-Olopa is a major frozen food market in Lagos. Ajeloro Fish Market in Ijora Coal Wharf is situated here also
This market, which is located on Iganmu, Lagos Island, sells all types of seafood. Although the majority of the items are frozen, it is a method of storing your favorite fresh seafood.
Apapa Fish Market ~ Fish and Seafood Market in Lagos
Interested in seafood, then this market will give you more than just that.
Located in Apapa, all kinds of seafood are available here from shrimps to crabs to periwinkle and the like. And giant fishes with eyes that gape back at you.
It offers baskets and baskets of your favorite varieties of fish. The market exclusively provides wholesalers for people who want to go and resell.
Furthermore, a canoe ride comes with the bonus of shopping.
The Liverpool fish market ~ Fish and Seafood Market in Lagos
Liverpool Road is a prominent departure point in Apapa and is lined with commercial establishments such as banks and shopping malls. It is perhaps the busiest route in the GRA, with a lot of high-value houses.
Although the route is well-paved and easily accessible, traffic congestion on Liverpool Road is a severe issue that gradually improves after 8 p.m.
The Market
Liverpool has its own market, which attracts visitors from all across Lagos and beyond. It's a market famed for its fresh fish, smoked fish, and crayfish, all of which are sold by locals. Besides, the boat operators encourage passengers to patronize them right in front of the market on the riverbank.
Final Thought
Continue to be kind, caring, and live a healthy lifestyle. We appreciate you!!!!!