Kenkey with Fresh Fish Recipe: Ghanaian Staple Dish
Kenkey with Fresh Fish is a Ghanaian staple dish comparable to Acheike to the Ivorian and Eba to the Yoruba's in Nigeria and also Ghanaian Banku and fish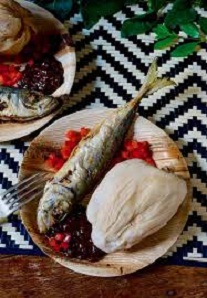 Kenkey white cornmeal is a nutritious dish mostly eaten by the Fante and Ga people of Ghana. It is called Komi in the Ga tribe or Dokono by the Fante people of Ghana.
Related >>> Banku with Fried Fish (Tilapia) and Pepper Sauce
Accra Kenkey recipe is a steamed dough ball made from fermented corn (maize) and usually wrapped in a corn shell.
Meanwhile, in Accra Kenkey is a complete street food that is sold everywhere.
 Kenkey with Fresh Fish
Fishing is a major part of the Ghana economy, and as a result, many Ghanaian dishes are based on fish hence Kenkey with Fresh Fish
Chilies are also a vital part of Ghanaian cuisine and provide substantial vitamin C in nutrition.
Related Also >>> How to Prepare Shito (Ghanaian Pepper Sauce) 7 Easy Steps
Kenkey food is commonly served with fried fish, ground fresh pepper, fresh tomatoes, and onions; with any other topping of your choice such as Shito sauce.
This white cornmeal has gain popularity in some West African countries like Nigeria, Benin, Togo, and Cote d'Ivoire. The people of Caribbean Island also enjoy Kenkey which they named paime in Trinidad and Dokono in Jamaica.
Homemade Kenkey African Food is a dish that takes time to prepare therefore, it is a delicacy you need to make ahead then finish on the exact day needed.
However, for those of us in Lagos-Nigeria, there are places near you where you can get Kenkay but if not successful, below is how you can prepare this nutritious classic Ghanaian Kenkey with Fresh Fish
Ghanaian Kenkey with Fresh Fish Stew Recipe
Ingredients for Fresh Fish Stew
450 g fresh fish (any firm white fish)
3 hot chilies (e.g. Scotch Bonnet) pounded to a paste
2 tbsp. tomato puree
3 tbsp. ground, dried, shrimp
2 medium onions, finely sliced
4 fresh tomatoes, chopped and pounded to a paste
6 tbsp. Kpakpo Shito
300 ml water
150 ml red palm oil
One garlic clove pounded to a paste
1 tbsp. freshly-grated ginger
salt, to taste
Method
Firstly, clean the fish, remove the gills, and cut into steaks. Then, wash the flesh with lime, lemon, or vinegar.
Secondly, rinse in water and marinate in garlic, ginger, chilies, and salt. Set aside for 30 minutes
Thirdly, heat a little oil in a pan and fry the onions and tomatoes for a few minutes or until translucent. After that, add the ground shrimps and tomatoes puree and allow simmering for about 10 minutes, or until cooked.
Lastly, add water and the marinated fish and simmer gently for about 25 minutes, or until the fish is cooked. Serve hot
Kenkey
Kenkey (also known as Dokonu or Komi) is one of the staple foods consumed in Ghana.
Ingredients
2 kg maize flour (for example corn flour or cornmeal), white cornmeal is mostly preferred
Method
Firstly, to prepare Kenkey from scratch, the maize flour first has to be fermented.
It's then mixed with just enough warm water to wet it before being allowed to ferment (covered with a clean cloth) for two to three days to form maize dough.
After that, it will have a slightly sour aroma when properly fermented.
Then, the resultant dough is kneaded with the hands until it is thoroughly mixed and has stiffened slightly.
Share into two equal portions and place in a large pot along with 250 ml water where it's partially cooked for about 10 minutes, stirring constantly and vigorously (at which point it is called aflata).
Now, add the uncooked half of the dough and mixed in well. The dough mixture is divided and shaped into serving-sized pieces before being wrapped tightly in corn husks, banana leaves, grease proof paper, or foil.
After that, the wrapped dough is then placed on a wire rack above a pot of boiling water and steamed for about 1-3 hours.
Lastly, the final dough balls are the kenkey and are served with a sauce (typically a hot sauce) for example Palaver Sauce or any meat or fresh fish dish.
Enjoy your Ghanaian Staple Dish!