Banku with Fried Fish (Tilapia) and pepper Sauce Recipe
 Banku is a Ghanaian staple dish that is prepared by a balanced combination of fermented corn and cassava dough in hot water to form a smooth, whitish consistent paste.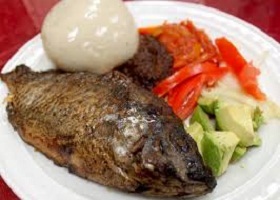 It is commonly favored by the people of the Southern Regions of Ghana; the Ewe tribe of the Volta Region, the Ga, and the Fante tribe but also consumed across the other regions in Ghana.
Banku is made from a combination of maize and grated cassava tuber. It is a carb starchy food.
Serve Banku with soup, okra stew, or a hot pepper sauce with fish.
Why Banku?
A banku based meal is a healthful dish and quite simple to prepare if you know what you are doing.
History of Banku
It originated from the Ewe people in Volta Region and is one of the main foods of Ghanaian's popular meals.
Variations of banku include akple, akume, or wokumé and, kom.
Homemade Banku and Tilapia with Pepper Sauce Recipe 
A homemade banku and tilapia with pepper sauce recipe is a Ghanaian traditional dish, and favorite among all the tribes and regions in the country
Banku Recipe: Ingredients
Cassava dough
Corn dough
Salt
Preparation
Firstly, combine the corn and cassava dough with water in a large pot.
Then, use your hand or stirring paddle. Sprinkle a little salt and mix until it turns into a watery paste.
Secondly, bring the pot to heat – stir the mixture with stirring paddle or wooden spoon as the pot starts to boil.
Thirdly, continue stirring to prevent turning into lumps. Banku will naturally thicken as stirring and heating continue.
Lastly, check for consistency, and then add water to soften your mixture when needed. Cook for about 10-15 minutes and your fufu is ready.
Use a smaller bowl to shape the banku into preferred serving sizes.
Tilapia & Sauce: Ingredients
Fresh Whole Tilapia Or Fresh Fish Of Your Choice (2 Or More, Depending On How Many Serving)
Hot Pepper, Ghanaians Use Kpakpo Shito (Scotch Bonnets)
Minced Garlic And Ginger
1 Large Onion, Sliced
Fresh Tomato, Chopped
Seasoning Cubes/Power/Liquid (Maggi Or Knorr)
Salt and pepper to taste
Instruction
Firstly, clean your Tilapia, descale it, and remove the gills and fins. Spice it with your preferred natural spices.
Secondly, leave for some minutes for the fish to be well marinated and then, put on the grill and into the oven.
Thirdly, occasionally be glazing the fish with oil and turning it as and when due so it will not stuck on the grill or get burnt
Keep glazing and turning intermittently until your Tilapia is ready.
After that, wash your fresh tomatoes, pepper, and bulb onions.
Then, grind as many as you would prefer in an earthenware masher (Some like theirs hot, others not so hot) slice some onions on the side.
Lastly, add salt to taste.
Serve Your Banku Food And Tilapia With Peppers Stew As Follows:
Break off small pieces, mold it into a soft little cup shape, then use that to scoop up the stew or break off a piece of fish, then pop the whole delightful morsel in your mouth. YUMMY!
Leftover banku lasts for up to a week or longer, the fermentation process gives it more flavor and taste if stored properly.