High-Protein Diet: Banana & Honey Smoothie for Weight Loss
High-Protein Diet naturally includes large quantities of protein and only a small amount of carbohydrate. People looking to lose weight often adopt a high-protein diet plan.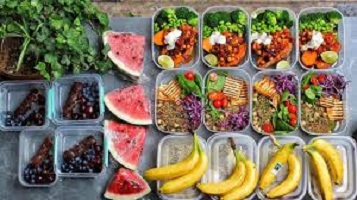 A high-protein diet is a diet in which 20% or more of the total daily calories come from protein. Most high protein diets are high in saturated fat and severely restrict the intake of carbohydrates. Wikipedia
Eating a protein-rich food helps to prevent overeating because when you feel full, you eat fewer calories thereby losing weight.
Why Do You Lose Weight On A High-Protein Diet?
High-protein foods can bring a quick drop in weight because reducing carbs from our meal plan causes a loss of body fluids.
Also, a high-protein diet causes substances called ketones to be released into the bloodstream. The ketones make dieting easier by lowering appetite
Fruits can be a good source of protein, although they tend to provide less protein when compared to vegetables, nuts, beans, and other high-protein foods.
While there are many diets and ways to lose weight, a wholesome high-protein smoothie is perhaps the most delicious, quick, and balanced one to try.
High-points
Smoothies are healthy ways to load up on essential nutrients
They are good for breakfast – quick, easy, and can help in weight loss too
Here is a high-protein banana honey smoothie that you can try at home – Banana & Honey Smoothie
An average banana provides 3% of the DV (current daily value) for protein.
Bananas
Protein
per Cup Sliced
Protein
per 100 g
Protein
per 200 Calories
1.3 g
(3% DV)
1.1 g
(2% DV)
2.4 g
(5% DV)
Jun 27, 2020
High-Protein Diet: Nutrition Facts for Banana (Source)
An average banana provides 3% of the DV for protein.
Why Smoothies with Bananas and Honey Are Beneficial To Your Health and Good for Weight Loss
Bananas are not only delicious but are also a favorite ingredient for green smoothie recipes.
They provide the best creamy smoothie base and their flavor matches a variety of fruits such as strawberries, pears, apples, blueberries, pineapple – just any fruit!
Above all, they provide a wide range of health benefits that put them on the top of super-foods
Banana Health Benefits; the health benefit of banana include
Energy Boost
Digestive/Colon Health
Balanced Mood and Brain Health
Promotes Cardiovascular Health
Antacid and Stomach Health
Improved Mineral/Nutrient Absorption
Promotes Kidney Health
Immune System Support
Weight Loss Benefits: Bananas are a low-calorie food with about 100 or so calories in a medium-sized fruit.
The fiber content in bananas assists you feel full which can help you avoid snacking between meals.
Bananas are also beneficial in helping you reach your weight loss goals.
High-Protein Diet: Reasons Why You Should Add Honey to Your Smoothies
Honey is an excellent super-food that has been used for ages. A lot of people know it as a real medicine that can be used for healing, while others use it as a sweetener in their drinks.
However, do you know that honey can also be the perfect additives to smoothies?
Whether it's for breakfast or a midday smoothie, honey adds essential nutrients, such as calcium, copper, iron, and magnesium to your already healthy blend.
Benefits of Honey as a Key Ingredient in Your Smoothies
Honey turns bitter into sweet
You get additional nutrients with honey
Honey aids muscle repair/muscle gain
Now you know the health benefits of Bananas and honey, why not include this smoothie Recipe made with Bananas and honey for weight loss in your menu?
Banana & Honey Smoothie Recipe
A thick, slushy and creamy smoothie with the goodness of bananas, and honey
Ingredients
2 Bananas
1 pint or 550 ml milk of your choice – I used Soya Milk.
1-2 Tablespoons of honey to your taste
1 tray of ice cubes
Instructions
Firstly, place the ice and bananas in the blender with one tablespoon of honey and half of the milk. On pulse setting, blend until smooth.
After that, taste the smoothie, and see if you need to add more honey if you want a sweeter taste.
Then, add the remaining milk and pulse or blend until all mixed and frothy.
Lastly, pour into glasses and enjoy!
Recipe Options
You can include other fruits of choice, or a couple of squares of chocolate, or caramel sauce in the blender at the initial stage
High-Protein Diet Risks – Side Effects
Some high-protein diets include foods such as red meat and full-fat dairy products, which may increase your risk of heart or other diseases.
If you want to follow a high-protein diet, choose your protein wisely. Avoid processed meats instead, eat heart-healthy proteins
Above all, always speak to your doctor before beginning any new diet, especially if you have any health conditions.