Fish Pie – How to make Best Nigerian Fish Pie Recipe
Fish Pie – How to make Best Nigerian Fish Pie Recipe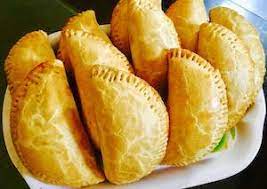 This fish pie is a traditional British meal made with smoked fish in a white sauce prepared with milk.
It is filled with fish, vegetables, and eggs. It's full and healthful, and it is said to be originated from Scotland.
The Fish Pie, also known as a Fisherman's Pie, is not as popular as the meat or chicken pies, but if you love to fish, this pie is for you.
Even if you don't like fish, give it a try. You will be astonished at how nice and mellow it tastes.
Related >>>
Ingredients for Fish Pie
For Fish:
400 g of smoked fish or raw unsmoked fish
750 ml of milk
1 Medium onion
4 Garlic cloves
For the White Sauce:
Flour
Butter
Small Onions
Carrots
2 Garlic cloves
Celery stick
Salt and pepper for taste
For Potato Topping:
Potatoes
125 ml milk
Butter
Chopped Parsley
For Pie:
1 cup frozen peas
2 tablespoons of butter
4 hard-boiled eggs
Chopped Parsley
How to Make Nigerian Fish Pie by Baking
For Fish:
Firstly, heat a saucepan over medium-high heat. After the onion and garlic are added, add milk, and when milk is barely simmering, add the fish.
Secondly, scoop up the fish for 7 minutes, then use a slotted spoon to move it to a medium baking pan.
Then, use a fork to break up the flakes into chunks. If you see any bones, remove them.
Afterward, remove onion and cloves from milk with a slotted spoon and discard. Milk should be kept aside.
For the White Sauce:
Firstly, melt butter in a saucepan and turn it on medium-high heat. After the onion and garlic are added, cook for 1 minute.
Secondly, add the celery and carrots and simmer for another 5 minutes, or until the carrots are tender.
Thirdly, reduce the heat to a low setting and mix in the flour until it thickens.
Meanwhile, half of the milk should be added now, and mixing should begin immediately. The mixture will thicken fast once it has been absorbed. Stir in the remaining milk
Then. increase the heat to medium and continue to stir for about 3 minutes, or until the mixture thickens.
Next, remove the pan from the heat, toss in the parsley, and season with salt & pepper to taste.
While the sauce is cooking, bring a large saucepan of water to a boil, then add the potatoes and cook for 15 minutes.
Finally, drain the potato and combine it with butter, milk, salt, and pepper. Mash until smooth, add more milk if necessary.
For Pie:
Firstly, sprinkle peas on top of the fish, then drizzle the sauce. If you don't want the fish to become mushy, gently stir it in.
Secondly, smooth the top, and carefully place the eggs throughout the pie.
Thirdly, when the pie is done, spoon the mashed potatoes on top.
Lastly, draw squiggly lines on the surface using a fork.
To Bake Pie:
Preheat the oven to 180 degrees Celsius (350 degrees Fahrenheit) before commencing.
Drizzle melted butter over the top and bake for 35 minutes, or until your top is golden brown.
Leave for 5 minutes before dishing, sprinkle parsley on top if preferred.
How To Reheat ~ Can I reheat leftover fish pie?
To reheat any leftover fish pie, microwaving your fish pie is the quickest choice.
Cook for about 2 minutes on high heat, then check to make sure it's piping hot before serving.
How to Make Fish Pie Without Oven~ How to Make Fish Pie with Stove
To make fried fish pot pie is almost the same way of making fish roll step by step and the shape is different from the meat pie and chicken pie.
When making it with a stove, ensure you add baking powder to your ingredients.
Before the 'To Bake Pie' procedure and there isn't any oven available. Follow these guides on how to make a fish pie without an oven or with a stove.
Ghana Fish Pie Recipe Without Oven
Firstly, in a bowl, sieve the flour, add the baking powder and salt, mix well, then add the butter.
Secondly, using your fingers, mix the till it forms a dough.
After that, add the raw egg and stir thoroughly before pouring water.
Meanwhile, wrap the dough and refrigerate for about 20 to 30 minutes to make it more flexible.
Afterward, bring out the dough, roll it out, and cut it into rectangles depending on how big you want your pies to be.
Place the pie filling in the center, leaving some gaps around the edges.
Finally, cover, wrap up and ensure both edges meet and crimp with a fork.
To Cook:
1. At the initial stage, line the pot with foil and place clean stones under the foil. All this should be put in the bottom of the pot you intend to use.
2. Then, preheat for about 10 minutes or more depending on the hot strength of your cooker.
3. Lastly, place the baking pan on top of the foil and cook for 15 minutes or till it begins to brown before you flip and bake the top too. You need a spatula to check, so it doesn't burn while you wait.
Your fish pie is ready to be served.