Cuban Food: Top 30 Traditional Cuban Dishes to try in Cuba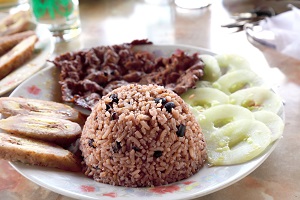 Cuban Food: 30 Best Traditional Cuban Dishes to try in Cuba
Cuba is one of the most popular Caribbean locations in the world, and it's easy to see why, with its beautiful scenery, pleasant weather, and delectable cuisine.
Modern Cuban Food
The Cuban food menu has something for everyone, from black beans to bell peppers and lime juice.
The culinary tradition of Cuba's food history is a unique highlight that is difficult to replicate. This is owing to the many influences that Cuban food has absorbed, thanks in large part to the country's years of colonization and trade with many countries across the world.
As a result, Cuba has become a gastronomic melting pot, with African, Spanish, and Caribbean cuisines blending to create one of the world's most diverse and unique culinary traditions.
Cuban food, like its culture, thrives on variety. Spanish, African, indigenous, and other Caribbean civilizations have had the most effect.
However, the most valuable asset in Cuban cuisine is this combination of tastes.
Recommended >>>
Cuban Food Recipes
A single Cuban meal tells a narrative and has a distinct flavor. Each Cuban food has several variations, all of which are dependent on the resources available.
Other notable inspirations include extremely popular Italian and even Chinese meals (especially popular in the Havana area), implying that some Cuban dishes are inspired by even more improbable places.
Due to the proximity of French colonies in neighboring Haiti, there are also French influences.
Some of Cuba's best foods are well-known around the world, such as the famous Cubano sandwich, but there are many other delicious and lesser-known dishes to try.
Meanwhile, many Cuban foods use native Cuban and South American ingredients, as well as those prevalent in European countries that left an indelible influence on Caribbean culture.
We'll look at some of Cuba's best and most popular dishes in this post, discussing their history as well as their ingredients and flavors.
Traditional Cuban Cuisine's Flavors and Heritage
Here's what you should order if you're visiting Cuba or dining in a Cuban restaurant. Below is a list of the top Cuban foods to sample when in Cuba.
Best Cuban Foods to Try in Cuba
Referral: https://www.baconismagic.ca/cuba/cuban-food/
The most typical Cuban food is the Comida Criolla. This is a dish made up of various ingredients.
There always is a protein source (it can be fish, seafood, pork, chicken, and sometimes beef), a salad, fried plantains, and rice and beans.
Cubans eat lots of rice so expect it at every meal.
Traditional Cuban Food
Tamales
Similar to the Mexican tamales, but in Cuba, the meat is mixed with the dough and not used as a filling.
Medianoche
Meaning "midnight", it is a sandwich usually served in nightclubs in Havana.
Also, this food in Cuba consists of sweet egg bread filled with ham, pork, cheese, and pickles.
Pernil Relleno de Moros y Cristianos
This Cuban dish is made more interesting as it is filled with another Cuban dish!
A pork shoulder is marinated in orange juice, garlic, oregano, and pepper and then filled with rice and beans and cooked in the oven.
Vaca Frita
Translated as "fried cow", this dish is prepared with beef marinated in lime, garlic, and salt and then seared till it becomes almost crispy.
Frita
The frita is the Cuban version of a hamburger. A bun is filled with a patty of minced beef – occasionally mixed with chorizo; topped with french fries.
Shrimp in Coconut Sauce
Typical of Baracoa (Guantanamo Province), considered the gourmet capital of Cuba.
The coconut sauce (locally known as lechita) is prepared with coconut milk, tomato paste, garlic, and a mixture of spices and is generally poured over shrimps, octopus, or even lobster. 
Arroz Con Pollo (Rice with Chicken)
The Cuban version of paella, but without the seafood.
Lechon Asado
A milk piglet is cooked whole on a spit until the skin is crispy. It is often served a spicy Cuban marinade called mojo.
Pulpeta
This is the Cuban equivalent to meatloaf. It is a mix of mincemeat which is well seasoned and ham, with hard-boiled eggs put inside, that are however not cooked in the oven but on the stove.
Tamal en Cazuela
A dish made of ground corn cooked with meat and spices and served directly from the pot. It is called tamales when it is served in the husk.
Costillitas
Baby back ribs are marinated and served with a mix of sour orange juice, lime juice, oregano, garlic, and olive oil.
They taste sweet and tangy at the same time and are simply delicious.
Roast Chicken
This meal would hardly catch anybody's attention, but it is a local specialty in Trinidad.
It is a pot roast chicken, slowly cooked to perfection in a thick sauce with tomatoes and onions, giving it a sweet yet spicy flavor. 
Lomo Ahumado
Pork fillet that is slowly smoked until the meat becomes full of flavor yet juicy.
Ropa Vieja
Ropa vieja is the national dish of Cuba. It's somewhat amusing as it can be difficult to find beef in Cuba, as much of it goes to the resorts and tourist restaurants.
Ropa Vieja means old clothes but this popular food in Cuba is a stew with beef chunks slowly cooked till they shred, together with tomatoes and onions.
Filete Uruguayo
A pork chop is filled with ham and cheese, then passed in beaten eggs and breadcrumbs and fried.
The result is a heavy perfection.
Paella
The Cuban version of the traditional Spanish dish includes ham, chicken, mussels, chorizo, shrimp, scallops, and lobster.
Ajiaco
This stew contains a little bit of everything: potatoes, pumpkin, malanga (a vegetable similar to topinambur), plantain, corn, meat, tomato paste, spices, beers, lemon juice, and pretty much any other ingredient available.
Chicharrones
Crispy fried pork rinds. This Cuban food should not be missed!
Picadillo Cua Cua
The Cuban version of hash and eggs is usually served with rice and includes beef hash, eggs, and plantains.
Croquetas
Delicious battered and fried balls of cheese stuffed with bits of ham.
Pizza 
One would hardly think of Cuban food when thinking of pizza. However, even an Italian like me can enjoy a take-away pizza from one of the "holes in the wall."
Pizzas are cooked in small charcoal ovens and served hot, and they cost less than $1.
Vegetarian Cuban Cuisine
Cuba can be a meat and potatoes…or rather rice…kind of country.
But meat can be quite expensive and so there are lots of vegetarian food options in Cuba.
Hearty and filling, ask how the vegetables have been cooked as it's common for yucca and other root vegetables to be cooked in pork fat.
Corn on the Cob
The Cuban version of corn on the cob consists in grilling the cob, rolling it in cotija cheese, sprinkling it with chili powder, and pouring some drops of lime juice.
Malanga Fritters
Malanga (similar to yam and potatoes in texture and flavor) is grated and battered and then fried till crispy and delicious.
Congrí
Also called moros y cristianos, congrí accompanies any real comida criolla.
This Cuban food is is white rice and black beans cooked in garlic, oil, and other spices.
Yuca fingers
Large chunks of yuca fried in oil.
Tostones
Found all across the Caribbean countries (although with different names), these are plantains thickly cut, fried, then pressed and refried.
Maduros
Ripe plantain that is slowly cooked in oil till they become caramelized: they are soft, sticky, juicy, and delicious.
Huevo Habaneros 
Eggs cooked over a sofrito – a slightly fried mixture of tomatoes, garlic, peppers, and onions. Suitable for vegetarians who eat meat.
Cuban Desserts
Cubans love sweets, there are lots of little bakeries that sell guava and other Cuban fruit-based pastries.
If you're in Havana check out the congress across the street from the capitolio.
They look like little crabs and are full of delicious exotic fruits puree and sold hot for only a few cents each. Just look for the long lines of Cubans.
Churros
The perfect example of street food: dough is fried till it is crispy on the outside and soft on the inside, and sprinkled in sugar.
Flan
This Cuban dessert is similar to the one found in other countries in Latin America.
It is made with condensed milk, evaporated eggs, and vanilla cooked together over a delicious caramel.
Unlike flan in Mexico and some other countries, it does not include cream cheese as it is not readily available in Cuba.
But it makes for a better flan that is creamier and weightier
Cuban Foods Near Me in Ikeja, Lagos – Nigeria