African Foods: 50 Best African Dishes from Across the Continent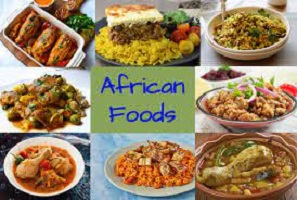 African Foods:  50 Best African Dishes from Across the Continent
Given that the first "barbecue" may have occurred in Africa, the continent might legitimately claim to have originated cookery.
African culture food is diverse and distinct, with specialties in each region from west to east, north to central Africa.
As a result, determining Africa's best local dish is challenging, but we've compiled a list of must-try foods to taste when visiting Africa or to try to duplicate at home.
If you're fortunate, you might see African food restaurants near me that serves one of these dishes or African foods delivery restaurant near me also.
If not, you can learn how to make or cook African traditional foods by visiting >>> www.9jafoods.com
African Foods
Many of Africa's favorite delicacies have recently been popping up on menus around the world. While Moroccan tajine is essentially a home culinary staple in many countries, it is unlikely to be in the version that Moroccans are familiar with.
Suya and West African food fufu, two Nigerian standbys, are readily available in New York and London's immigrant-rich districts.
Senegalese thieboudienne and (Nigerian, Ghanaian, Sierra Leonean) jollof are also approaching global ubiquity, while East African favorites chapatis and samosas are sometimes confused with their Indian subcontinent cousins.
One thing is certain: African foods are as diverse as the continent's people. Some delicacies are so delicious that they're worth traveling for, from the West to the East to the North and South.
Based on our personal favorites and your replies, we've compiled a list of 50 of the best African foods from various countries.
Please Note: If your country isn't on this list, please email us your Country's favorite cuisine in the comments section below.
Pap en vleis/Shisa nyama, South Africa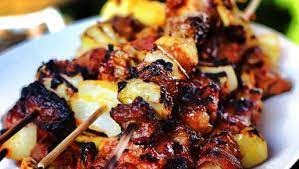 Take a look at these delectable steaks.
Barbecued meat and maize porridge are a popular combination in many Southern African cultures, particularly in South Africa, where the braaivleis is a revered institution and a national sport.
Mozambique's piri piri chicken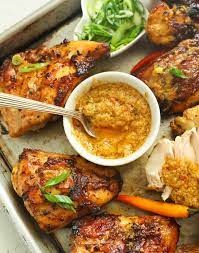 The Mozambique's cuisine is a fusion of African, Portuguese, Oriental, and Arab flavors, with hints of cashews and peanuts. Think fragrant spices, fiery piri piri, and creamy coconut sauces with hints of cashews and peanuts.
Nigerian jollof rice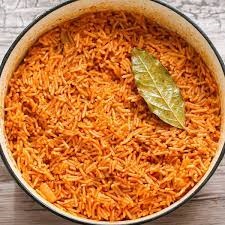 Nigeria is a huge country with many diverse regional cuisines, so identifying a national favorite meal is difficult.
But there is one delicacy you must try before leaving Nigeria: jollof rice, which is a popular dish throughout West Africa and is said to have medicinal properties.
South African bunny chow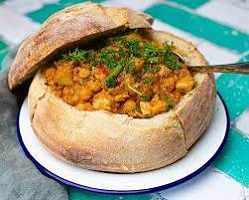 Nobody knows how rabbit chow got its name, but one thing is certain: this hollowed-out half- or quarter-loaf of white bread stuffed with a scorching-hot curry is one of South Africa's most beloved street meals.
Zimbabwe, Kapenta with Sadza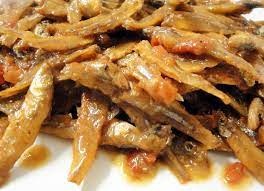 These tasty fish will be prepared with maize porridge. Irresistible.
For many tourists visiting Zimbabwe, a stack of crisp-fried kapenta is the culinary highlight.
Kapenta, a two-species tiny freshwater fish endemic to Lake Tanganyika, were introduced to Lake Kariba and are now a popular source of protein for Zambian and Zimbabwean lakefront residents.
Malawi, Chambo with nsima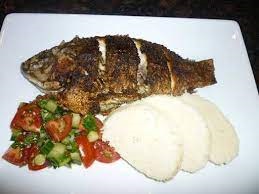 When you utter the term "chambo" to a Malawian who isn't from the country, their eyes may very well well fill with tears; it's the most popular and well-known fish in Lake Malawi, and a wonderful national favorite.
It's commonly served grilled by the lakeshore with nsima (a stiff porridge comparable to pap in South Africa and sadza in Zimbabwe) or fries.
Namibian venison, Namibia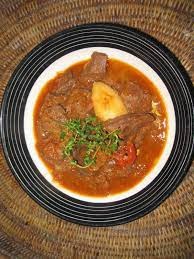 Good venison can be sampled all throughout Southern Africa, but Namibians will say that the very best gemsbok, kudu, zebra, warthog, ostrich and springbok is to be found at restaurants and game lodges across their country.
Traditional German delights such as sausages, cured meats, and sauerkraut can be found in Namibian cuisine, which has strong German and South African influences.
Angola's Muamba de Galinha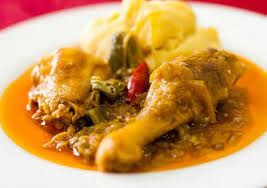 This is a dish you'll want to order again.
This dish, like the traditional Caldeirada de Peixe (fish stew), demonstrates the tremendous influence of Portuguese cuisine on this former colony's cuisine and is regarded as one of Angola's national culinary treasures.
This spicy, slightly oily stew, also known as chicken muamba, is cooked with palm oil or palm butter, garlic, chilis, and okra.
South Africa's Cape Breyani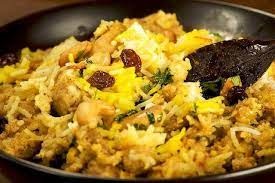 Breyani is a fragrant dish made up of layers of marinated beef, rice, lentils, and spices, topped with crisp-fried onions and hard-boiled eggs. It is a revered classic of Cape Malay cuisine.
Biryanis and pilaus from Zanziba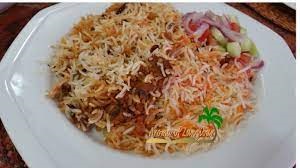 Originating in India, but adapted to the African environment.
As you savor these fantastic celebratory meals, both based on rice and the unusual assortment of spices typical with Zanzibar, you can almost feel the warm breath of the trade winds in your face.
Kenya's Nyama na irio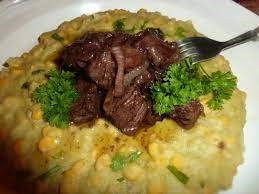 Kenya's marathon success has a hidden ingredient: Sukuma wiki.
If you ask any Kenyan about their favorite comfort dish, they will almost certainly answer "Irio!" without hesitation.
This popular dish, which originated in Kikuyu and has since spread throughout Kenya, is made of mashed potatoes, peas, beans, maize, and onion, and is frequently served with seasoned roasted meat to produce nyama na irio.
Egypt's Koshari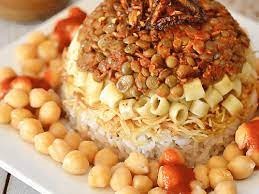 If you're looking for a taste of what typical Egyptian families eat at home, look no further.
You can't go wrong with koshari (also written koushari and koshary), a filling vegetarian dish made of rice, lentils, macaroni, garlic, and chickpeas and topped with fried onion and a spicy tomato sauce.
Egypt's Ful Medames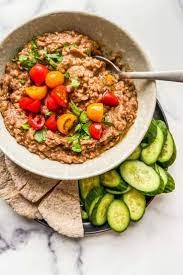 Often, the tastiest recipes are the ones that have been passed down over generations.
According to Claudia Roden, an Egyptian-born cookbook author, this meal is pre-Ottoman and pre-Islamic, and maybe as old as the Pharaohs.
South African stew with potjiekos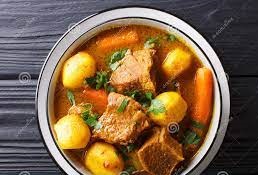 Goodness in a big, boisterous, steaming dish.
What defines an outstanding potjie is a source of passionate dispute among enthusiasts, who have all the time in the world to debate the merits of their own rendition while the food cooks.
Morocco, Pastilla au pigeon/b'stilla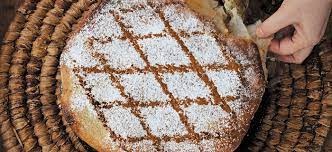 Morocco is a place where the sun never sets and the tagines are always steaming.
Moroccan tagines and couscous meals have risen to prominence on the international culinary arena in recent decades, but this is one dish that you won't find in a typical cookbook.
Others – List of The Top African Foods to Try.
Chapati
Country: Kenya, Tanzania, Uganda
Palm Butter
Country: Liberia, Gabon
Beyenatu
Country: Ethiopia
Pondu (Saka-Saka)
Country: DRC
Kitfo
Country: Ethiopia
Pweza wa nazi
Country: (Zanzibar) Tanzania
Caranguejo e Coco (Coconut Crab Curry)
Country: Mozambique
Doro Wat
Country: Ethiopia
Fufu & Palm Nut Soup
Country: Ghana
Plasas
Country: Gambia, Sierra Leone
Dan Wake
Country: Nigeria
Egusi
Country: Nigeria, Ghana
Jollof Rice
Country: Senegal, Nigeria, Ghana, Liberia, Togo, Benin, Mali, Cameroon, Sierra Leone, Gambia
Ndole & Plantains
Country: Cameroon
Samosa
Country: Kenya, Tanzania
Suya
Country: Nigeria, Niger, Ghana, Cameroon
Nsaka madesu
Country: Congo
Tajine
Country: Morocco
Nyama choma
Country: Kenya
Matoke and ground nut paste
Country: Uganda, Rwanda
Shito
Country: Ghana
Rolex
Country: Uganda
Cachupa
Country: Cape Verde
Fufu with groundnut stew and okra
Countriy: Ghana
Mogodu
Country: South Africa
Palmnut sauce with plantain fufu or omo tuo
Country: Côte D'Ivoire, Ghana, Liberia, Sierra Leone, Benin, Togo
Ofada Stew
Country: Nigeria
Waakye
Country: Ghana
Foutou
Country: Côte D'Ivoire
Thieboudienne
Country: Senegal, Mauritania
Isombe
Country: Rwanda
Ukwa
Country: Nigeria
Mufete
Country: Angola
Ewa Agoyin and Agege Bread
Country: Nigeria
Romazava
Country: Madagascar
Malawah
Country: Somalia
Ugali, kienyeji mboga and mursik
Country: Kenya, Tanzania, Uganda, Rwanda
Attieke-poisson thon et alloco (cassava, couscous and fried tuna)
Country: Côte D'Ivoire
Pilau
Country: Kenya, Tanzania, Uganda, Rwanda
Mealie Bread
Country: Zambia, South Africa, Zimbabwe
Matapa (Cassava leaf stew)
Country: Mozambique
Moi Moi
Country: Nigeria
Kachumbari
Country: Tanzania, Rwanda, Kenya, Uganda, Burundi
Summing Up on African Foods
Aside from the general list of African food provided above, each region of the continent has its own special platter.
Don't miss out on the delectable desserts and cool beverages that Africa has to offer.