Spaghetti with Milk: Pasta That Tastes Like Childhood
Spaghetti with Milk is a favorite dish, whether cooked as porridge or separate. It can be prepared with any pasta of choice for example linguine, spaghetti, or vermicelli.
Are you bored with milk and cereal and want to mix it up a bit? Spaghetti with Milk is your best alternative. The best way to enjoy this dish is to cook it with fresh milk.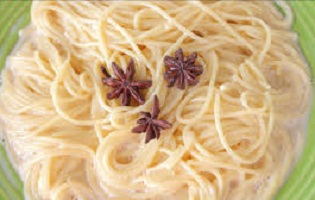 This easy recipe will modify your mornings and lazy days. Also, this works great both as breakfast and dessert or night snack.
Children love this semi-sweet milk soup/sauce! They love eating it like milk and cereal.  Any grain, pasta, or rice can be used in place for the pasta.
So get ready to feel like a kid again and make Spaghetti with Milk.
Spaghetti with Milk Recipe
You can change this recipe to comprise more or less of your preferred ingredients while also adjusting the fat and calorie counts.
Spaghetti with Milk Methods:
There are many ways on how to make spaghetti with Milk:
1st Method
The idea in this method is to cook the spaghetti until al dente and then to finish cooking it in a creamy evaporated milk and spice mixture before putting everything in the oven for that nice crust on top.
2nd Method
Others cook the pasta straight in milk and spice mixture. When you cook the pasta in the mix, it takes the flavors released from the milk and the spices.
How to Prevent Milk from Sticking To a Pot?
Allow the water to a boil before adding the milk. This helps with a scorched bottom that usually forms from cooking milk.
Ingredients
Milk
Noodles or pasta (every kind works, use whatever you have at hand)
Sugar (two tablespoons are okay, but it depends on choice)
Instructions
Firstly estimated the amounts to match your milk and cereal sizes
Secondly, get the milk hot.
Pour the milk in the pot and put on the heat. You must watch the milk until it is close to a boil.
After that, add the sugar now. A dash of salt will build up the flavor.
Lastly, turn the heat on low when it starts boiling and then add the noodles. Gradually stir until the pasta is al dente.
Enjoy!  You can sprinkle some cinnamon or cocoa powder
Serve this dish with grated parmesan cheese if favored or dust freshly grated nutmeg on top.