Rice Milk: Homemade Nigerian Dairy Alternative
Rice milk is an exceptionally inexpensive healthy substitute for cow's milk. Rice milk is made with rice, water, and sweetener (optional).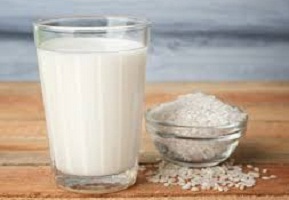 It's naturally creamy and tasty, very easy to make, and ready in about 5 just minutes!
It's also full of flavor, smooth, and best to have with anything that calls for regular milk.
Rice Milk Benefits
Rice milk is normally sweeter than many dairy alternative kinds of milk, it's not as creamy as your regular oat, nut, or seed milk but its flavor may be chosen by some.
It's also great for a selection of dairy-free milk mixtures. Such as rice and coconut milk, smoothies, granola, and more!
This drink digests better than soy milk and is lighter than almond or other kinds of nut milk.
It's also appropriate for lactose intolerant, and obviously, for vegans!
Brown rice is best because it's healthier and more nutritious, however you can use any rice of choice.
To make it at home, you only need cooked rice, water, and of course a blender.
Also, you can customize with some carob or cocoa powder, ground cinnamon, or even vanilla extract
Homemade Rice Milk Recipe
This recipe is made with just 2 ingredients!  It's quick and easy, let me show you how.
How to Make – Step By Step
All You Need
A high-speed blender
A nut milk bag or layers of cheesecloth
Filtered Water
Your base item (Brown rice/long or short-grain white rice)
You can also use leftover rice.
Instruction
Firstly, cook rice according to package directions. Drain and let it cool down. Then set aside.
Secondly, add all the ingredients of choice to a blender and blend until smooth
After that, strain the mixture using a nut milk bag, cheesecloth, or a strainer.
Lastly, use or serve immediately. Refrigerate up to 3-4 days.
The remaining pulp can be discarded or dried and used as rice flour in recipes.
Cooking tips
Sweetener is non-compulsory, even though you can use sugar, syrup, or any sweetener of choice. Just add it gradually to taste.
Some recipes contain a little bit of salt or even some oil, to augment the flavor but I prefer mine better without them
How to Drink Rice Milk
This plant milk goes with anything that calls for cow's milk. You can serve it for breakfast or as a snack and drink it with cookies
Looking For More Plant Milk Recipes?