Smokey Party Jollof Rice: Nigerian Non-Mushy Jollof Recipe
Smokey Party Jollof Rice recipe is presently gaining versatility across the globe. This recipe is just in time for the festive season. Best party Jollof is known by the Smokey features it retains.
I mean, from the subtle smokiness that comes from using firewood and local cast iron pots called koko-irin/Ite ona.
Why the Name Smokey Party Jollof Rice? /What is Party Jollof Rice?
It's called "Smokey party Jollof rice" because in reality, home-cooked Jollof rice barely ever tastes like the rice served at parties.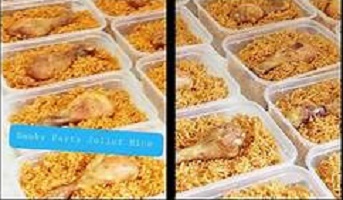 Party Jollof rice are normally very authentic in taste, richer, and by far more delicious when likened with the ordinary hob method.
One thing I love about rice is its versatility with each country having its unique recipe/recipes.
Rice can fit in perfectly well in any dish and it pairs with several types of sauces or soups or side dishes, including salads, etc.
There are loads of recipes for cooking rice but this post focuses on how to cook Smokey Party Jollof Rice.
Not just how to cook Jollof rice but how to cook an authentic Smokey party Jollof rice.
Perfect Smokey Jollof Rice is never parboiled. But why? This is because Best Jollof is a game of time, the more time the rice stays in the sauce the more flavorful it becomes.
Also, another important feature is the "singleness" of the grains. Non-mushy, each grain stands on its own without being dry.
To accomplish this, simply use the right amount of broth and cook over low heat.
How to Make Smokey Party Jollof Rice: Non-Mushy Nigerian Jollof Rice
There are three main techniques of cooking Smokey party Jollof rice;
The Hob
Firewood
The Oven method
The Basics of great Smokey Party Jollof Rice Recipe Ingredients:
Meat stock (mmiri anu) – Party Jollof is never cooked with water but with meat stock. For best value, homemade meat broth is needed.
Bay leaf: This is a necessity. It put the finishing touches on the spice trio of Curry, thyme, and white pepper.
Quality thyme or even fresh thyme if possible.
Butter: Yes! Just add it.
Used oil: Most times Jollof is prepared together with stewed meat, and the oil that has been used to fry meat is repeatedly used instead of fresh oil thus adding to the smokiness of the rice.
Lastly, the smoke: by tradition, is attained through firewood cooking. Also, you can achieve a smokey Jollof with a stove-top through a controlled burn.
Please note that the smokiness should be subtle without messing up your taste
Without further ado, let's go straight to the recipe
Smokey Party Jollof Rice Recipe
Ingredients
2/3 cup oil
Small onion (chopped)
4 cups of rice
2 cup parboiled blended stew base
4 cups broth (stock)
3 tablespoons tomato paste
Teaspoon each (curry, thyme, white pepper)
2 bay leaves
Salt ­ to taste
Seasoning cube (2-3) cubes
Sliced tomato and onion (to taste)
2 tablespoons butter
Direction
Firstly, put a pot on medium heat, heat the oil, add in sliced onion, and until translucent. Add in spices and bay leaf. Stir
Secondly, add in tomato paste and stir fry. Cover and cook for 2­-3 minutes
Thirdly, add in pepper mixture. And stir-Fry. Cover and cook 5 minutes
Fourthly, add in the stock, seasoning cube, and salt. Stir. Cover and simmer for 15 minutes. Taste and blend in the seasoning.
After that, stir in drained washed rice. Reduce heat to medium-low (2-3 on the marked cooker). Seal pot with foil and then cover with lead.
Allow cooking for 30 minutes. No need to stir or open.
Now, stir in butter, sliced tomatoes, and onions. Intensify the heat to high (This is where the smokiness comes about).
Finally, allow for 5-8 minutes or until you can smell the burn. Then, turn the off heat. Allow resting enclosed for about 10 minutes before serving.
That is How to make Nigerian Smokey non-mushy Jollof Rice NonMushy
If you enjoyed this recipe, am sure you will like the following rice recipes as well:
Jollof Rice: How to prepare Best Nigerian Jollof
Nigerian Jollof Rice Recipe: Ingredients and Preparation
Good Food: Nigerian Jollof Rice – Christmas Most Common Rice Dish