Nigerian Jollof Rice Recipe – Ingredients & Preparations
Jollof rice recipe is prepared at parties and is the most popular rice dishes in West Africa. Jollof rice is a dominant name among African dishes. It is a staple food in Africa, especially in Nigeria.
This one-pot rice dish is so popular that it has won several cooking competitions and awards such as Jollof festival held in Washington DC in the USA and best Jollof in London.
Alongside with jollof rice anthem mp3 download! Furthermore, there is a world Jollof rice day which is celebrated on the 22nd of August, across the world.
Jollof rice or simply Jollof is a one-pot rice dish popular in many West African countries. Jollof rice recipe is a set of instructions for preparing this rice dish, including a list of the ingredients required.
Nigerian jollof rice is one food that unites the ethnic groups as a nation. This celebration dish can be prepared in two different methods: the party jollof rice and the usual jollof rice commonly prepared in every home.
However, the main difference between the two is that party jollof rice secret ingredient is a unique smoky smell accumulated during cooking with firewood which the homemade jollof rice dish does not have.
Please Read: Good Food – Nigerian Jollof Rice; Christmas Most Common Rice Dish
Homemade jollof rice recipe is so easy to prepare using the correct Jollof seasoning and ingredients.
Besides, you can eat jollof rice meal with eggs, beans, plantain, fish, moi-moi, meat, salad, coleslaw, carrot with green beans, etc. I recently fell in love with jollof rice and chicken, it is the best combination.
How to Cook Nigerian Jollof Rice
Jollof rice ingredients
4 peak milk cups rice
4 medium tomatoes
1 red bell pepper
4 tablespoons tomato paste
1 onion (medium to large)
2 bay leaves
1 teaspoon curry powder
1 teaspoon thyme
1/2 teaspoon white pepper
4 seasoning/stock cubes
11/2 teaspoons salt
1/2 cup oil
1 teaspoon garlic powder
1 teaspoon ginger powder
4-5 pounds chicken
Alternatively, you can use a tasty tom Jollof mix which is an all-in-one cooking solution for Jollof rice. It has the right blend of jollof ingredients you need to make that easy and genuine jollof rice.
Jollof Rice Recipe – 5 Basic Simple Steps
Jollof Preparation
Firstly, parboil the rice and rinse (to reduce starch and gumming together) and put aside.
Then, puree the washed tomatoes, pepper, onions, ginger, garlic, and tatashe.
Lastly, wash your protein (chicken, beef, turkey, fish, etc.) Jollof rice spices, and cook until tender. Then, fry or grill. Put the stock aside till the final stage of cooking the Jollof.
Directions
Step one, pour the vegetable oil into a pot, heat and stir in the puree and fry. Add the tomato paste, and stir regularly to avoid burning or sticking at the bottom of the pot.
Cook till the puree dries or sour taste disappears. Scoop out 3 spoons and keep aside to be used later.
Then, add in your curry, thyme, seasoning cubes, bay leaves, salt, and meat stock. Pour enough water that will cook the rice till tender, cover and allow boiling.
After that, pour in the parboiled rice; making sure the quantity of water is at the same level as the precooked rice, cover, and cook.
Finally, when you're easy tasty jollof rice is almost done, scoop in the remaining tomato stew on top of the rice cover and allow to steamer until the water is completely dried.
To achieve that Smokey party Jollof taste ( in case you are not cooking with firewood), allow the rice to burn slightly at the bottom, and let it sit for 2 minutes to absorb the smoky smell and taste. So let the party begin!
JRQ's – Jollof Rice Questions
Jollof rice or simply Jollof is a one-pot rice dish popular in many West African countries.
What Country Has The Best Jollof?
West African countries have been at war over who makes the best Jollof. Although this celebration dish is hugely popular in Nigeria, Ghana, Senegal, Gambia, Sierra Leone, Liberia and Cameroon, I stand with NIGERIA my country. We make the best jollof rice. Our signature party jollof rice is simply AH-MAZING.
The Jollof Rice War Between Nigeria And Ghana
Ghanaian Jollof rice recipe is spicier than Nigerian Jollof rice recipe. While Nigerians use the bay leaf as a key spice, Ghanaian's use shito.
Unlike the Nigerian party Jollof, Ghanaian Jollof rice does not have a party version that is cooked over firewood.
What Does Jollof Rice Taste Like?
Jollof Rice is a West African popular dish in Nigeria and regions close to Nigeria. It is similar to Cajun or Jamaican Jambalaya.
The base is fragrant rice, such as Basmati rice, stewed with garlic, onions, tomatoes, and spicy chilies.
What Is Jollof Rice Made Of?
The celebration dish consists of rice, tomatoes and tomato paste, cooking oil, onions, salt, spices and chili peppers (such as Scotch bonnet). Optional ingredients can be added such as vegetables, fish, or meat.
How Do You Preserve Jollof Rice?
The proper way to store leftover rice within a day or two is to store it in a freezer bag in the refrigerator.
Traditionally in Nigeria, long-grain parboiled rice has been the choice of rice for Jollof.  It has a good quality of standing up to the rich sauce without losing its appeal. Basmati rice is also good, but a bit more expensive.
Thai Jasmine rice is popular in other parts of the world. Ghanaians prefer it whole, while Senegal and The Gambia people prefer theirs broken.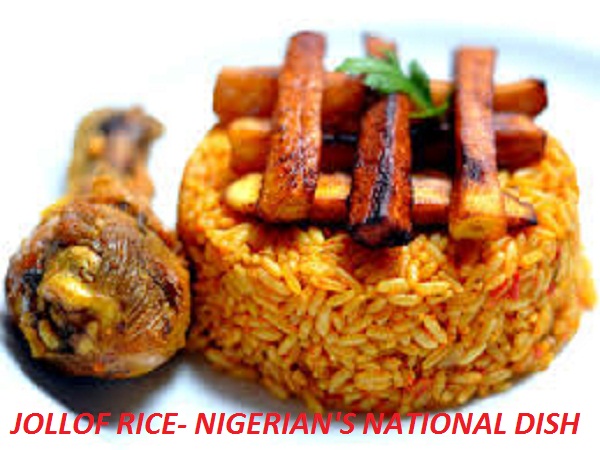 Jollof Rice near Me
Below are the five restaurants to find perfect Jollof in Lagos, Nigeria:
Chicken Republic
Known as a fast-food restaurant, Chicken Republic serves a variety of Nigerian local dishes including Jollof rice, as well as continental foods.
The Place Restaurant, Ikoyi
The Place does not disappoint. Whether you want to eat in the restaurant or order online, there is an extensive rice menu to choose from.
The Food Lounge, Terra Kulture
The Jollof rice here can be ordered along with various proteins such as beef, chicken, catfish, and snails. Richard Quest of CNN did a piece on Jollof rice at the Food Lounge in 2017, during his visit to Nigeria
Yellow Chilli, Victoria Island
Yellow Chilli is rated one of the top five restaurants in Lagos and it is held in high esteem for its Jollof rice.
Lasgidi Buka
It has got debatably the best version of the Nigerian Jollof rice and the party jollof rice – with orange-colored rice cooked in a delicious tangy tomato sauce with its aroma very distinct and so yummy.
Jollof Rice Delivery In Lagos
You can view reviews, prices, and menu from restaurants near you (mentioned above) and place your order online! Delivery in Lagos & take away, easy, fast and convenient, and most of the time it is payment on delivery.