Nigerian Jollof Rice Recipe: How to Prepare Jollof Rice
Jollof Rice Recipe: How to Prepare Nigerian Jollof Rice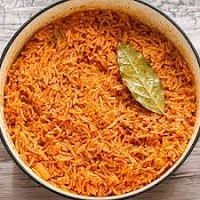 Jollof rice, oh my beloved Nigerian jollof rice.  The most popular dish that never seems to go out of style.
Jollof Rice is probably Nigeria's most popular rice dish. When it comes to jollof rice, there is no tribal or status discrimination.
The first reason I enjoy attending Nigerian gatherings is because of the food. The music and dancing would have to come in second. It's just a lot of fun!
The most amazing fact is that jollof rice was not invented in Nigeria. Its origins are in Senegal, but for unexplained reasons, Nigerians have adopted the dish and perfected it over time.
There are several types of jollof rice Nigerian food – vegan, smokey, etc, but PARTY JOLLOF RICE reigns supreme. Please don't be fooled into believing all rice Jollof is the same.
Related >>>>
Easy Jollof Rice Recipes
Rice cooked in a mixture of peppers and tomatoes is known as jollof rice. It's that straightforward and quite tasty.
It is enjoyed by a number of African countries, including Nigeria. Jollof rice is a party favorite, a bbq favorite, a kid's party, etc.  It's always a big hit!
In contrast with opinions from other African countries, #NigerianJollof is actually top 2 and not number 2. Nigerians enjoy this easy recipe, which is also enjoyed by people of other cultures.
It's noted for its mild spiciness that can be modified to taste, as well as its flavorful juicy texture when served hot.
For the Jollof flavor, specific ingredients are required, and it can be served with salads, plain plantains, or the famed Nigerian gizzard and plantain dish known as Gizdodo, as well as any protein of choice, such as chicken or fish.
Origins of Jollof Rice
Jollof rice is a cuisine that originated in Senegal and Gambia, where the Wolof people devised it.
It's no surprise that Jollof sounds similar to Wolof. The Djolof or Jolof tribe was another name for the Wolof people.
Thieboudienne is another name for this jollof rice among Senegalese. Benachim is the name given to it in Gambia (One pot).
From Senegal, the Jollof recipe spread to Gambia, Mauritania, and other West African countries.
Ghanaians and Nigerians perfected the recipe, became professionals, and are now battling for copyright
Main Ingredients for Jollof rice
Rice, tomatoes, tomatoes, tomato paste, onions, red bell pepper, scotch bonnet peppers, salt, spices, and vegetable oil are used to make this dish.
It's not authentic Jollof if it doesn't have the above-mentioned ingredients. These are the basic ingredients. Assorted veggies and various types of local spices are among the other varying ingredients.
The Differences Between Jollof Rice from Nigeria and Jollof Rice from Ghana
Nigerian Jollof is made with parboiled long grain rice, whilst Ghanaian Jollof is made with basmati rice. There is no parboiling of the basmati rice.
It becomes soggy after parboiling. To avoid this, Ghanaians make the tomato stew and meat stock ahead of time and use it to cook the rice at the same time.
Nigerian Jollof rice is also spicier than Ghanaian Jollof rice. While Nigerians choose bay leaf, Ghanaians prefer shito, an oily condiment mixed with hot peppers, ginger, shrimp, and onion.
Ghanian Jollof rice does not have a party variant that is cooked over firewood, unlike Nigerian Jollof rice.
Ghanian Jollof rice Vs. Nigerian Jollof Rice – A Taste Contest
So, which Jollof do you prefer?
We can't seem to make up our minds. Both dishes are delicious, and it would be unfair to rank one over the other. Why?
Both dishes are distinctive. We don't think they can or should be compared, to be honest.
Both countries, on the other hand, should be commended for introducing Jollof rice to international cuisine. Jollof rice is now the most popular local cuisine in the world, thanks to them!
We urge both countries to continue perfecting the recipe for this delectable delicacy.
Nigerian Jollof Rice Recipe
Learn How to Make Jollof Rice in 5 Easy Steps
Jollof Rice is a traditional Nigerian rice meal seasoned with tomatoes, peppers, and a variety of spices. It is one of my all-time favorite rice dishes.
Jollof rice can be prepared in a variety of ways. I cook mine the way my parents taught me, and I refer to it as Nigerian Jollof because of the rice variety used.
The recipe is straightforward. I simplified it even further by reducing it to just five simple steps. Your Jollof should turn out flawlessly as long once you have the basic ingredients and season.
What To Serve with Jollof Rice?
Baked chicken, salad, and fried plantains are typically served with it. Enjoy!!
Jollof rice Ingredient List
5 medium-sized Roma tomatoes, roughly chopped
1 red bell pepper, roughly chopped
2 scotch bonnet peppers (habanero peppers as they are sometimes called)
1 medium-sized onion, roughly chopped, set aside
¼ cup of groundnut oil
3 tbsp tomato paste
2 ½ cups of chicken stock
1 tsp salt to taste
½ tsp curry powder
2 cups of parboiled rice
½ tsp thyme
1 tsp All-purpose seasoning
3 bay leaves
1 Knorr stock cube
Water, as needed
Directions
In a food processor or blender, combine the tomatoes, red pepper, and scotch bonnet peppers and blend for about 45 seconds, making sure everything is completely blended.
Secondly, heat your oil in a medium-sized pot over medium-high heat. When the oil is hot, toss in the onions you set aside and cook until golden brown. When translucent, add the tomato paste and cook for another 2-3 minutes.
Then add the blended tomato mixture (save about ¼ cup for later) and cook for about 30 minutes with the onions and tomato paste. Make sure you stir the tomato mixture frequently so it doesn't burn.
After that, reduce the heat to medium and add the chicken stock after 30 minutes. Toss in your seasonings and mix well (salt, curry powder, thyme, all-purpose seasoning, and the Knorr stock cube). Boil for another 10 minutes.
Then, pour the rice into the pot after it has been parboiled. Combine it thoroughly with the tomato stew.
If you need to add water to bring the rice up to the level of the tomato mixture/chicken stock, do so now.
Add the bay leaves, cover, and simmer for 15-30 minutes on medium to low heat.
When the liquid has almost fully evaporated, add the remaining tomato stew, cover, and simmer for another 5-10 minutes until the liquid has totally evaporated.
Turn off the heat, gently try mixing the ingredients, and your Jollof Rice is ready to enjoy!
Notes
Using parboiled rice ensures that the rice does not become mushy in the end. When the tomato stew is done, the oil will rise to the top, indicating that it is done.
Another way to determine whether it's done is if the tartness of the tomatoes has gone away. Because we don't want the rice to burn, we set aside ¼ cup of the tomato mixture and add it at the end. It also gives the rice the lovely red color that we all love and know.