Oven Baked Jollof Rice: How to Cook Jollof Rice – Oven Baked
Oven Baked Jollof Rice: How to Prepare Best Jollof Rice – Oven Baked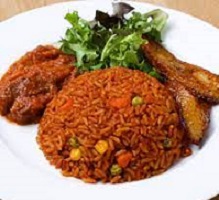 It's time for some more Jollof Rice. Yes! This isn't just any Jollof Rice, though; this is Nigerian Oven Baked Jollof Rice.
Our favorite Jollof has recently received a makeover. Do you have a lot on your plate but crave a tasty home-cooked meal?
Are you looking for a way to enjoy Jollof without the hassle? Do you wish to partake in a vegan African meal? This is a recipe for you!
Since posting the Party Jollof Rice recipe, I've received several requests on Instagram and Facebook for a recipe for Oven Baked Jollof Rice, so here I am, filling the void.
Oven Baked Jollof Rice Recipe
Here's another way to make Jollof Rice, a popular West African one-pot meal. You hardly attend a Nigerian celebration and not find this delectable dish. It smells heavenly but tastes even better
The stovetop method of cooking Jollof rice differs from the oven-baked approach in its simplicity.
Even the most experienced cooks may find the stovetop way of preparing Jollof Rice intimidating, but this oven-baked approach makes it much easier to manage, and the best part is that nothing will burn.
When I'm short on time or have other things to do around the house, this is my go-to method. Unlike the Jollof Rice cooked on the stove, this requires less monitoring.
There's no need to keep stirring, no need to open the lid every now and then to check on the progress, and no need to be concerned about it burning; it's just so simple from start to finish.
Oven Baked Jollof Rice is one of my favorites because it doesn't burn in the oven.
The heat from the oven also adds a hint of smokiness to the smoky flavor of the Jollof rice cooked on the stove.
In The Oven Rice ~ Oven Baked Jollof Rice
Jollof Rice from West Africa, cooked in the oven with a lot of flavors. This is a simple yet delicious Jollof Rice recipe.
What is Jollof Rice
Jollof rice is an easy, tasty, and flawlessly cooked African classic dish that can be made entirely in the oven or on the stovetop. Ideal for everyday use or special occasions!
Jollof rice baked in the oven
The oven method of cooking jellof rice makes the process a little easier while maintaining the rice's rich flavor.
Though I understand that some enthusiasts want to stick to the classics, you never know what can happen if you try something new.
it might become consistent on your table just like it happened to me.
To create the oven-baked Jollof rice, gather the following ingredients:
Jollof's preparation differs from family to family. Jollof, on the other hand, traditionally has the following ingredients:
Peppers – Choose bright red pimento or bell peppers to improve the rice's color.
Tomatoes – For this dish, ripe red juicy tomatoes are preferred
Onions – I've experimented with many onion kinds. Everything appeals to me. For me, any variety works fine.
Homemade chicken stock – I always make my own chicken stock.
Long Grain Rice – I prefer the long grain rice that is normally branded as "Parboiled long Grain rice." Uncle Ben's Rice is a good example.
This sort of rice is more robust and does not easily become mushy.
It's worth noting that there are other good brands that aren't as expensive as the one I described.
Vegetable Oil You can use any decent vegetable oil for this recipe. I will, however, recommend peanut oil (groundnut oil) or any other mild-flavored oil
Salt, thyme, curry powder, stock cubes, bay leaves, ginger, garlic, and other seasonings
You can customize your Jollof Rice with these options:
Vegetables such as broccoli, cauliflower, and cabbage can be added
Carrots
Sweet peas
Green beans
Sweet corn
Bell peppers
Green onions or a mix of any of these vegetables.
Notes:
If the Rice is still hard after your cooking time, you can add more water, but only a little at a time because a little water goes a long way in this dish.
It's best not to open the oven until around 45 minutes has passed to prevent trapped steam from escaping.
Serving Suggestions for Jollof Rice
Peppered chicken, fried chicken, salad, Coleslaw, chilled drink like zobo (sorrel drink), and lemon ginger juice are common accompaniments to Jollof Rice.
How To Cook Jollof Rice in The Oven ~ Oven Baked Jollof Rice Recipe
The ingredient list jollof rice recipe south Africa are straightforward:
Parboiled rice, tomato paste, oil, garlic, ginger, bay leaf, white pepper, oil, Maggi, salt, natural spices, and smoky paprika are the only ingredients (optional).
How to Make Jollof Rice
Baking Method
All you have to do is sauté the onions and garlic on the stovetop, then whisk in the tomato paste
After that, add the rest of the ingredients, cover with aluminum foil, and bake.
Then sit back and relax while the oven does all the work!
Remove carefully from the oven and set aside for about 5 minutes before serving.
Finally, the aluminum paper should then be gently removed. Fluff rice with a fork and mix evenly. Serve warm.
Please Note:
One thing I will recommend is seasoning your stew and making sure it is thoroughly browned before adding the rice and placing it in the oven.
Bottom Line
Hey guys, this rice is incredibly simple to make and tastes incredible! It's ideal for this hectic season in the kitchen!
If you have a lot on your plate this season, you may make some Jollof Rice in the oven to serve to visitors or to enjoy at home!
You may easily double, triple, or quadruple the recipe if necessary.