Ginger Juice ~ African Homemade Ginger Juice Recipe
African Homemade Ginger Juice Recipe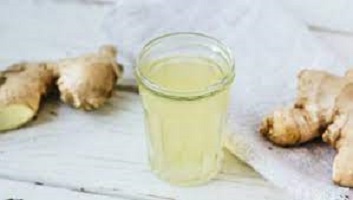 Ginger is a Southeast Asian flowering plant. It is recognized as one of the world's most healthy spices.
In several shapes, such as fresh, extract, powder, or tea, ginger can be ingested.
An additional way to gain the advantages of ginger is through juice.
What is Ginger Juice?
This powerful juice is the fluid that is derived from ginger through squeezing, blending, or juicing.
It is really fast and easy to do, and highly nutritious and delicious when done properly.
Pure Ginger Juice
Is a common health drink that offers many advantages to your well-being.
Ginger and other nutrients such as lemon juice, onions, and turmeric can help reduce inflammation, alleviate digestive problems, and improve immunological function.
If you substitute sugar with honey, you'll have one healthful, hot or cold, detoxifying drink!
If you substitute sugar with honey, you'll have one healthful, hot or cold, detoxifying drink!
Benefits of Ginger for Weight Loss ~ Ginger root for Weight Loss Benefits
How to Use It, and Precautions
Firstly, combine fresh unpeeled ginger (approximately 1/3 pound cut into bits) with about 1 cup water in a blender, then filter the mixture if desired.
After that, toss in the ginger extract you've made with the rest of the ingredients, garnish with mint, and serve with ice cubes if preferred.
Dosage
As an appetite suppressor, drink once or twice a day.
What is Ginger Juice Good For?
The anti-inflammatory and antibacterial components of ginger can give several health benefits.
Consuming ginger juice eases digestion and relax nausea. Cold and sickness are also prevented and ailments are relieved like congestion
Ginger Juice Benefits
It regulates high blood pressure
It has strong medicinal properties and contains gingerol
Enhances digestion.
May assist to reduce weight
Improvement of immunological function
Helping to manage chronic indigestion
It is also a reliever of pain
It can cure nausea symptoms
Cold and congestion are relieved by ginger
How to Make Ginger Juice with a Blender
This Juice is one mighty remedy. The health benefits and flavor are also excellent.
It is a warming, flavorful and nutrient-dense way to get ginger into your diet regularly.
 Ingredients
The three basic ingredients needed are:
Fresh ginger
Honey
Warm water
Ginger Juice Recipe
1. Firstly, make sure the gingers are washed carefully. Please moderately consume the ginger.
2. Secondly, chop the ginger or slice it up.
3. After that, get a clean blender and add 1 cup of water or coconut water for extra taste.
4. Meanwhile, fill the blender with the sliced or chopped ginger pieces and cover the lid firmly. Blend for about 1 minute
5. Then, take off the blender's cover and sift the mixture with a strainer into a container and squeeze them off.
6. Finally, add your honey approximately two tablespoons and mix. This lessens the hardness or power of the taste of ginger.
It can be refrigerated. Pour the juice into a glass and enjoy.
How to Make Ginger Juice Without a Blender 
Firstly, carefully remove the ginger skin with a vegetable peeler or use a spoon to scrape it off.
Then get a small bowl, grill the peeled ginger with double-lined cheesecloth on the bottom.
Finally, take the cheesecloth with the crushed ginger inside and press the whole liquid into a small jar.
How to Make Ginger Juice with Ginger Powder
Ginger juice can be made with ginger powder in this way. Just mix the powder with a little warm water and add some honey to taste, but they don't taste the same.
Ginger powder can also be sprinkled on your food.
The Ginger Juice Benefits for Hair
It enhances scalp blood circulation
Ginger strengthens and densifies hair
It strengthens the root of hair and follicles
Ginger promotes the development of hair
It can enhance hair strands that prevent hair loss.
Ginger fights dandruff
It also treats bald spots
You will soon observe baby hair developing in the affected area if you use to apply it twice a week.
Results take 2-3 months, so be consistent and positively retained.
Ginger Juice Benefits for Skin
It has an anti-aging advantage
Ginger revitalizes your skin
It also reduces obesity
It also fades scars
Onions and Ginger Juice Benefits
The combination of onions in the preparation can benefits in the following ways:
1. It has potential anticancer components
2. They offer the anti-inflammatory advantage
3. It reduces risk factors for heart disease
4. It encourages a healthy immunological response.
5. It is beneficial to a diabetic
Can You Take Ginger and Turmeric Together?
You may add ginger and turmeric to your diet in different ways to benefit from so many medicinal benefits that each one has to offer.
The two nutrients function properly together in salad dressings, sauces, and stir-fries.
They provide your recipes an extra flavor and health advantages.
How Much Ginger Juice Per Day?
Don't eat more than 4 grams of ginger a day in any form.
Individuals with heart problems, diabetes, and gallstones should talk to their doctor in particular before taking ginger as a supplement.
What Happens If You Drink Ginger Every day?
Ginger can have modest but infrequent adverse effects. If used short-term, ginger may be safe.
Where to buy Organic Ginger Juice Near Me? Do they sell ginger juice in Nigeria?
Absolutely:
Side Effects of Ginger
Some people may be irritated by the skin.
When consumed in excess, abdominal pain may develop.
It may induce mild side effects like diarrhea, heartburn, and burping.