Black Eyed Peas Recipe ~ Healthy Vegetarian Salad & Bacon
Black Eyed Peas Recipe ~ Healthy Vegetarian Salad & Bacon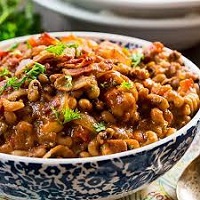 Easy Black Eyed Peas Recipe is vegan and vegetarian friendly, but it can also be turned into a savory meat dish by adding diced cooked ham, pulled pig, salad, or fried bacon as a side dish.
Black-eyed peas are high in complex carbohydrates, which take longer to digest than simple carbohydrates and provide energy and fiber while also aiding weight loss.
It also has a high calcium and iron content. They're also adaptable, tasty, and simple to include in a variety of homemade recipes as health food.
Related >>>
What Are Black-Eyed Peas? Black Eyed Peas Recipe
The black-eyed pea, also known as the black-eyed bean, is a legume that is widely grown throughout the world.
It's a subspecies of the cowpea and Old-World plant that was domesticated in Africa. It's also known as cowpea.
Black Eyed Peas Health Benefits
Pregnancy wellness
The presence of vitamin A improves eye health.
Good for diabetes
It helps with digestion.
For Stronger Bones
Maintain healthy body weight.
Promote a healthy blood sugar level
Helps boost your energy levels
How to Make Black-Eyed Peas the Proper Way
Firstly, in cool water rinse the peas
Then, soak them overnight
After that, allow simmering
Meanwhile, discard the water then you can start cooking the beans
Lastly, dress it – In the last 5 minutes of cooking, add some spinach or other vegetables
How Long Can I Soak Black Eyed Beans? Black Eyed Peas Recipe ~
Firstly, in a large bowl add the peas and add a minimum of 10cm of water.
Secondly, cover and allow to soak for at least 6 hours, or until night preferably.
Then, drain and rinse the beans with cold water.
What Can I Add to Black-Eyed Peas for Flavour?
Parsley, thyme, sage, and savory are the most common ingredients used on black-eyed peas. Ginger is frequently added to fry.
The tossed salad also improves the taste of black-eyed peas in stew, soups, and casseroles.
What to Eat with Black Eyed Peas? Black Eyed Peas Recipe ~
You can eat it as a main meal or as a side dish. Black-eyed peas can be served with yam, plantains, pap, or soaked garri.
It also goes along with mashed potatoes, maize, rice, ham, greens, or other vegetable products if it is served as a side to a larger meal.
Simple Black-Eyed Peas Ingredients
2 cups of Black-eyed peas
2 medium chopped onions
Habanero pepper
2 crushed garlic cloves
Spinach or other vegetables
Palm oil
Chilli Pepper
Salt to taste
Simple Black Eyed Peas Recipe
1. Firstly, drain the soaked beans, take your pot then add around 5 cups of water and start cooking.
Secondly, put the peas in a large slow cooker along with the sliced onion, minced garlic, and salt.
 Thirdly, turn the heat down to medium-low and continue to cook. Refill with a little water a little at a time and watch your pot attentively until the beans are cooked completely.
It ought to be soft to touch but not mushy (This is not making ewagoyin)
After that, sear the second half of the chopped onions and diced habanero pepper in heated up palm oil.
Do not let the water dry out entirely when the beans are been cooked. The bottom of the pot should have little water left.
Meanwhile, pour in any sauce that you want to properly add and combine. Allow for about 2 minutes to cool down then turn off the heat and stir.
Finally, add the spinach and cook again for 5 minutes. Season with salt and pepper.
This delicious delicacy is ready for you to enjoy with yam, pap, plantains, or soaked garri.
Quick Black Eyed Peas Recipe ~ How to Cook Black Eyed Peas Recipe with Bacon
Ingredients
Dried black-eyed peas
2 tablespoons of vegetable oil
6 Ounces of diced pork shoulder
4 cups chicken stock
Strips thick of sliced bacon
1/2 teaspoon cayenne pepper
1 medium chopped onions
3 Bay leaves
1 teaspoon of garlic powder
Fresh pepper
Salt to taste
Fresh Black Eyed Peas Recipe with Bacon
Here, you can soak the peas quickly, by bringing them and the water to a boil for 2 minutes. Take the peas off the heat
Cover the pot and soak the peas for 1 hour afterward. Drain the peas, then rinse them.
How to make Black Eyed Peas Recipe with Bacon
1. Firstly, heat the oil over the medium-high temperature in a big pot.
2. Secondly, add the pork when the oil shimmer. Remove until all sides are browned for about 4 to 5 minutes.
3. After that, add the bacon, onion, and garlic to the pot and cook, stirring, until the onion and garlic are lightly browned, about 6 to 8 minutes.
4. Then, add salt, fresh pepper, cayenne, and garlic and cook for 2 minutes, until the whole mixture is spicy.
5. Meanwhile, pour water then add the stock and drop in the bay leaves. Bring the blend to a boil and then turn the heat down and cook for approximately 30 minutes.
6. When pork starts to break down, add the cooked peas to the pot and saute until the peas are extremely soft.
7. To sum up, toss aside the bay leaves and move the black-eyed peas to a serving bowl.
Simple Homemade Black-Eyed Pea Soup
Ingredients to use:
1 pound bulk pork sausage
One Pound ground beef
1 Large onion
Black-eyed peas
Diced tomatoes
Canned green chili peppers
Beef bouillon cubes
1 teaspoon Worcestershire sauce
Garlic
4 teaspoons molasses
Black pepper
Salt to taste
Top Rated Homemade Black-Eyed Pea Soup Recipe
1. Firstly, cook the pork sausage and the ground beef with the onion in a large Dutch oven over medium heat to remove excess fat till the beef is no longer pink.
2. Secondly, pour water and stir in the black-eyed peas, diced tomatoes, and Worcestershire sauce and mix thoroughly.
3. Add garlic, chilies, cassava, cubes of beef broth, and black pepper. Cook for approximately 2 minutes until the whole mixture is spiced.
4. Finally, let the soup simmer and add salt to taste.
Black-Eyed Pea Salad Recipe
Ingredients
1/2 dried black-eyed peas
Shredded cabbage
2 Tablespoons of vegetable oil
2 Tablespoons chopped fresh parsley
Sliced green onions
Ground black pepper
Lemon Juice
Salt to taste
How to Make Black-Eyed Pea Salad
1. Firstly, transfer the peas into a pot and add water once you have soaked the black-eyed peas.
2. After that, put on medium heat and cook for 15 to 20 minutes until soft. Drain for about 15 minutes and let them cool.
3. Thirdly, combine black-eyed peas, cabbage, vegetable oil, green onions, lemon juice, parsley, and pepper in a large bowl.
4. Lastly, sprinkle with salt and refresh for at least 1 hour before serving.