Chicken Shrimp and Sausage Gumbo ~ Gumbo vs. Jambalaya
Chicken Shrimp and Sausage Gumbo ~ Gumbo vs. Jambalaya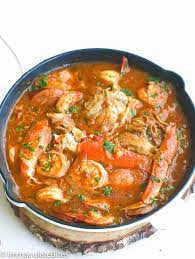 Chicken Shrimp and Sausage Gumbo stew were influenced by the spices of Portugal and Spain, and it's the perfect food to eat after a winter play or playing in the snow.
It's a delicious gumbo with chicken, shrimp, crab, sausage, vegetables, and Cajun spices, brimming with natural flavours. A one-of-a-kind dish!
A lot of gumbo meals are either entirely composed of seafood or entirely comprised of non-seafood meats, but I agree the shrimp and sausage mixture provides a delightful balance to the meal!
Related >>>
What is Gumbo? Chicken Shrimp and Sausage Gumbo
Gumbo slow cooker is flavoured warming, a thick stew made with chicken, sausages, seafood, okra (with or without), and Creole seasonings.
It's not difficult to make gumbo chicken shrimp and sausage if you follow the right steps, particularly the roux, which is the foundation of any good gumbo.
To date, its basic ingredients, preparation method and its origin also are widely disputed.
Nutritional Information on Chicken Shrimp and Sausage Gumbo
Calories: 165kcal
Carbohydrates: 2g
Protein: 24g
Fat: 6g
Potassium: 385mg
Iron: 2.1mg
Calcium: 103mg
Vitamin A: 1020IU
Vitamin C: 26.4mg
Sodium: 730mg
Cholesterol: 179mg
Fiber: 1g
Gumbo Chicken Sausage and Shrimp Recipes ~ Chicken Shrimp and Sausage Gumbo
Don't get frightened by the lengthy list of ingredients. Gumbo is a basic dish that is no more difficult to prepare than stew.
Everything else is a breeze once you get beyond the stirring, which is essentially the roux-making process.
The following are the main ingredients in this gumbo recipe:
Easy Gumbo Recipe
Chicken Broth
Diced or shredded chicken breast
Peeled and deveined shrimp
Smoked sausages
Crab legs
4 Tablespoon of butter
1 cup of chopped celery
Green bell pepper
Cayenne pepper
2 Cups of frozen sliced okra
6 Tablespoon of Flour
Bay Leaf
4 teaspoons of minced garlic
Creole Cajun seasoning
Salt to taste
Roux for Gumbo: How to Make It
A "roux" is simply equal parts oil and flour that have been stirred together to remove the floury flavour.
In gumbo, the stirring is extended to achieve a mild colour to intensify the flavour of the stew.
It will appear to be frosting at first, but after about 22-25 minutes of steady stirring, it will be more like gravy.
How to Make Chicken Shrimp and Sausage Gumbo
1. Firstly, two tablespoons of butter should melt in a large pot over medium-low heat, then add flour. Then, stir constantly, for about 10 minutes until it turns dark caramel-coloured.
2. Secondly, combine the chicken stock, cayenne pepper, okra, salt and pepper in a large mixing bowl. Bring the mixture to a boil, then reduce to low heat, cover, and leave to simmer.
3. After that, stir in the onions, peppers, and celery until they are softened, about 5 minutes more.
4. Then, add the garlic and sausage and season with cajun seasoning, salt, and pepper.
5. Meanwhile, bring to a boil with the bay leaf and chicken broth.
6. Then, reduce heat to low and continue to cook, stirring occasionally, until the sauce has thickened, about 1 hour.
7. Lastly, add the shrimp in the last ten minutes of cooking. Once shrimp is pink and cooked through, taste and adjust seasonings. Then, add some spring onions and set aside some for garnishing.
Dish with white rice
While gumbo will be defined in numerous ways, you may find it confusing to distinguish the difference between a gumbo and a jambalaya.
Gumbo is a thick stew that is served with rice after been prepared while Jambalaya is a stew this is cooked with rice.
Both of those dishes have equal ingredients, spices, and vegetables and however, you may effortlessly see the distinction due to the rice.
In Jambalaya, the rice is commonly cooked with proteins like chicken and sausages with stocks and various seasonings to taste.
Chicken Shrimp and Sausage Jambalaya
Gumbo is a soup or stew that is served along with rice. Jambalaya is a casserole that is cooked with rice in the same pot.
The two dishes are originated in New Orleans. Using the same recipe indexed above, add rice and tomato paste to the ingredients.
How to Make Jambalaya Chicken Shrimp Gumbo
Firstly, we will start by dicing the onion, bell peppers, celery, and garlic in a big
Secondly, chop the chicken breasts and season them with creole cajun seasoning before adding them to the stove to brown.
After that, add sliced sausage, tomatoes and tomato paste, a teaspoon of cajun seasoning, chicken stock, and rice.
Before adding the shrimp, allow boiling for around 20 minutes.
To sum up, allow simmering for a few minutes before serving.