Gombo Sauce: A Traditional African (Ivorian) Okra Soup Recipe
Gombo sauce is a common sauce of West African cuisine. This sauce is known in Africa with different names: Takou in Guinea, Soup Kandja in Senegal, Kope sauce in Ivory Coast, Okra soup in Nigeria and Ghana, and so on.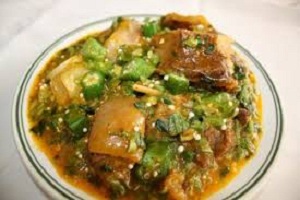 In addition, Cameroonians also cook it, along with many other African countries.
Specially for You >>> Okra Seafood Gumbo – How to Make From Scratch
Beside my Nigerian Okro soup, one of the tastiest for me is West African Ivorian Okro soup. Okra (Hibiscus esculentus) is known as "Gombo" in the Ivory Coast and hence, the name Gombo Sauce
Gombo Sauce: About Okra
Okra, or lady's fingers, is a staple vegetable across many African countries and one of the flagship dish in our house while growing up.
As an adult, I've come to understand that eating "lady's fingers" in any form is a global thing not for Nigerians alone.
Okro has long been a favorite in West African cuisine and its migration across the globe gave rise to many foreign names as well.
It goes by the name of bhindi in the east, and gumbo in the American south – a word allegedly lent from the Angolan noun quingombó (meaning, 'okra') in the west.
African Okro soup differs from region to region, in terms of consistency, ingredients, and partnering staples.
Gombo Sauce: Okro Nutritional Value
Okra contains minerals, vitamins, and other nutrients like Fiber, Vitamin A, Vitamin C, B3, B6, and K.
The protein in the Okra seeds is enhanced with amino acids.
Health Benefits of Okra  
Firstly, it contributes to regulating blood sugar
Secondly, it preserves healthy skin
Thirdly, it helps in lessening the cholesterol level
Assisting colon health
Enhancing brain functions
Aids with respiratory issues like Asthma and an ideal vegetable to incorporate in a weight loss plan.
Sauce Gombo in 2020 – Okra Soup Recipe
You can pan-fry fresh green okra pods as a whole in chilli oil, or finely chop it to expose the silky white seeds and then boiled for a different experience.
Also, you can use Okra as a thickener for soup, stew, and sauce
Try this hearty and delicious West African Soupe Gumbo!
Ingredients
200 g okra,
400 g beef, cut into cubes
1 fresh fish-Tilapia
2 sliced onions
150 ml of palm oil
2 cubes of bouillon or seasoning cube
3 fresh peppers (optional)
salt
Method
Firstly, start by washing the okra. Slice them very thinly and set aside.
Put the beef, fish, and a little water, in a pot and then boil for 15 minutes. Remove the fish, and set aside.
Thirdly, add the okra and water to the pot and cook for 15 minutes.
After that, add the onions, the palm oil, and the 2 bouillon cubes.
Then, add the peppers, crayfish, and salt to the pot and cook for 15 minutes.
Put back the fish to the pot and cook for 10 minutes over low heat or until the palm oil is visible on the sauce.