Haitian Hot Chocolate: Perfect for Cold Weather
Haitian hot chocolate is a creamy and rich beverage, made with warming spices that lend an additional touch of heat to warm up your inside especially on cold days.
The Haitian Hot Chocolate (Chokola Ayisyen) is a chocolaty treat prepared with unrefined chocolate from Haiti, evaporated milk together with other ingredients that add to its great taste.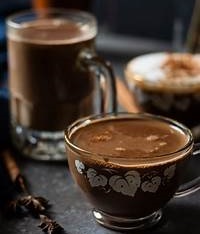 Recipe Tips:
This hot chocolate is by tradition made with unrefined Haitian cocoa, called chokola peyi.
Learn How to Make Chocolate Chip Cookies
The native chocolate is difficult to find outside of Haiti, so we vouch for bittersweet chocolate as an alternative, either in powder or bar form.
Recipe
Some Haitian chefs favor to use evaporated milk and let go of the sugar. This recipe is adaptable, therefore you can adjust the flavors of your choice.
Ingredients
2 cups of water
1 lime rind
3 cinnamon sticks, or ½ teaspoon cinnamon
1 cup dark cocoa powder (substitute 1 bar unsweetened chocolate, or 1 large Haitian raw chocolate ball)
4-star anise, 1/4 teaspoon star anise
1/8 teaspoon ground allspice
¾ cup brown sugar
4 cups of coconut milk
2 cups of milk
1 ½ teaspoons vanilla
Pinch kosher salt
Whipped cream for topping, optional
Method
Firstly, in a large pot, over medium heat, heat the water, chocolate, lime, cinnamon, star anise, and allspice.
Secondly, whisk to dissolve all the chocolate. This takes about 15 minutes if you are using a Haitian chocolate ball,
Then, once the chocolate has melted, add the coconut milk, brown sugar, milk, and salt, and bring the mixture to a boil.
After that, remove the hot chocolate from the heat and stir in the vanilla extract.
Lastly, strain the hot chocolate mixture through a fine-mesh strainer to remove the spices.
Checkout >>> Oatmeal Chocolate Chip Cookies
Serve piping hot
Above all, I love to stay warm with Haitian Hot Chocolate on those cold lonely nights and I hope this will keep you warm as well.