Atole ~ Mexican Warm Cornmeal Drink
Atole ~ Mexican Warm Cornmeal Drink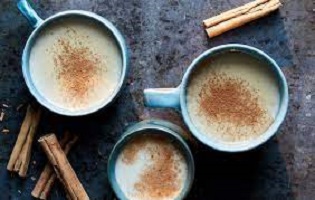 An Atole (Spanish: [atole] ), from Nahuatl tlli [atoli]), also known as atolli and atol de elote, is a traditional Mexican hot corn and masa beverage.
Atole in English ~
It means a cómo se pronuncia atole en ingléscorn meal that is cooked and eaten as mush or that is drunk as a thin gruel.
Champurrado or atole is the name for chocolate atole. It's usually served with tamales and is especially popular during Day of the Dead (November 2) and Las Posadas (Christmas holiday season).
About Atole ~ Mexican Atole 
Atole (pronounced ah-TOH-leh) is a Mexican beverage made from masa harina, the same corn flour used to make corn tortillas. (Atolillo is the Guatemalan version of atole made with rice.)
It is a popular breakfast dish that dates back to the Aztec and Mayan civilizations.
Atole is traditionally served at Dia de los Muertos, or Day of the Dead, celebrations, which take place on November 1 and 2 to honor and remember those who have died.
The beverage is frequently served for breakfast or as a late-night snack. It has the consistency of a thin cream of wheat, so it makes sense.
Atole's Origins
The Nahuatl word atolli, which means "watery," inspired the word atole (also shortened to "atol"). The word comes from the Greek words "atl" (water) and "tolea," which means "to drink or consume."
The first written accounts of atole can be found in Hernan Cortez's Cartas de Relación, in which he describes the ancients making a drink out of honey, chiles, water, and corn.
This drink is very energizing and predates the conquest by ten thousand years when archaeologists discovered the first evidence of corn being soaked in alkaline water and ground into a fine grain.
The secret to atole is a process known as nixtamalization.
The Spanish, on the other hand, is said to have found the watery drink unpalatable and began to make it with milk. Today, atoles can be made with water, milk, or a combination of the two.
As a result, the thickness of atole can range from a porridge-like consistency to a thin, pourable drink.
Atole – In Mexico
Masa (corn hominy flour), water, piloncillo (unrefined cane sugar), cinnamon, vanilla, and optional chocolate or fruit are common ingredients in Mexican drinks. Before serving, the mixture is blended and heated.
Masa is toasted on a comal (griddle) before being combined with water that has been boiled with cinnamon sticks. The texture of the resulting blends varies, ranging from porridge to a thin, liquid consistency.
In place of masa, atole can be made with rice, wheat, or oatmeal. Pinole is also used in a variation in northern Mexico (sweetened toasted corn meal).
Although atole is a traditional drink associated with the Mexican holidays of Day of the Dead and Las Posadas, it is served at breakfast and dinner throughout the year. It's usually sold on the street.
Atole served at the Coacalco de Berriozábal Atole Fair in Mexico.
Atole is traditional comfort food in many parts of Mexico and in communities with Mexican cultural roots in the United States.
On cold days, it's commonly eaten for breakfast or as an after-dinner snack. Blue corn atole is a grainy porridge-style drink served warm in New Mexico, made from finely ground cornmeal that has been toasted for cooking.
It is usually sweetened with sugar and thinned with milk and usually served with cream of wheat or oatmeal for breakfast.
Elders are said to have consumed atole because it gave them energy and provided more milk to nursing mothers.
Notes on Ingredients
Only a few ingredients are required for this delicious atole recipe. Everything you'll need is listed below:
Water – Because water is used throughout the recipe rather than just for boiling, I recommend using filtered water for the best (and healthiest!) results.
Piloncillo – This unrefined whole cane sugar is often sold in cones and is pronounced: "peel-on-SEE-yo." You should be able to find it at your local international market or Mexican supermercado with ease. If you prefer, dark brown sugar can be used instead.
Masa Harina – This Mexican staple is made from dried maize corn that has been soaked in a special lime mixture before being used to make corn tortillas. Masa harina is usually available in large grocery stores (I prefer the Maseca brand), but if not, look for it at a Hispanic specialty store.
Whole Milk – I prefer whole milk because of its rich, creamy mouthfeel, but you can use any percentage of dairy milk you prefer or have on hand. Simply substitute your favorite plant-based milk substitute if you are dairy-free or vegan.
Vanilla Beans – For this drink, I recommend using a real vanilla bean.
The lovely black specks indicate that this is something special, and they make a huge difference in flavor. I can confidently state that it is well worth the investment! If you don't have any vanilla beans, use 1-2 tablespoons vanilla extract or vanilla paste instead.
Cinnamon – To add an extra dimension of spice, I steep a cinnamon stick (canela) in the cooking water. As a garnish, I like to use ground cinnamon. While you are not required to double the spice, I strongly advise you to do so! If you don't have any cinnamon sticks, use a bag of herbal cinnamon tea instead.
Flavor – The vanilla extract and salt in this warm drink will bring out all of the delicious flavors.
Mexico Atole
Milk, cinnamon, piloncillo (pure cane sugar), and masa harina, a finely ground corn flour also used to make tamales and tortillas are used in this Mexican-style version by Veronica Ruiz, a home cook who grew up in Mexico City and immigrated to the United States in the 1990s.
Mexican Atole comes in a variety of flavors, including strawberry, coconut, chocolate, and many others, but this one is rich and satisfying, allowing the corn flavor to shine.
Ingredients
1/2 cup packed dark brown sugar or 4 ounces piloncillo (pure cane sugar)
1 cinnamon stick (4 inches) (preferably Ceylon)
1 teaspoon kosher salt
2 cups whole milk
12 cup masa harina (preferably Maseca brand)
Cinnamon powder for dusting (optional)
Preparation
Combine 2 cups of water, piloncillo, cinnamon, and salt in a medium saucepan. Bring to a boil, stirring occasionally, over high heat until the piloncillo is completely dissolved.
In a large measuring cup, whisk together the milk and masa harina while the mixture is heating up.
Once the water has reached a boil, reduce the heat to medium. Gradually pour in the milk mixture, whisking constantly to prevent the masa from clumping or sinking to the bottom. Cook the atole, whisking constantly, for about 5 minutes, or until it is thick enough to coat the back of a wooden spoon evenly.
Remove the cinnamon stick and set it aside. Serve immediately, with a dusting of ground cinnamon on top if desired.
Tip
Because atole thickens over time, it's best served fresh, but if you want to save some, keep it refrigerated. To thin out the drink before reheating and serving, add a splash of water.
Cool Down Before Sipping
Although you can drink atole from a mug, some people prefer to serve it in a bowl with a spoon because it tends to stay very hot if not stirred. In either case, take it slowly and stir it frequently with a spoon.
Make sure the children's portions have been poured and cooled to a comfortable warm temperature at least 20 minutes before serving.
Other Atoles Recipes
The recipe, Atole de Vainilla, is flavored with vanilla and cinnamon. Even before it's poured into the mugs, the warm, spicy aroma of this Atole de Vainilla makes it incredibly inviting and comforting.
It's a straightforward recipe that involves simmering masa harina, liquid, and sweetener with cinnamon and vanilla.
How to Make Vainilla Atole
Vainilla's Atole
It tastes like horchata and has the consistency of a thin cream of wheat. It's delicious for breakfast or as an after-dinner drink because it's warm, smooth, rich, creamy, flavorful, and satisfying. "It tastes like Mexico," my son said after taking a sip. I couldn't have put it any better.
It contains all of the aromatic and soothing ingredients found in Mexico.
Yield: 6 servings
Prep Time: 3 mins
Cook Time: 22 mins
Steeping: 30 mins
Total Time: 55 mins
2 ½ cups water
1 cinnamon stick
4 ounces piloncillo
1/2 cup masa harina
2 cups whole milk
1 vanilla bean, split lengthwise and seeds scraped
optional ground cinnamon
Instructions
Bring water to a boil in a large saucepan with the cinnamon stick and piloncillo. Remove from the heat, cover, and set aside for 30 minutes to allow the cinnamon stick to steep and the sugar to dissolve.
Remove the cinnamon stick, reduce the heat to low, and whisk in the masa harina until smooth. Pour in the milk and the vanilla bean seeds.
Heat just until boiling over medium heat.
Reduce heat to low and cook, uncovered, for about 20 minutes, whisking occasionally.
Garnish with cinnamon and serve right away.
I recommend making this drink with real vanilla bean. There are pretty black specks that indicate this is something special, and it makes a huge difference in the flavor of this recipe, so it's well worth the extra expense.
Nutrition
Calories: 155.19 calories, 28.03 grams of carbohydrates, 3.47 grams of protein, 3.14 grams of fat, 1.57 grams of saturated fat, 8.13 milligrams of cholesterol, 40.72 milligrams of sodium, 132.34 milligrams of potassium, 0.92 milligrams of fiber, 20.32 milligrams of sugar
With what should this drink be served?
As with regular coffee, you can have this atole Morado for breakfast.
We recommend serving with sweet pineapple tamales for a filling breakfast.
Another tasty way to serve this drink is with pan dulce. My mother also enjoyed it with molletes dulces!
Atole with Flavor
To make fruit-flavored atole, add 1/2 cup pureed fruit to the mix while it's cooking. Strawberries, guava, pineapple, blackberries, plums, and mangoes are among the fruits commonly used in Mexico for this purpose.
Champurrado: Once the piloncillo or sugar has dissolved, simply add 6 1/2 ounces of Mexican chocolate to the pot. Follow the recipe's instructions.
Chileatole: This version, which hails from central and southern Mexico, includes hot peppers, corn kernels, and spices or herbs like epazote.
Optional Variations
Atoles come in a variety of styles and flavors. While I love this classic cinnamon-vanilla recipe, there are plenty of other ways to make this filling drink your own! To get you started, here are some suggestions:
To make your atole a champurrado, add chocolate.
To make Atole de Avena, use oatmeal instead of masa harina.
Atole can also be made with other grains such as rice or amaranth.
Use fruits like coconut, pineapple, strawberry, or guava to add flavor.
For added flavor and texture, add nuts such as hazelnuts, pecans, or walnuts.
To add even more flavor, experiment with spices like cloves, nutmeg, or ginger.
What exactly is the distinction between atole and champurrado?
Consider champurrado to be the chocolate equivalent of atole. Champurrado includes melted chocolate in addition to almost all of the same ingredients as atole.
When you're craving something sweet or as a substitute for regular hot chocolate, try champurrado.
Substitutions, Tips, and Tricks
Low heat. To keep the milk mixture from burning, heat it on low-medium heat.
Don't forget to whisk the mixture! Throughout the process, whisk vigorously to ensure that the drink is as smooth and velvety smooth as possible. There should be no graininess in the atole. If it's still a little grainy, whisk it for a few minutes more until it's smooth.
Milk: Whole milk is preferred because it has a thicker, creamier texture and flavor, but 2 percent milk can also be used. This drink can also be made dairy-free by using almond milk.
Veganize it! (Make it Vegan) Substitute the creamiest dairy-free plant milk, such as almond, pea, or oat milk, for the milk. Have trouble finding piloncillo? Instead, 1/2 cup dark brown sugar can be used.
Reheating and storing
Refrigerate the finished and cooled atole for up to 2 days to store. It will become thicker the longer it sits.
To reheat the atole, first, add a splash of milk or water. Stir it well before heating it in the microwave or on the stovetop. Add more liquid until the consistency is right for you.
More Mexican drink recipes
Champurrado
Café de Olla
Agua de Tamarindo
Mexican Hot Chocolate
Mexican Ponche
FAQs
Is it possible to prepare Mexican atole de vanilla ahead of time?
Sure! Because the mixture will thicken as it cools and sits, you may need to thin it with a little water or milk when reheating it.
Refrigerate the atole for up to 2 days in an airtight container. Reheat until the desired temperature is reached in a saucepan or microwave.
Is a corn-based beverage actually tasty?
Yes, absolutely! If you like sweetened corn-based breakfast cereals like Corn Pops, it seems like a small step to liking atole, a corn-based drink.
Consider it a thin pudding made with cereal milk that is served hot. YUM!
Is it possible to make vegan Mexican atole?
Absolutely! In fact, the original method of making atole required no milk and only water.
We add milk these days because we can and it makes things super creamy, but it's not required.
Feel free to substitute your favorite non-dairy milk or simply make it with water.
Is vainilla atole gluten-free?
Yes, it is! Masa harina is made from corn, which is gluten-free by nature. Maseca, the most widely available brand of masa harina, is certified gluten-free.
One thing to keep in mind is that regular wheat flour is frequently kept on the same shelf as masa, and paper bags aren't great at keeping either in.
If you are celiac, be cautious of cross-contamination at the store or choose a brand like King Arthur that comes in a sealable plastic pouch.
What is Atole Good For?
This beverage is especially beneficial in terms of nutrition. It nourishes and hydrates the bodies of those who have suffered from illnesses or diseases.
It also aids in the proper functioning of your immune system.
Is oatmeal considered an Atole?
Atole de Avena (Oatmeal Atole) is a sweet and thick beverage made with oats, milk, cinnamon, and occasionally vanilla. It's typically served for breakfast in a mug with pan dulce or cookies.
Conclusion
Atoles come in a variety of shapes and sizes. Atole Fairs exist, with over 70 different types of atole.
While most atoles are sweet, they can also be sour, salty, or spicy (though these are very rare).
When you see an atole street vendor in your neighborhood, we encourage you to try something new.
Why not give it a shot and see what atole is all about?