Best Mexican Candy Shot: A Shot of Goodness!
Mexican Candy Shot Recipe – How to make Mexican Candy Drinks.
The Mexican candy shot is a classic cocktail that has been around for quite some time. Nobody knows where this drink came from, and I'm not willing to credit it as one of the many drinks that began in an American college.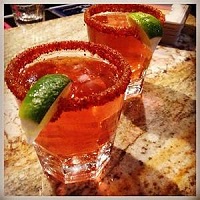 Mexican Candy Shot Recipe
And it's just because the odds are in their favor that it began with Mexicans. They have the candy for which the drink is called, and the drink is much more popular in Mexico and near Mexican borders than it is in the United States but only for a short time.
Checkout >>> Vodka Cocktail Recipes You Can Make In Minutes
This cocktail has the potential to become well-known at some point in the future and has been around for at least ten years and continues to dominate the Cocktail Industry.
When a drink has lasted this long, we can only say that it is nice and that people like it. If it wasn't nice and famous, it would have long since vanished from the cocktail world.
Even though the drink has been around for a while, not everyone is aware of it, which is unfortunate. The good news is that you no longer fall into that category.
Take a sip of the best Mexican Shots Alcohol on the market. But, before we get to the recipe (which will take a while to arrive at), let's get to know this drink a little better.
Mexican Candy Shot: The Mexican Paleta Shot
It's that simple. It's a Mexican Candy Cocktail, and just because it's called a shot doesn't mean you have to drink just one of them.
A Shot Glass is 44 millimeters in diameter or 1.5 ounces. And I don't see how or why you'd make just 44 millimeters of this or any drink unless you're drinking it at a bar or anywhere else where it's served.
If you're having a party at your house, this is something you can serve. Your guests will enjoy it. There are so many different variations of this drink that it can be exhausting to find the right one such as tipsy bartender tequila shots, watermelon tequila shots, tamarindo shots, mango Mexican candy shots, and Mexican rhino shots.
Mexican Candy Names
Vero, Pulparindo, Limon 7, Pelon Pelo Rico, Las Sevillanas, Coronado, Sonric's, Rockaleta, De La Rosa, Lucas, Duvalin, Hola, Canel's, Zumba, Adams, Anahuac, Bolitochas, Tama Roca, Ricolino, Lorena, Montes, Laposse, and more are popular Mexican candy brand names
There is no specific ingredients list for this candy drink, but every version has a few basic ingredients, and if the version you drank at that party you already crowned the best party of the year did not have these basic ingredients, then what you drank was most likely not the Mexican candy drink.
New juices or a pucker, hot sauce, and an alcoholic beverage are the three basic ingredients. Tequila is the preferred alcoholic beverage much of the time, but rum is often used regularly. As an alternative to bourbon, vodka may be used.
Paleta is the Mexican candy after which the drink is named.
Despite being named after paletas, the candy is rarely used in the drink's preparation. Paletas are delicious frozen candy treats that are especially popular among Mexican children.
Consider how delighted those children would be when they grow up and discover that they can still enjoy the flavor of their favorite spicy candy in a cocktail drink in the form of a Mexican lollipop cocktail, Mexican candy box, and snacks
Related >>> Best Mexican Food – Top 30 Most Popular Mexican Dishes
Paletas may be light and fruity or smooth with a spiciness. The drink is frequently made with ingredients that taste like the lollipop watermelon Mexican candy with chili powder on top.
Watermelon pucker is used in most recipes, but some call for the watermelon fruit itself (though in a blended form), others, on the other hand, forego the watermelon entirely in favor of fruit juices such as raspberry, strawberry, or lime. However, by using hot sauces such as Tabasco, the Mexican candy alcoholic drink made from these fruit juices retains the spicy flavor of the Mexican candy.
So, what exactly is a Mexican candy shot, to return to our original question? A Mexican candy shot is a cocktail drink that is designed to look like Mexican watermelon candy.
Whatever way you make your Mexican candy alcoholic drink, it should be spicy, fruity, completely awesome, and able to transport you back to the candy's original flavor.
And Now, The Mexican Candy Shot Recipe – How to Make Mexican Candy Shot
With so many delicious recipes to choose from, it was difficult to narrow it down to only one. It may be one of the most difficult things I've ever had to do. The ingredients in the Mexican candy shot can be tweaked and modified to taste.
Ingredients
1-ounce Tequila Juarez Tequila Gold, Silver Tequila, or your favorite brand of fruity Tequila can be used.
1 ounce Strawberry juice (fresh juice, if possible).
1/2 ounce of Mango juice (fresh juice, if possible).
Lime juice (must be fresh lime juice).
Few dashes Tabasco or your favorite hot sauce.
1 pinch  Salt
Tajin (chile-lime salt).
Watermelon, deseeded, chopped, and then blended (very optional).
Written Instructions
Firstly, rub Tajin around the rims of your chilled shot glasses.
1a. Secondly, pour the sauce onto a flat plate and press the rim of your chilled shot glass into the Tajin with medium pressure (not too hard).
1b. To make a strong mixture, add a pinch of salt to the Tajin.
Once you've finished with your Tajin-rimmed shot glasses, strain your blended watermelon to extract the juice.
Thirdly, in a cocktail shaker, combine tequila, mango juice, watermelon juice, strawberry juice, lime juice, Tabasco, and salt.
Then, allow the mixture to cool by shaking it with ice.
After that, pour the liquid into shot glasses with Tajin rims.
Finally, serve and enjoy!
Bottom Line
Mexican candy is one of the world's most popular new trendy foods. It's easy to make, fast to prepare, and delicious to eat.
Every day, millions of people enjoy it. They're fine and they're beautiful. My whole life has revolved around Mexican candy cocktails.
FAQ – People Also Ask
Mexican Candy Shot Calories
162
The estimated calories of the Mexican Candy Shot Recipe is 162 per serving.
Shots that taste just like your favorite candy but make you far more inebriated
Skittles Shot
Gummy Worm Shot
Almond Joy Shot
Pancake Shot
Cherry Tootsie Pop Shot
Snickers Bar Shot
What is a Mexican candy shot made of?
Combine watermelon pucker, tequila, and hot sauce in a shaker with ice. Shake well. Strain mix into a small glass or shot glass.
What are candy shots made of?
Mexican Lollipop Candy Shot is a tequila and fruit juice-based cocktail that has sweet and spicy flavors
How many ounces is 1 jigger? 1 jigger equals how many ounces?
1 ½ ounce
Jiggers are the standard hourglass-shaped stainless-steel measuring devices that can be found in most bars.
These are inexpensive and easy to come by in most housewares stores or online. The larger cup usually measures exactly one jigger, or 1 ½ ounce
One-half jigger, or ¾ ounces, is usually used for the smaller cup.